Chiral Matter: from quarks to quantum computers
July 05, 2023 - July 07, 2023
Conference
Hôtel de Ville de Tours
Place Jean Jaurès
Salle Anatole France
37000 Tours
France
Presentation
Chirality plays a key role in modern science and technology, from particle physics to pharmacology. Recently, impressive progress has been made in the theoretical and experimental studies of quantum matter with chiral constituents, from quark-gluon plasma to Dirac and Weyl semimetals. With the recent advent of quantum computing, the studies of real-time quantum phenomena in chiral matter have become accessible.
In this context, the conference aims to bring together scientists interested in various aspects of chiral matter and in applications of quantum computing to the description of real-time phenomena. Topics will cover:
- Real-time chiral response in nuclear and condensed matter physics
- Anomalous transport phenomena in real time
- Quantum computing methods for real-time quantum phenomena
- Quantum simulations on quantum and classical hardware
CONVENORS
Prof. Dmitri Kharzeev, LE STUDIUM Research Professor
FROM: Department of Physics and Astronomy, Stony Brook University - USA
IN RESIDENCE AT: Institut Denis Poisson / CNRS, University of Orléans, University of Tours - FR
Dr Maxim Chernodub, 
Institut Denis Poisson / CNRS, University of Orléans, University of Tours - FR
CONFIRMED SPEAKERS
Adrien Florio, Brookhaven National Laboratory - USA
Mark Goerbig, Université Paris-Sud - France
Karl Landstainer, Institute of Theoretical Physics - Spain
Qiang Li, Brookhaven National Laboratory -  USA
Alexander Molochkov, Far Eastern Federal University -  Russia
Antti  Niemi, Stockholm University - Sweden
Martin Savage, University of Washington - USA
Shuzhe Shi, Stony Brook University -> Tsinghua University -  China
Mikhail Stephanov, University of Illinois at Chicago - USA
Nathan Wiebe, Pacific Northwest National Laboratory and University of Washington - USA
Programme
WEDNESDAY 05th JULY 2023
12:30    Welcome lunch & registration            
14:00    Official Opening: Greetings from Le Studium (Sophie  Gabillet, General Secretary) and from University of Tours (Colombine Madelaine, Vice-President for International Relations)            
SESSION 1 
 Chairperson: Maxim Chernodub        
14:30    Mark Goerbig - How far can one boost Lorentz... in Dirac matter?            
15:15    Martin Savage - Toward Digital Quantum Simulations of Standard Model Physics - some of our recent results             
16:00    Coffee break            
16:30    Antti Niemi - From Feynman's ratchet to timecrystalline molecular motors            
17:15    Adrien Florio - News from magnetohydrodynamics and anomalous transport 
18:00    Xavier Aubry - EQUALITY: Efficient Quantum Algorithms for Industry            
18:45    End of the 1st day            
19:00    Wine & Cheese cocktail                     
 THURSDAY 06th JULY 2023                     
SESSION 2
 Chairperson: Karl Landsteiner                
9:00    Nathan Wiebe - Quantum Simulation of Classical Harmonic Oscillators            
9:45    Kazuki Ikeda - Efficient quantum computation of 2d and 3d quantum field theories: from condensed matter physics to high energy physics            
10:30    Coffee break            
11:00    Mikhail Stephanov - Hydro+            
11:45    Shuzhe Shi - Real-time non-perturbative dynamics of jet production from quantum computation            
12:30    Lunch            
SESSION 3 
 Chairperson: Mark Goerbig                
13:30    Qiang Li: Topological phases in ZrTe 5 and chirality enabled quantum information systems            
14:15    Alexander Molochkov: Casimir effect: entanglement of quantum and classical physics       
15:15    Departure by bus for excursion in front of the City Hall            
16:00    Guided visit of Amboise Castle in English (1 hour)            
17:00    Free time in Amboise            
19:30    Social dinner : Château de Beaulieu - Joué les Tours    
22:30 / 23:00   Return to Tours Train station
FRIDAY 07th JULY 2023        
 SESSION 4 
Chairperson: Dmitri Kharzeev                
9:00    Eleanor Crane - Advantages of native qubit-boson circuits for quantum simulation of lattice gauge theories          
9:45    Sergey Solodukhin - Logarithmic terms in entanglement entropy: black holes, anomalies and boundaries            
10:30    Coffee break             
11:00    Karl Landsteiner - Chern Simons in Black Holes as unified theory of topological quantum matter            
11:45    Round table discussion - «Quantum Computing for Chiral Systems: Future Directions» (Mark Goerbig, Martin Savage, Nathan Wiebe, Qiang Li, Mikhail Stephanov, Xavier Aubry)            
12:30    Conclusion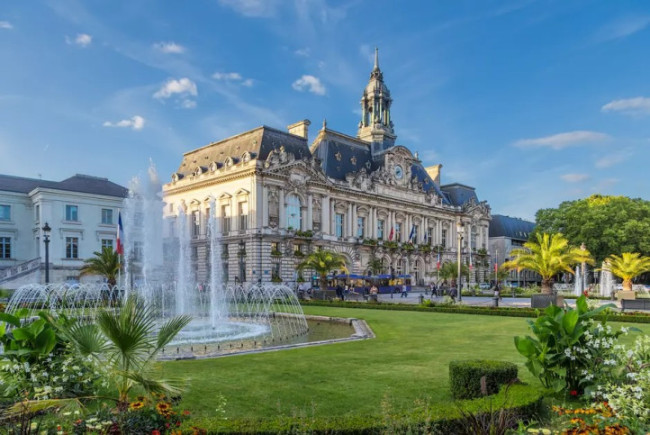 Credits: Valery Rokhin - stock.adobe.com
Hôtel de Ville de Tours (Tours City Hall) 
Place Jean Jaurès - 37000 TOURS - FR
The event will take place in the city centre at the Hotel de Ville of Tours located in Square Jean-Jaures and very near the main train station. This elegant building was designed in the early 20th century by Victor Laloux, the architect of the Gare d'Orsay in Paris (now the Musée d'Orsay).  Its monumental stairs, paintings and sculptures make it a recommended place to visit. Participants will also have the opportunity to discover French cuisine and Loire Valley wines during an evening social.
General Information
 Hôtel de Ville de Tours (Tours City Hall), Place Jean Jaurès
37000 Tours, France
Wednesday, 5 July - Friday, 7 July 2023
The official language of the Congress is English
| | |
| --- | --- |
| | Welcome pack and Name Badge |
 Upon arrival you will receive a welcome pack that includes the printed material of the Conference and your name badge will be given to you at the reception . Please wear your name badge at all times during the Conference and to all official Conference events.
 An official letter of invitation facilitating the obtention of an entry visa can be sent upon request . In order to receive an invitation letter for visa purposes, send an email to maurine.villiers@lestudium-ias.fr. Please note that : 
- we only issue an official letter once the payment of the registration fee has been validated.
- such letters do not represent a commitment on the part of the Organisers to provide any financial assistance.
| | |
| --- | --- |
| | Certificate of attendance |
 After the conference, in order to receive a certficate of participation, send an email to maurine.villiers@lestudium-ias.fr
Registration
(Including two lunches, a Wine & Cheese cocktail and the coffee breaks)
| | |
| --- | --- |
| Private institutions | 250 EUR |
| Public institutions | 180 EUR |
| Students & PhD Scholars | 75 EUR |
| Social dinner & touristic visit | 75 EUR |
 How to get there ?
* Tours centre station
 1.5 hour trip from Paris (Montparnasse)
 * Saint Pierre des Corps (4km from Tours town centre)
Bus 5, 20 minutes trip to Tours centre station
> Plan your trip by train: https://www.sncf-connect.com/en-en/
GPS: 47.3910171,0.68927
Please note that you can't park in front of the Hôtel de Ville.
Paid car parks nearby : 
Parking Gare, Place du Général Leclerc, 37000 Tours
Parking Tours Nationale, 5 rue Emile Zola, 37000 Tours
*Arrival at Roissy Charles De Gaulle (CDG) airport: 
Take RER B in direction to Saint Rémy Les Chevreuse, step out at Denfert Rochereau Stop
Metro 6 in direction to Charles de Gaulle Etoile, step out at Montparnasse Bienvenue Stop 
> Then take a train to Tours (see "by train" section above)
*Arrival at Paris-Orly (ORY) airport: 
Take Orlyval Shuttle from Aéroport d'Orly in direction Antony, step out at Antony Stop
Take RER B in direction to Mitry Clave, step out at Denfert Rochereau Stop
Take Metro 6 in direction to Charles de Gaulle Etoile, step out at Montparnasse Bienvenue Stop
> Then take a train to Tours (see "by train" section above)  
​
Partners of the event