Chiral Matter: from quarks to quantum computers
July 05, 2023 - July 07, 2023
Conference
Hôtel de Ville de Tours
Place Jean Jaurès
Salle Anatole France
37000 Tours
France
Presentation
Chirality plays a key role in modern science and technology, from particle physics to pharmacology. Recently, impressive progress has been made in the theoretical and experimental studies of quantum matter with chiral constituents, from quark-gluon plasma to Dirac and Weyl semimetals. With the recent advent of quantum computing, the studies of real-time quantum phenomena in chiral matter have become accessible.
In this context, the conference aims to bring together scientists interested in various aspects of chiral matter and in applications of quantum computing to the description of real-time phenomena. Topics will cover:
- Real-time chiral response in nuclear and condensed matter physics
- Anomalous transport phenomena in real time
- Quantum computing methods for real-time quantum phenomena
- Quantum simulations on quantum and classical hardware
CONVENORS
Prof. Dmitri Kharzeev, LE STUDIUM Research Professor
FROM: Department of Physics and Astronomy, Stony Brook University - USA
IN RESIDENCE AT: Institut Denis Poisson / CNRS, University of Orléans, University of Tours - FR
Dr Maxim Chernodub, 
Institut Denis Poisson / CNRS, University of Orléans, University of Tours - FR
CONFIRMED SPEAKERS
Michael DeMarco, Massachusetts Institute of Technology - USA
Adrien Florio, Brookhaven National Laboratory - USA
Mark Goerbig, Université Paris-Sud - France
Qiang Li, Brookhaven National Laboratory -  USA
Alexander Molochkov, Far Eastern Federal University -  Russia
Antti  Niemi, Stockholm University - Sweden
Martin Savage, University of Washington - USA
Shuzhe Shi, Stony Brook University -> Tsinghua University -  China
Mikhail Stephanov, University of Illinois at Chicago - USA
Nathan Wiebe, Pacific Northwest National Laboratory and University of Washington - USA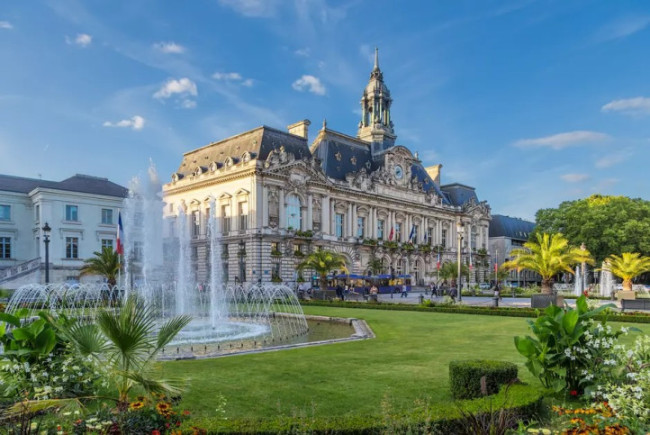 Credits: Valery Rokhin - stock.adobe.com
Hôtel de Ville de Tours (Tours City Hall) 
Place Jean Jaurès - 37000 TOURS - FR
The event will take place in the city centre at the Hotel de Ville of Tours located in Square Jean-Jaures and very near the main train station. This elegant building was designed in the early 20th century by Victor Laloux, the architect of the Gare d'Orsay in Paris (now the Musée d'Orsay).  Its monumental stairs, paintings and sculptures make it a recommended place to visit. Participants will also have the opportunity to discover French cuisine and Loire Valley wines during an evening social.
General Information
 Hôtel de Ville de Tours (Tours City Hall), Place Jean Jaurès
37000 Tours, France
Wednesday, 5 July - Friday, 7 July 2023
The official language of the Congress is English
| | |
| --- | --- |
| | Welcome pack and Name Badge |
 Upon arrival you will receive a welcome pack that includes the printed material of the Conference and your name badge will be given to you at the reception . Please wear your name badge at all times during the Conference and to all official Conference events.
 An official letter of invitation facilitating the obtention of an entry visa can be sent upon request . In order to receive an invitation letter for visa purposes, send an email to maurine.villiers@lestudium-ias.fr. Please note that : 
- we only issue an official letter once the payment of the registration fee has been validated.
- such letters do not represent a commitment on the part of the Organisers to provide any financial assistance.
| | |
| --- | --- |
| | Certificate of attendance |
 After the conference, in order to receive a certficate of participation, send an email to maurine.villiers@lestudium-ias.fr
Registration
(Including two lunches, a Wine & Cheese cocktail and the coffee breaks)
| | |
| --- | --- |
| Private institutions | 250 EUR |
| Public institutions | 180 EUR |
| Students & PhD Scholars | 75 EUR |
| Social dinner & touristic visit | 75 EUR |
Partners of the event