Dr Mahenina Jaovita Manase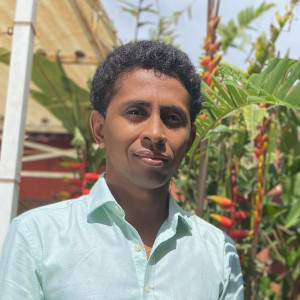 Programme
COSMETOSCIENCES (ARD CVL)
Period
February, 2023 - July, 2023
Award
LE STUDIUM Research Fellowship
From
University of Antsiranana - MG
In residence at
Institute of Organic and Analytical Chemistry (ICOA) / CNRS, University of Orléans - FR
Host scientist
Prof. Emilie Destandau
BIOGRAPHY
MANASE Mahenina Jaovita born on June 17, 1984 in Antsirabe, Madagascar. My schooling was done in Antsiranana, a city in the North of the country. In September 2004, I moved to France for higher education in the city of Dijon at the University of Burgundy (UB). In order to validate my undergraduate degree, I did an internship in the Pharmacognosy laboratory of the Faculty of Pharmacy of the UB where I worked on the extraction and separation of saponins. In February 2010, having obtained an international mobility grant from the Burgundy Region, I left for the Red Island to complete my Master 2 internship at the Malagasy Institute of Applied Research where I worked on the endophytes of Solanum incanum. This return to Madagascar allowed me to obtain a grant from the Malagasy State to do a PhD. This allowed me from October 2010 to December 2013 to realize my thesis in the same laboratory of Pharmacognosy (UB) on saponins from three species of different families collected in Madagascar. I returned in 2015, and took the position of Lecturer in 2017 at the University of Antsiranana (UNA). Since 2019, I hold the position of head of Mention Sciences of Nature and Environment at the Faculty of Sciences of UNA. Moreover, in December of the same year I participate in the Experts Days Program LE STUDIUM at the Institute of Organic and Analytical Chemistry - ICOA UMR7311 of the University of Orleans.
PROJECT
Phytochemical study of plants of cosmetic interest
Ravenala madagascariensis or Traveler's Tree (STRELITZIACEAE) and Litchi (SAPINDACEAE) are two species widely distributed in Madagascar. Particularly, on the one hand, the Litchi fruit is exploited by the local agri-food industry and offers valuable co-products. On the other hand, some part of Ravenala enters into the preparation of traditional remedies used by the Malagasy. In this research project focused on the valorisation of plants and co-products, our strategy is to characterize active compounds. Our study consists in developing analytical analysis methods and performing biological tests to identify the active compounds. The research activities will be carried out at the Institute of Organic and Analytical Chemistry (ICOA UMR7311) in Orléans.  The laboratory is at the cutting edge of technology and has internationally renowned expertise in natural substances for cosmetic uses. The objective is to identify biosourced ingredients in Malagasy traditionally used plants.