Lost in Renaissance
September 20, 2018 - September 21, 2018
Conference
Villa Rabelais
116 boulevard Béranger
37000 Tours
France
Presentation
The debate about the concept of Renaissance is certainly old, but has met for some years now a certain revival with questions relating to its temporality, particularly in France, following questions from Patrick Boucheron on the duration of a "short long medieval period" beginning in the 12th-13th centuries and ending in the 16th century. One can also point to Jacques Le Goff's essay entitled Faut-il vraiment découper l'histoire en tranches? (Paris, Seuil, 2014) who defended the thesis that the Renaissance would not represent a particular period, but that it would be the last rebirth of a long medieval period that would end in the mid-18th century. Regardless of whether or not one adheres to this demonstration, the great medievalist nevertheless has the merit of questioning the relevance of the concept of periodization of history and, more specifically, that of the Renaissance chrononym.
With the Lost in Renaissance symposium, we would like to explore this period by reversing the paradigm that defines it. Indeed, if the scientific community agrees to characterize the Renaissance as the time of rediscovery of Antiquity, we would like to explore it through the prism of disappearance. The aim is not to draw up a list of the different points of rupture with previous times, but rather to concentrate on the losses encountered by Europe's intellectual, literary, artistic and material heritage during the 15th-17th centuries as a result of the great religious, political, cultural and technical upheavals that affected this territory. The angle of approach chosen for this colloquium is that of the book, considered in its materiality or for its content as a witness, victim or vector of the offenses made against the heritage during the Renaissance.
Convenors
Dr Renaud Adam,

LE STUDIUM / Marie Skłodowska-Curie Research Fellow


FROM University of Liège (Transitions – Research Unit on Middle Ages and Early Modern Period) - BE
IN RESIDENCE AT Centre for Advanced Studies in the Renaissance (CESR) / CNRS, University of Tours - FR
Pr Chiara Lastraioli, Centre for Advanced Studies in the Renaissance
(CESR) / CNRS, University of Tours - FR
MSH Val de Loire Director
Confirmed speakers
Dr Renaud Adam, University of Liège - BE
Pr Frédéric Barbier, École Normale Supérieure de Paris (ENS) - FR
Pr Marie-Luce Demonet, Centre for Advanced Studies in the Renaissance (CESR) - FR
Dr Shanti Graheli, University of Glasgow - UK
Pr Chiara Lastraioli, Centre for Advanced Studies in the Renaissance (CESR) - FR
Pr Jean-Marie Le Gall, University of Paris 1 - FR
Pr Hubert Meeus, University of Antwerp - BE
Dr Goran Proot, University of Udine - IT
Dr Benito Rial Costas, Complutense University of Madrid - ES
Dr Luca Rivali, University of Milan - IT
Pr Tania Van Hemelryck, Catholic University of Louvain - BE
Slideshow
Call for papers
Papers (lasting 25 minutes) might deal either with a specific phenomenon or develop a more synthetic approach.
The conference languages are French and English. Proposals should be sent to Renaud Adam (renaud.adam@univ-tours.fr) by email before 18th of May.
The dossier will include the title of the communication and a ten-line summary, written in French or English.
Location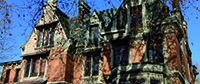 Villa Rabelais
116 boulevard Béranger, 37000 TOURS
The Villa Rabelais XIXth century building used to host Tours' Faculty of Law. Recently renovated, this building now hosts the Loire Valley International city of Gastronomy, the European Institute for Food History and Cultures and the Fooding Department of the University of Tours. They all contribute to a rich activities programme offered to a large variety of publics.
Conference programme
Thursday September 20th 2018
14:00 Welcome coffee & registration
14:20 Official Opening
14:30 Pr Tania Van Hemelryck - Le (dé)goût du Moyen Âge dans les paratextes des éditions de textes littéraires au XVIe siècle
14:55 Dr Benito Rial Costas - Experiences, dislocations and losses: The complex mechanisms of fiteenth-century book technology
15:20 Coffee break
16:00 Dr Shanti Graheli - Losing touch with customers: Making books in the Renaissance from custom to mass-produced
16:25 Dr Luca Rivali - Une multiplicité perdue. Peut-on parler de standardisation du livre entre le Moyen Age et la Renaissance ?
16:55 Dr Goran Proot - Transitions in the design of handpress books published in the Southern Netherlands during the 15th–18th centuries
17:20 Discussions
18:30

Public Lecture in French :

Pr Jean-Marie Le Gall - Comment parle-t-on de la Renaissance aujourd'hui ? Entre fétichisation patrimoniale et Renaissance bashing
20:00 Social dinner - Le Barju
Friday September 21st 2018
09:00 Welcome coffee
09:30 Pr Frédéric Barbier - La Renaissance, critique de l'imprimerie
09:55 Pr Hubert Meeus - The obliteration of community art or how the art of printing created the individual author
10:20 Coffee break
11:05 Pr Chiara Lastraioli - Lost and found : some empirical tests on losses and survivals in Renaissance private libraries
11:30 Dr Renaud Adam - "Faire casser, abolir et anéantir tous livres deffendus et réprouvez", mise en scène et théâtralisation de la censure des livres au XVIe siècle dans les anciens Pays-Bas
11:55 Pr Marie-Luce Demonet - La chasse aux fantômes des livres perdus: quelques pistes
12:20 Conclusion
13:00 Lunch - Le Chien Jaune
PRICING
Including one lunch and the coffee breaks
| | |
| --- | --- |
| Public Institutions | 75 EUR |
| Students and PhD Scholars | 50 EUR |
| Social dinner (Thursday 20th) | 55 EUR |