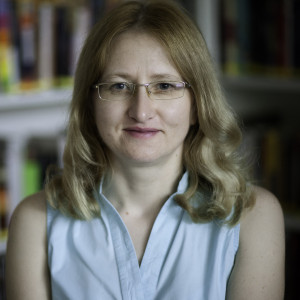 Programme
French Institutes for Advanced Study (FIAS)
Period
September, 2023 - June, 2024
Award
LE STUDIUM / FIAS Research Fellowship
From
University of Lower Silesia, Wroclaw - PL
In residence at
Research Team on Contexts and Education Actors (ÉRCAÉ ), University of Orléans - FR
Host scientist
Prof. Philippe Bourdier
BIOGRAPHY
 After defending her PhD thesis in 2011, Dr Aneta Slowik took the position of a lecturer and researcher at the University of Lower Silesia in Wroclaw, Poland. Since then, she has been working in the field of migration and counceling studies, with focus on councelling activities targeted at migrants. Dr Slowik's work is published in three languages- Polish, French, and English. She maintains contacts with French academic researchers by being a member of the Scientific Publishing Board of "Harmattan" in the l`Histoire de vie network reviewing submitted scientific texts. Dr Slowik is also a member of the Scientific Council of the Association "L'Association internationale des histoires de vie en formation et de recherche biographique en éducation (ASHIVIF). She has organized and hosted several international conferences in Poland and has taken part in conferences for the French-speaking academic community. Actively participates in international university projects.
  Dr. Slowik has published two monographies in Polish language (2013, 2016) focused on Polish immigrants in the UK and their transnational councelling networks. She has published 23 articles in Polish, French and English and 21 chapters in other monographies. Dr Slowik is an editor of 3 academic journals in Polish and French and 11 monographies. Her research was supported by three academic grants: DAAD (Germany) in 2016, KAAD (Germany) in 2017, and BGF (scientific scholarship from the French Government) at the West Catholic University in Angers in 2020. Her work has been awarded two times by the Rector of the University of Lower Silesia (2017, 2019). 
PROJECT
Educational and cultural needs of Ukrainian refugee children in the Loiret department: Their lived experiences and biographical stories
This research project will be carried out from 1 September 2023 to 1 July 2024 at ÉRCAÉ EA 7493 at University of Orléans under the supervision of Prof. Philippe Bourdier and in collaboration with Dr. Véronique Francis. The project will analyze the educational needs, challenges, and lived experience of Ukrainian refugee children that have moved to the Loiret department in France. After the Russian invasion we have been witnessing a huge wave of Ukrainian refugees, most of which women and children. This is a completely new situation for Ukrainians themselves and for the European Union as well. The EU was not prepared for this wave and initial help was given by NGOs and individuals . Some of these refugees are currently accommodated in France. We need to respond properly to the needs especially of Ukrainian children and to provide them with professional counselling and help. 
I will study the situation of Ukrainian refugee children relying on the research methods of biographical narrative analysis and participant observation. I plan to visit 25 primary schools in the Loiret department, where I will conduct narrative interviews with Ukrainian children aged 6-12, teachers, school heads, and parents. Conducting narrative-biographical interviews provides an effective avenue to grasping and investigating people's biographical experience. This method deals with the problem how individuals construct subjective meanings and senses of their biographical experiences, including professional experiences. 
I have defined my specific objectives as providing answers to the following questions: How do Ukrainian refugee children describe their migration experience within their family and school environment, in their neighborhoods, and to their peers? How do they adapt and integrate in their schools, neighborhoods, and to the local conditions? Who helps them in this process? What hinders them in this process? What role do teachers, parents, and peers play in this process?
My research project is supposed to produce recommendations for practitioners, researchers, teachers, head teachers, and school supervisors from the Loiret department working with Ukrainian refugee children. I intend to present my findings to the academic community of the ULS in Wrocław and the region. I will also share my research findings with teachers of primary schools in the Loiret department, students of the Faculty of Social Sciences and Humanities of the University of Orléans, and colleagues at the ERCAE laboratory.
The joint project with Dr. Véronique Francis will be a springboard for planning subsequent collaborative research projects and continuing our fruitful and long-standing research collaboration.
| | |
| --- | --- |
| | This project has received funding from the European Union's Horizon 2020 research and innovation programme under the Marie Skłodowska-Curie grant agreement No 945408   |