November 8, 2021 - November 10, 2021
Introduction, Breeding, Propagation and Deployment of Pacific Northwest Conifers Around the World: 70 years of Progress, Opportunities and Challenges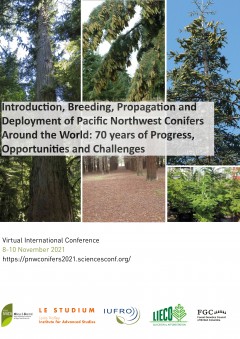 Virtual meeting: instructions to connect are communicated upon registration.
We are pleased to offer a most cordial welcome to the first ever virtual meeting of IUFRO Working Group 2.02.05 on Pacific Northwest Conifers!
Yes, there has been much disruption since covid-19 made its appearance, but PNW Conifers have kept growing and providing many benefits in their area of origin and around the world! WG 2.02.05 has not met since Forest Genetics 2013 in Whistler, British Columbia, Canada.
By means of modern technology, you can join from wherever you are based without traveling, and share your recent genetics-related experiences and progress with these magnificent species!
Organizers
Brian Baltunis (Weyerhaeuser Company, USA)
Keith Jayawickrama (Oregon State University, USA)
Jaroslav Klaptse (Scion, New Zealand)
Philippe Rozenberg (INRAE, France)
Silvio Schueler (Federal Research and Training Centre for Forests, Natural Hazards and Landscape, Austria)
Rich Sniezko (United States Forest Service, USA)
Nick Ukrainetz (British Columbia Minsitry of Forests, Lands, Natural Resources, Rural Development, Canada)
Terrance Ye (Oregon State University, USA)
Scientific Committee
Rich Sniezko (United States Forest Service, USA)
Silvio Schueler (Federal Research and Training Centre for Forests, Natural Hazards and Landscape, Austria)
Marcela von Loo (Federal Research and Training Centre for Forests, Natural Hazards and Landscape, Austria)
Terrance Ye (Oregon State University, USA)
Nick Ukrainetz (British Columbia Minsitry of Forests, Lands, Natural Resources, Rural Development, Canada)
Keith Jayawickrama (Oregon State University, USA)
Registration 
The registration is open on the website of the conference: https://pnwconifers2021.sciencesconf.org/ 
Registrations fees : 
Early registration: 55 € (until October 20)
Late registration: 70 € (from October 21 to November 5)