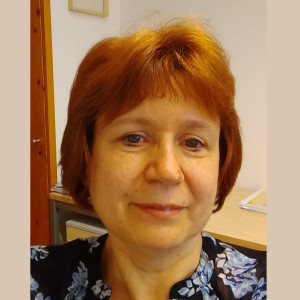 Programme
SMART LOIRE VALLEY GENERAL PROGRAMME
Period
January, 2022 - April, 2022
Award
LE STUDIUM Visiting Researcher 
From
Pázmány Péter Catholic University, Faculty of Information Technology and Bionics, HU
In residence at
Nanomedicines and Nanoprobes (NMNS), University of Tours - FR
Host scientist
Dr Franck Bonnier  
BIOGRAPHY
Franciska Erdő obtained her PhD from pharmacology at the Institute for Drug Research, Budapest and Semmelweis University, Faculty of Pharmacy, Budapest, Hungary. Later she worked for different biomedical research institutes (BIOREX Ltd, Veszprém, IVAX Drug Research Institute, Budapest) and joined the research group of Max Planck Institute for Neurological Research, Cologne, Germany and Charité University, Berlin, Germany. The main research interest of her was the investigation and experimental modelling of the pathophysiology of stroke, and development therapeutic strategies against stroke. Next she joined Sanofi-Aventis –Chinoin and SOLVO Biotechnology. Since November 2014 Franciska Erdő has been working for Pázmány Péter Chatholic University, Faculty of Information Technology and Bionics, Budapest. Her expertise is on the physiological barriers and drug delivery accross the barriers. Currently she is involved in skin analysis and RAMAN spectroscopy at University of Tours, France.
PROJECT
Knowledge transfer on Raman spectroscopy and skin-on-a-chip technology to study transdermal drug delivery
The transcutaneous route of drug administration provides huge benefits for the patients for confort (non-invasive) and efficacy (bypassing liver function, continuous and consistent drug release and absorption). It is important to develop proper drug formulations for various indications (pain, inflammation, central nervous system disorders, humoral therapies). During the last years the topical drug delivery techniques showed rapid development. Bioanalytical protocols play a key role in the investigation and optimization processes. Critical parameters of drug permeation such as bioavailabilty  and pharmacokinetics will be studied in this grant. In vitro testing is a pivotal step in the early stages of development of new formulas with high demands from the R&D and industry sectors for innovations.
Pázmány Péter Catholic University and University of Tours will work conjointly to address 2 key aspects:
1. In vitro Skin models: Commonly reconstructed skin from tissue culture or excised skin from plastic surgery are used for permeation studies. It is expected that in vitro models accurately mirror in vivo skin barrier function, hence deliver similar permeation to drugs to quickly identify and screen the most promising formulations and drugs. Presently, an innovative low-cost microfluidic technology will be developed: skin-on-a-chip. 
2. Analytical protocols: A multi-methodological analytical protocol coupling chromatography, Confocal Raman imaging and ultrasounds imaging will be developed to validate the skin-on-a-chip technology for skin permeation studies. Raman spectroscopy provides non-destructive and label free molecular characterisation of samples enabling to a) monitor drug diffusion in the skin to provide penetration profiles at micrometer scale and b) to construct biochemical maps of skin constituent distribution to study lipid and proteinorganisation and conformation. The permeation of drugs can be correlated to the skin barrier physiological state for a better understanding of molecular interactions between the skin and topical formula. 
Publications in relation with the research project