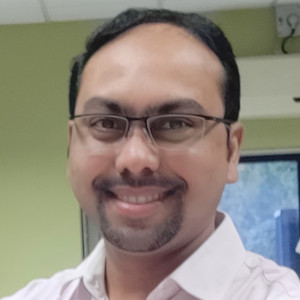 Programme
SMART LOIRE VALLEY GENERAL PROGRAMME
Period
October, 2022 - May, 2023
Award
LE STUDIUM Guest Research Fellow
From
In residence at
Molecular Biophysics Center (CBM) / CNRS - FR
Host scientist
Prof. Chantal Pichon 
BIOGRAPHY
Abhishek did his doctoral studies at Postgraduate Institute of Medical Education and Research (PGIMER), Chandigarh to secure a PhD in Molecular Mycology. He worked as research associate at Jawaharlal Nehru Centre for Advanced Scientific Research (JNCASR), Bangalore, where he worked on a yeast biology project pertaining to yeast hybrids. Later he joined National Fungal Culture Collection of India (NFCCI), Pune, India as a Scientist in 2014. He was involved in research on yeast biotechnology and fungal biology. He was also taking care of fungal molecular identification services rendered by NFCCI. He has supervised 2 Ph.D. students and handled various extra and intramural research grants as PI. He has published 40 research articles in the journals of repute. 
PROJECT
Yeast cell factory for mRNA bioproduction
Vaccinology is shifting toward synthetic RNA platforms, which allow a rapid, scalable manufacturing strategy for prophylactic and therapeutic vaccines. Amongst numerous vaccine platforms proposed to tackle the SARS-Cov2 infection, messenger RNA (mRNA) vaccines have been developed at unprecedented speed with high efficacy. The mRNA vaccines represent a giant step in the fight against the COVID-19 pandemic, proving to be a historical milestone for mRNA therapeutics and nanomedicine. In addition to vaccination, mRNA has a vast array of therapeutics applications, for which a more economic, robust and large-scale mRNA production is required. Currently, the only existing method to produce mRNA therapeutics is in vitro transcription (IVT). Despite the advantage of IVT being cell-free, the GMP grade supply chain requires DNA templates, recombinant polymerases, chemically modified nucleotides and cap analogs, followed by a multi-step and costly purification process. The IVT requires reagents that are difficult to produce, still covered by patents and expensive. The supply of those reagents is currently a real issue and bottle-neck for large-scale production of mRNA for vaccine & therapeutic purposes. Therefore, a cost-effective, robust and more sovereign production process for mRNA is required to solve the current limitations and accelerate clinical development.
With a vast practical experience in the field of yeast biotechnology, I am so excited to contribute to ground breaking approach Yscript. The Yeast cell factory for mRNA bioproduction (Yscript) intend to develop a bioproduction platform for large scale and cost-effective manufacturing of mRNA therapeutics, which is crucial for their widespread applications. The radically new vision comprises the design of a tailor-made yeast-based mRNA factory platform, a complete shift of paradigm compared to IVT production and a revolutionary new use of yeast. The yeast factory will be flexible and rapidly adjustable for manufacturing any mRNA therapeutic at a scale and cost that enables global delivery and accessibility.