September 27, 2018 - September 28, 2018
Malaria - Current status and challenges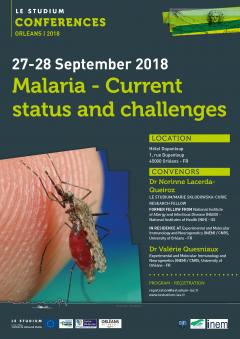 The registration is closed.
Malaria remains a major global health issue with millions of cases annually and half a million deaths, predominantly among children under five years in sub-Saharan Africa. The disease is caused by the protozoan Plasmodium spp. and displays a spectrum of symptoms and complications which includes cerebral malaria (CM), acute respiratory distress syndrome (ARDS), and severe anemia. The severity in human infections is determined by complex host-parasite interactions.
While much progress has been made towards reducing the burden of malaria, much work remains to be done. Advances in our understanding of host-parasite and vector-parasite interactions are crucial for preventing disease progression and transmission. However, the ambitious program to eliminate malaria faces many challenges, including drug resistance, development of insecticide resistance in some anopheline mosquitoes, and difficulties in elimination of vivax malaria.
This meeting aims at discussing the development of new drug therapies, vaccine approaches and novel strategies for vector control in the malaria field. Fundamental aspects of biology, epidemiology, pathogenesis and immunity will be debated in a highly interactive forum.
Key Topics
Malaria, vector, immune response, malaria pathogenesis, severe malaria, experimental cerebral malaria, therapy, Plasmodium falciparum, Plasmodium vivax
Convenors
Dr Norinne Lacerda-Queiroz, LE STUDIUM / Marie Skłodowska-Curie Research Fellow.
FORMER FELLOW FROM: National Institute of Allergy and Infectious Disease (NIAID) - National Institutes of Health (NIH) - US
IN RESIDENCE AT: Experimental and Molecular Immunology and Neurogenetics (INEM) / CNRS, University of Orléans - FR
Dr Valérie Quesniaux,
Experimental and Molecular Immunology and Neurogenetics (INEM) / CNRS, University of Orléans - FR
Slideshow
Confirmed speakers
Oral presentation & posters
Abstracts for oral presentation and poster should be submitted before Friday 14th of September 2018. Please upload your abstract during the registration or send it before the deadline to maurine.villiers@lestudium-ias.fr.
Please download the template for oral presentation.
The number of oral presentations is limited, convenors will process a selection and confirm your presentation not later than Monday 10th of September 2018.
Please note that we do not print the posters, but racks & pins will be provided for up to A0 sizes, portrait format. 
Location

Hôtel Dupanloup : 1, rue Dupanloup - 45000 ORLEANS - FR
The conference venue is unique. Located right next to the Orléans' cathedral, the episcopal palace of Orléans, built between 1635 and 1641, locally known as the Hôtel Dupanloup, is a classical French building which served until 1905 of residence to the bishops of Orléans.  Since 2014, the renewed palace hosts the International University Center for Research and Le Studium Loire Valley Institute for Advanced Studies.
Participants will be welcomed in this exceptional surrounding, blending Middle Age and Renaissance cultures with modern design and will have the opportunity to discover French cuisine and wines.
PRACTICAL INFORMATIONS
Conference programme
Thursday September 27th 2018
15:15    Welcome coffee & registration
16:00    Official Opening: Dr Norinne Lacerda-Queiroz, Dr Valérie Quesniaux & Sophie Gabillet
16:30    Dr Carolina Barillas-Mury - Plasmodium Evasion of Mosquito Immunity and Malaria Transmission
17:10    Pr Dominique Soldati-Favre - Dissection of the fundamental roles played by apicomplexan aspartyl proteases in establishment of parasitism 
18:30    

Public Lecture in French : 

Dr Norinne Lacerda-Queiroz & Dr Nicolas Riteau - Malaria : une maladie qui a changé le cours de l'Histoire
20:00    Wine & cheese cocktail
Friday September 28th 2018
08:45    Welcome coffee
09:00    Pr Janet Hemingway - Vector control and malaria transmission
09:40    Dr Silvia Portugal - The silent reservoir of P. falciparum during the dry season
10:20    Coffee break & Posters session
11:00    Dr Jean Langhorne - Using mouse models of malaria to understand protective immunity 
11:40    Dr Jennifer Palomo - Unravelling the roles of innate lymphoid cells (ILCs) in cerebral malaria pathogenesis
12:00    Lunch
13:30    Dr Sam Wassmer - Linking sequestration, blood-brain barrier dysfunction, and brain swelling in cerebral malaria 
14:10    Dr Valérie Quesniaux - IL-33/ST2 pathway in cerebral malaria and induced cognition defects 
14:50    Dr Marcus Lacerda - Severe malaria due to Plasmodium vivax
15:30    Conclusion & discussions
PRICING
Including a lunch, a Wine & Cheese Cocktail and the coffee breaks
| | |
| --- | --- |
| Private Institutions | 100 EUR |
| Public Institutions | 80 EUR |
| Students | 40 EUR |