September 15, 2021 - September 17, 2021
Law(s) and International relations : actors, institutions and comparative legislations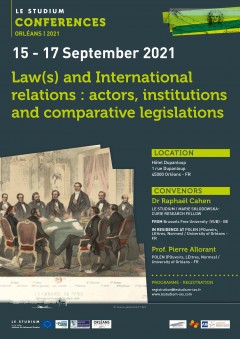 In the last twenty years, the study of the history of international law and of international relations has witnessed something of a renaissance. The bicentenary of the Congress of Vienna (1814-1815) also led to several new publications on the Congress System and on the "security culture" that was established in the aftermath of Napoleon. Nevertheless, many lacunae remain, especially regarding the relationship between law(s) and international relations during the long nineteenth century and in the sociocultural history of international law as a discipline with its own actors, networks, venues, institutions and power circles. The aim of the present conference is to deepen our study of the interconnections  between law(s) and international relations through the eyes of a plurality of actors (e.g., legal advisers, lawyers, judges, activists, publicists, journalists, editors), institutions (e.g., foreign offices, courts, universities, academies of science, associations, libraries) and works on comparative law. 
Three focuses will be especially addressed by this conference. The first is the plurality of actors. We welcome proposals on legal advisers within governments, foreign offices and national or colonial administrations; on civil and administrative judges, admiralty courts and prize laws; and on lawyers, academics, peace activists, international thinkers, journalists and editors, including women as well as men. A prosopography of a group of actors is invited as well as individual biographies. The theme of the birth and professionalization of "international lawyers" will be studied as well as the various editors and the book market for international law.
Our second focus will be on institutions. We especially invite papers studying the treatment of law(s) in foreign offices in a comparative perspective. For example, in Great Britain, legal issues were dealt by the Queens Lawyers until 1872 and afterwards by the Legal Adviser of the Foreign Office. In France after 1835, it was the Comité consultatif du contentieux that dealt with legal issues. But what about the foreign offices of other countries? Other institutions (similar to the Conseil d'état in France) may have also had their own "Foreign Office Committee." How were these organized? Did they cooperate with the foreign office?  What role was played by scientific academies in the diffusion of international law? By the universities? By popular libraries? 
Our third and final focus is on the study of comparative law and its link to the development of international law. The Société de législation comparée, founded in 1869, was full of members of the first generation of the Institut de Droit International, while many comparativists were, vice versa, members of the Institut de Droit International. Scientific journals such as the Revue historique de droit français et étranger and the Revue de droit international et de législation comparée dealt with both comparative and international law. Papers on the progressive autonomy of the discipline and on the networks of the founding members are especially welcome.
Key words
International law, juridification, professionalisation, Foreign offices, émigré lawyers, legal advisers, epistemic communities, prosopography
Convenors
Dr Raphaël Cahen, LE STUDIUM / Marie Skłodowska-Curie Research Fellow 
FROM: Brussels Free University  (VUB) - BE
IN RESIDENCE AT: POuvoirs, LEttres, Normes (POLEN) / CNRS, University of Orléans - FR

Prof. Pierre Allorant, 
POuvoirs, LEttres, Normes (POLEN) / CNRS, University of Orléans - FR

Prof. Walter Badier, 
POuvoirs, LEttres, Normes (POLEN) / CNRS, University of Orléans - FR
Slideshow
Confirmed speakers
Programme
Wednesday 15th september 2021 - Hôtel Dupanloup, 1 rue Dupanloup 45000 Orléans 
14:00 Welcome coffee & registration
14:30 Official opening by Sophie Gabillet (General secretary of LE STUDIUM Loire Valley Institute for Advanced Studies)
14:40 Pierre Allorant & Raphaël Cahen - Introduction
15:00 Miloš Vec - How to Write a History of Western International Law? (Inaugural conference)
16:00 Coffee Break
Session 1: Women and international law (16:30 – 18:00)
Chair: Raphaël Cahen
Thursday 16 September 2021 - Maison de l'avocat, 11 rue de la Bretonnerie 45000 Orléans
Session 2: International law in practice: Actors (10 :00 -12 :00)
Chair Annamaria Monti
Session 3: Slave Trade, Slavery and international law (13:30-15:00)
Chair Miloš Vec
13:30 Sean Morris - The London West India Committee in the Law of Nations: Property in Men
13:55 Anne-Charlotte Martineau - Revisiting international law's mainstream narrative about abolition of the slave trade: the writings of Mary Ann Shadd
14:20 Saskia Geisler - The Laws against Slave Trafficking in Prussia as a Case Study on International Relations and the Development of Human Rights
14:45 Discussions
15:00 Coffee break
Session 4: "Western" international law and global encounters (15:30-17:30)
Chair Walter Badier
Friday 17 September 2021 - Maison de l'avocat, 11 rue de la Bretonnerie 45000 Orléans
Session 5 : Comparative legislation and private international law (9:00-10:30)
Chair: Frederik Dhondt
Session 6 International law in practice: Institutions (11:00 -12:30)
Chair: Dominique Messineo
Session 7 International law in practice: Expertises and experts (14:00-16:00) 
Chair: Nina Keller-Kemmerer
Click here to see all the videos
Call for papers
Proposals in French, English or Spanish may be sent by email to raphael.cahen@vub.be, to pierre.allorant@univ-orleans.fr or to walter.badier@univ-orleans.fr. All applications must be sent by 31 March 2021 with a proposal of at least 3,000 characters. The proceedings will appear in a peer-reviewed publication. Transportation and accommodation costs will be covered by organizing institutions. 
Please download the full Call for papers from the documents part: