March 31, 2020 - April 2, 2020
Innate immunity in a biomineralized context: trade-offs or synergies?
** This event has been postponed. New dates will be set as soon as possible. Please contact Le Studium for more information. **
Biomineralized structures can function as a barrier to the external environment, and as such are conceptually entwined with innate immune processes. Disentangling immune and biomineralization mechanisms represents a significant challenge for researchers trying to understand how organisms could integrate biomineral formation and plasticity with maintenance of critical innate immune protection. In fact, there is increasing evidence that immune proteins can serve genuine dual-functional roles, both in regulation of biomineralization, as well as resisting pathogens. This awareness is growing in models as diverse as the dual-functionning haemocytes of marine bivalves, and in mineralization / demineralization of the avian eggshell. Moreover, reef corals, in which calcification is coupled to the photosynthetic activity of their mutualistic symbiots, must adapt their innate immune system to achieve this tolerance. Cnidarian immune-related processes in response to abiotic stresses are increasingly implicated in loss of symbiosis and coral bleaching.
This conference aims to bring together scientists working with diverse models of biomineralization, for an exchange of perspectives on the innate immune function of the calcified barrier and the dual role played by specific genes / proteins in these two critical functions.
Key words
biomineralization; barrier; calcium carbonate; anti-microbial; eggshell; mollusk; bivalve; corals; innate immunity
Confirmed speakers
ORAL PRESENTATIONS & POSTERS
Abstracts for oral presentation and posters should be submitted before Friday 6th March 2020. Please upload your abstract during the registration or send it before the deadline to maurine.villiers@lestudium-ias.fr.
The number of oral presentations is limited, convenors will process a selection and confirm your presentation not later than Tuesday 10th March 2020.
Please note that we do not print the posters, but racks & pins will be provided for up to A0 sizes, portrait format.
Please download the template for oral presentation.
Please download the template for poster presentation.
Location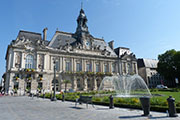 Hôtel de Ville : Boulevard Heurteloup - 37000 TOURS - FR
The event will take place in the city centre at the Hotel de Ville of Tours located Square Jean-Jaures and very near the main train station. This elegant building was designed in the early 20th century by Victor Laloux, the architect of the Gare d'Orsay in Paris (now the Musée d'Orsay).  Its monumental stairs, paintings and sculptures make it a recommended place to visit. Participants will also have the opportunity to discover French cuisine and Loire Valley wines during an evening social.
PRACTICAL INFORMATION
PRELIMINARY PROGRAMME
TUESDAY MARCH 31st 2020
12:30    Welcome lunch and registration
14:00    Official opening
Sophie Gabillet - Introduction: Le Studium
Prof. Max Hincke & Dr Sophie Rehault-Godbert - Introduction: Dynamics of Structural Barriers and Innate Immune Components
SESSION 1: OVERVIEW OF INNATE IMMUNITY IN BIOMINERALIZED ORGANISMS
14:30    Prof. Marc McKee - The structure of avian (chicken) eggshell
15:15    Prof. Rafael Da Rosa - New insights into oyster antimicrobial defense: Cellular, molecular and genetic view
16:00    Coffee break / poster viewing
16:30    Dr Caroline Palmer - Immunity and the coral crisis
17:15    Dr Claudine Blin - The innate immune function and diversity of osteoclasts
20:00    Wine and cheese cocktail - Hôtel de ville
WEDNESDAY APRIL 1st 2020
SESSION 2: AVIAN EGGS: STRUCTURE, MICROBIOTA AND MOLECULES OF INNATE IMMUNITY
09:00    Dr Sophie Réhault-Godbert - The eggshell microbiome is the first level of egg defense
09:30    Dr Liliana D'Alba - Eggshell mineralization in relation to nesting ecology in reptiles
10:00    Prof. Alejandro Rodriquez-Navarro - Mechanisms of eggshell biomineralization
10:30    Coffee break / Poster viewing
11:00    Dr Nicolas Guyot - Phylogenetic and structural evolution of egg antimicrobial proteins and peptides
11:30    Prof. Bernd Kaspers - The developing immune system of the chicken embryo
12:00    Prof. Maxwell Hincke - The chroriallantoic membrane: a dynamic structure at the interface of the biomineralized eggshell and components of innate immunity
12:30    Lunch
SESSION 3: THEME MARINE INVERTEBRATES (CORALS, BIVALVES)
14:00    Prof. Isabelle Domart-Coulon - Coral immune cells and skeleton production during early life stages interactions with benthic biofilms
14:30    Dr Aline Tribollet - Microbes in coral skeletons : their diversity, roles and adaptations to a changing environment
15:00    Coffee break / Poster viewing
15:30    Dr Jeroen Van De Water - Host-microbe interactions in octocoral holobionts
16:00    Dr Sophie Berland - Utmost commitment of shell matrix proteins to endow bivalve mollusc shells with both adaptive mechanical properties and biochemical defense
16:30    Dr Natalie Reznikov - Application of Convolutional Neural Networks (CNN – deep learning) for processing and analysis of 3D images in biomineralization research – examples from bone, coral and egg
18:00    Guided visit of the historical center of Tours
19:30    Gala dinner
THURSDAY APRIL 2nd 2020
SESSION 4:
09:00    Lilian Stapane - Extracellular vesicle - mediated mineralization
09:20    To Be Determined.
09:40    To Be Determined.
10:00    Short Oral Poster Presentations (3-minute talk-1slide)
10:30    Coffee break
11:00    Dr Joel Gautron - Integrative workshop session: Lessons learned and the path forward for innate immunity in biomineralization
12:00    Concluding remarks, poster remarks and lunch box distribution
PRICING
(Including two lunches, a wine & cheese cocktail and the coffee breaks)
| | |
| --- | --- |
| Private institutions | 250 EUR |
| Public institutions | 180 EUR |
| Students & PhD Scholars | 75 EUR |
| Social dinner | 60 EUR |