August 27, 2018 - August 29, 2018
Frontiers in Nanomaterials for Energy Harvesting and Storage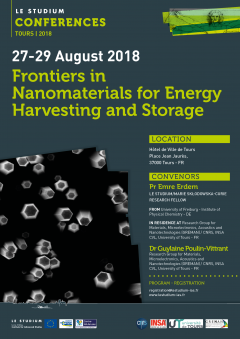 The registration is closed.
Conference programme is available >
Recent advances in microelectronics in energy harvesting applications have increased demand for the enhancement of the performance metrics of all storage and energy conversion devices. This includes piezoelectric nanogenerators, organic solar cells and thermoelectrics. The international conference entitled "Frontiers in Nanomaterials for Energy Harvesting and Storage", organized by LE STUDIUM Loire Valley Institute for Advanced Studies, will be held on the 27th-29th August 2018 in Tours, France. This international conference intends to bring together different research actors, including renowned academic scientists, engineers, researchers, research scholars, students and new comers interested in this fascinating and vibrant field in the objective of confronting different views, exploring industrial needs and potential responses. High quality research contributions describing cutting-edge research of conceptual, empirical, experimental, or theoretical work in all areas of energy harvesting materials and systems are cordially invited for presentation at the conference. Topics that will be covered include, among others, novel processing techniques for nanostructured materials with high-energy conversion efficiencies, new materials for energy harvesting and storage, theory and modelling of these materials and devices, new structural and functional characterization methods, innovative design and integration of low-power/self-powered devices for next generation of sensors and actuators. 
Key Topics
Functional materials synthesis: nanowires, quantum dots, nanoscrystals, thin films and other low dimensional materials, shapeable substrates, polymer matrix composites
Advanced characterization methods: electron paramagnetic resonance spectroscopy, impedance spectroscopy, photoluminescence spectroscopy, atomic/piezoelectric force microscopy, functional characterization of energy harvesters
Simulation and modelling: MEMS, piezoelectric nanostructures (nanowires, nanosheets etc…), nanostructured thermoelectric materials, semiconductor materials for solar cells, defect structures
Challenges in device technology: energy harvesting devices, microbatteries, supercapacitors, transistors for ultra-low consumption electronics, sensors, light emitting diodes, multiferroic and magnetoelectric functional materials with coexisting magnetic and ferroelectric order, diluted magnetic semiconductors
Convenors
Pr Emre Erdem, 

LE STUDIUM / Marie Skłodowska-Curie Research Fellow


FROM 

University of Freiburg - Institute of Physical Chemistry - DE


IN RESIDENCE AT Research Group for Materials, Microelectronics, Acoustics and Nanotechnologies (GREMAN) / CNRS, INSA CVL, University of Tours - FR
Dr Guylaine Poulin-Vittrant,
Research Group for Materials, Microelectronics, Acoustics and Nanotechnologies (GREMAN) / CNRS, INSA CVL, University of Tours - FR
International Scientific Commitee
Slideshow
Confirmed Speakers
Dr Stefania Benedetti, University of Modena and Reggio Emilia - IT
Dr Thomas Defforge, GREMAN - FR
Pr Robert Dorey, University of Surrey - UK
Dr Luis Fonseca, IMB-CNM (CSIC) - ES
Dr Fabien Giovannelli, GREMAN - FR
Dr Noëlle Gogneau, CNRS / Paris Sud University - FR
Mr Thien Hoang, Vermon S.A. - FR  
Dr Dong-Jik Kim, University of Warwick - UK
Dr Arnaud Le Febvrier, Linköping University - SE
Pr Mario Maglione, University of Bordeaux - FR
Dr Ian Mathews, Massachusetts Institute of Technology (MIT) - USA
Pr Salvatore Mirabella, University of Catania - IT
Pr Omar F. Mohammed, King Abdullah University of Science and Technology (KAUST) - SA
Dr Gonzalo Murillo, CSIC Barcelona - ES
Pr Cleva Ow-Yang, Sabanci University - TR
Pr Cristina Rusu, Research Institutes of Sweden (RISE) - SE 
Dr Bruno Schmaltz, PCM2E / University of Tours - FR
Dr Sophie Tingry, University of Montpellier - FR 
Dr Hana Ursic, Josef Stefan Institute - SI
Mr Mario Urso, University of Catania - IT
Dr José Manuel Vila-Fungueirino, Institute of Electronics and Systems (IES) - FR
Pr Elizabeth Von Hauff, Vrije Universiteit Amsterdam - NL
Pr Magnus Willander, Linköping University - SE
Dr Jérôme Wolfman, GREMAN - FR
Mr Tianqi Zhu, IEMN/ISEN - FR
ORAL PRESENTATIONS & POSTERS
Abstracts for oral presentation and poster should be submitted before Friday 29th of June 2018. Please upload your abstract during the registration or send it before the deadline to maurine.villiers@lestudium-ias.fr.
The number of oral presentations is limited, convenors will process a selection and confirm your presentation not later than Friday 06th of July 2018.
Please note that we do not print the posters, but racks & pins will be provided for up to A0 sizes, portrait format. 
>> Template for oral presentation & template for poster
Location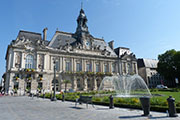 Hôtel de Ville : Boulevard Heurteloup - 37000 TOURS - FR
The event will take place in the city centre at the Hotel de Ville of Tours located Square Jean-Jaures and very near the main train station. This elegant building was designed in the early 20th century by the same architect, Victor Laloux, of the Gare d'Orsay in Paris (now the Musée d'Orsay).  Its monumental stairs, paintings and scluptures make it a recommanded place to visit. Participants will also have the opportunity to discover French cuisine and Loire Valley wines.
Conference Programme
Monday August 27th 2018
12:30    Welcome lunch & registration
14:00    Official Opening: Emmanuel Lesigne (Vice-President University of Tours), Marc Lethiecq (Director of GREMAN), Sophie Gabillet (General Secretary of LE STUDIUM)
Session 1: Mechanical energy harvesting
14:30    Pr Magnus Willander - Flexible and Non-Flexible Materials for Energy Harvesting
15:00    Dr Noëlle Gogneau - High potential of III-Nitride nanowires for piezoelectric energy harvesting: Towards wireless sensors
15:30    Pr Salvatore Mirabella - Photoluminescence investigation of deep level defect states in ZnO nanorods
16:00    Coffee break
16:20    Pr Cristina Rusu - Energy harvesting sensor systems – Challenges and opportunities
16:50    Mr Thien Hoang - An efficient tool for modelling piezoelectric cantilevers used for mechanical energy harvesting
17:10    Dr Gonzalo Murillo - From MEMS to nanogenerators, how to harvest energy from ambient vibrations
17:50    Energy harvesting demos
18:30    

Public Lecture in French : 

Pr Mario Maglione - Réduire la taille des matériaux pour une meilleure efficacité énergétique
20:00    Wine & cheese cocktail​
Tuesday August 28th 2018
Session 2: Ferroelectric, multiferroic, functional materials
09:00    Pr Mario Maglione - Universal behavior of BCTZ ceramics, thin films and single crystals
09:30    Dr José Manuel Vila-Fungueirino - Enhanced functionalities in epitaxial oxide thin films on silicon by combining physical and chemical processes
09:50    Pr Robert Dorey - Towards sustainable manufacture of functional materials and devices
10:20    Coffee break
10:40    Dr Hana Ursic - Imaging and manipulation of ferroelectric domain walls by piezoresponse force microscopy
11:10    Dr Jérôme Wolfman - Band structure tuning via interface chemical modulation in La0.7Sr0.3MnO3/SrTiO3/Pt junctions
11:30    Pr Omar Mohammed - Perovskite nanocrystals with different dimensionalities: From synthesis and full characterization to light applications
12:00    Lunch
Session 3: Solar energy harvesting
13:30    Dr Stefania Benedetti - Tailoring plasmonic response in metal/oxide nanosystems
14:00    Dr Ian Mathews - High-efficiency indoor light-harvesting for self-powered wireless sensors
14:20    Pr Cleva Ow-Yang - Nanoscale engineering of materials for zero-energy consumption lighting
14:50    Posters session & Coffee break
16:00    Pr Elizabeth Von Hauf - Organic and hybrid materials for energy conversion
16:30    Dr Bruno Schmaltz - Carbazole Hole transporting materials for hybrid solar cells
16:50    Dr Dong-Jik Kim - Flexo-Photovoltaic Effect
19:30    Social dinner - Atelier Lebeau​
Wednesday August 29th 2018
Session 4: Thermoelectric generators
09:00    Dr Luis Fonseca - Research on thermoelectric microgenerators based on Si and SiGe nanowires as thermoelectric material
09:20    Dr Fabien Giovannelli - Improvement of thermal Properties of transparent conducting oxide ceramics by nanostructuring for thermoelectrics applications
09:40    Dr Arnaud Le Febvrier - Thermoelectric CrN: from n-type to p-type semiconductor behavior
10:00    Mr Tianqi Zhu - Alternative low work function thin film materials for nonconventional thermoelectric micro/nanogenerators
10:20    Coffee break​
Session 5: Biofuel cells, Energy storage
10:50    Dr Sophie Tingry - Gold nanoparticles: Application in hybrid biofuel cells for energy conversion
11:20    Mr Mario Urso - Supercapacitive properties of Ni-based nanostructures grown by chemical bath deposition
11:40    Dr Thomas Defforge - Free-standing Si nanostructures for Li-ion battery anode application
12:00    Closing remarks
PRICING
| | |
| --- | --- |
| Private institutions | 250 EUR |
| Public institutions | 200 EUR |
| Students & PhD Scholars | 100 EUR |
| Social dinner | 60 EUR |