November 13, 2017 - November 15, 2017
Structural biology and biophysics of RNA-protein complexes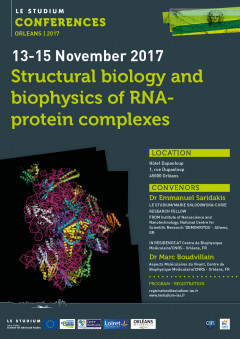 The International Conference entitled 'Structural biology and biophysics of RNA-protein complexes', jointly organised by LE STUDIUM Loire Valley Institute for Advanced Studies and the Centre for Molecular Biophysics - CNRS Orléans, will be held on the 13th-15th November 2017 in Orléans.
The diverse biological functions of RNA rest on the timely formation of elaborate molecular assemblies that often involve multiple protein components. Detailed knowledge of this complex molecular machinery is necessary for the deeper understanding of RNA metabolism and RNA-dependent mechanisms and for the development of rationally designed drugs against a variety of infectious and metabolic diseases. This Conference will approach the field of RNA-protein complexes from different angles, with an emphasis on structural approaches such as X-ray crystallography, NMR spectroscopy, cryo-electron microscopy, as well as single molecule imaging and nanomanipulation techniques. A number of international leaders at the cutting edge of research will be presenting their recent work. 
Main Topics
Molecular motors, RNA-protein complexes, RNA metabolism, structural biology, X-ray crystallography, structure-function relationships, rational drug design, RNA helicases
Convenors
Dr Emmanuel Saridakis, LE STUDIUM / Marie Skłodowska-Curie Research Fellow.
FROM: Institute of Nanoscience and Nanotechnology, National Centre for Scientific Research 'DEMOKRITOS', Athens - GR
IN RESIDENCE AT: Aspects Moléculaires du Vivant, Centre de Biophysique Moléculaire/CNRS - Orléans - FR 
Dr Marc Boudvillain,
Aspects Moléculaires du Vivant, Centre de Biophysique Moléculaire/CNRS - Orléans - FR  
Slideshow
Speakers
Dr Chantal Abergel, CNRS & Information Génomique et Structurale (IGS) - FR
Dr Stephen Cusack FRS, European Molecular Biology Laboratory – Grenoble - FR 
Pr Ben Luisi, University of Cambridge - UK
Pr Kiyoshi Nagai FRS, MRC Laboratory of Molecular Biology, Cambridge - UK
Dr Fulvia Bono, Max Planck Institute for Developmental Biology, Tuebingen - DE
Pr Achillefs Kapanidis, University of Oxford - UK
Dr Bruno Klaholz, CNRS & IGBMC, Illkirch - FR
Dr Hervé Le Hir, CNRS & Ecole Normale Supérieure, Paris - FR
Pr Nicolas Leulliot, Université Paris Descartes - FR
Dr Cameron Mackereth, INSERM & Institut Européen de Chimie et Biologie, Bordeaux - FR
Dr Emmanuel Margeat, CNRS & Centre de Biochimie Structurale, Montpellier - FR
Pr Ralf Seidel, University of Leipzig - DE
Pr Nuria Verdaguer Massana, Molecular Biology Institute of Barcelona - ES
Scientific Committee
Dr Marc Boudvillain
Dr Bertrand Castaing
Dr Hervé Le Hir
Dr Emmanuel Margeat
Dr Emmanuel Saridakis
Oral presentations & Posters
The submission of abstract for oral presentation  is closed.
Please send your poster before the 03/11/2017 so that it can be included on the USB flash drive. Please note that we do not print the posters, but racks & pins will be provided for up to A0 sizes.
Abstracts, biography & posters must be written in English.
PRACTICAL INFORMATIONS
Conference PROGRAM
Monday November 13th 2017
12h30    Registration & Lunch
13h30    Welcome & Opening
13h50    Pr Kiyoshi Nagai - CryoEM snapshots of the spliceosome provide insights into the mechanism of pre-mRNA splicing
14h35    Dr Itai Wekselman - The ribosomal protein uL22 modulates the shape of the protein exit tunnel
14h55    Dr Carine Tisné - Modulation of the HIV-1 nucleocapsid conformational landscape along its maturation pathway
15h15    Pr Ralf Seidel - Insights into target recognition by CRISPR-Cas complexes from single-molecule mechanical measurements
15h55    Coffee break
16h10    Posters session
16h40    Dr Hervé Le Hir - Specific structural features confer to UPF1 helicase a remarkable processivity
17h20    Dr Kyle Tanner - Single-molecule analyses of the molecular mechanisms of the DEAD-box-helicase Ded1 with the use of magnetic tweezers
17h40    Dr Thierry Fischmann - Structure-based design of inhibitors of the riboflavin pathway discovered through a phenotypic screen and targeting the bacterial FMN riboswitch
18h30    Public Lecture in French, Dr Chantal Abergel - L'univers en expansion des virus géants
20h00    Wine & Cheese Cocktail
Tuesday November 14th 2017
08h30    Welcome coffee
09h00    Pr Ben Luisi - The machinery of bacterial riboregulation
09h50    Dr Eva Kowalinski - Structural and biochemical studies of the cytoplasmic RNA degrading exosome
10h10    Dr Emmanuel Margeat - Prokaryotic transcription termination : lessons from single molecules
10h50    Coffee break
11h10    Pr Nuria Verdaguer Massana - RNA-dependent RNA Polymerases of positive stranded RNA viruses: From the Structure to Regulatory Mechanisms
11h50    Dr Serena Bernacchi - Analysis of the interactions between HIV-1 Pr55Gag and genomic RNA: from genome selection to viral assembly
12h10    Dr Roland Marquet - High Resolution Functional and Structural Mapping of the HIV-1 Genome Using Mutational Interference Mapping Experiments (MIME)
12h30    Lunch
14h00    Pr Achillefs Kapanidis - Transcriptional pausing in bacterial initial transcription: mechanism, kinetics and biological role
14h40    Dr Thierry Bizebard - Early stage of large ribosomal subunit assembly in E.coli : a single molecule study 
15h00    Pr Nicolas Leulliot - Chaperoning ribosome assembly
15h40    Coffee break & Posters session
16h10    Dr Bruno Klaholz - Visualization of chemical modifications in the human 80S ribosome structure
16h50    Dr Youri Timsit - The Ribosome as a molecular brain
17h10    Dr Fulvia Bono - Structure-function studies of mRNA localization in Drosophila
18h00    Free time - Guided tour of Orléans city center
20h00    Social Dinner - Le Lift
Wednesday November 15th 2017
08h30    Welcome coffee
09h00    Dr Stephen Cusack - Structural Insights into RNA Synthesis by the Influenza Virus Transcription-Replication Machine
09h50    Dr Béatrice Golinelli-Pimpaneau - Crystal structures of [4Fe-4S]-Dependent tRNA Thiolases Reveal a new mechanism of tRNA Thiolation  
10h10    Coffee break
10h30    Dr Cameron Mackereth - Molecular studies on tissue-specific alternative splicing
11h10    Dr Pierre Barraud - Tandem hnRNP A1 RNA Recognition Motifs act in concert to repress the splicing of Survival Motor Neuron exon 7
11h30    Dr Emmanuel Saridakis - Closing Talk
11h50    Lunch Bag
PRICING
| | |
| --- | --- |
| Private institutions | 250 EUR |
| Academic/public participants | 180 EUR |
| Students | 75 EUR |
| Social dinner | 60 EUR |