June 29, 2020 - July 1, 2020
Metabolic engineering for bioproduction of natural products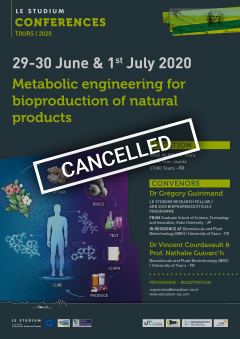 ** This event has been cancelled. Please contact Le Studium for more information. **
Natural products (NP) are molecules produced and used by living organisms for defending or adapting purposes. Many NP are very toxic compounds with pharmacological activity that can be of therapeutic benefit in treating human diseases, like cancer. As such, NP are the active components of numerous traditional medicines, and more than 60% of currently prescribed drugs are nowadays either directly derived from or inspired by NP, while more than 25% of them are still directly extracted from plants. Additionally, NP sources are often unreliable to access and supply, vary in composition due to sourcing season or environment, and are susceptible to rising extinction rates, climate change and geopolitical conflicts issues. Therefore, it is urgent to identify and develop alternative biological systems for the sustainable bio-production of NPs. This interdisciplinary conference will analyze the current challenges around this theme, and aim to bring together all the cutting edge tools of metabolic engineering, necessary to build the next generation of microbial cell factories.
This international conference is organised in the framework of the ARD 2020 BIOPHARMACEUTICALS Programme.
Keywords
Traditional medicine; plant secondary metabolites; yeast metabolic engineering; microbial cell factories ; genome editing ; bio-reactor.
Convenors
Confirmed speakers
ORAL PRESENTATIONS & POSTERS
Abstracts for oral presentation and posters should be submitted before Monday 04th May 2020. Please upload your abstract during the registration or send it before the deadline to maurine.villiers@lestudium-ias.fr.
The number of oral presentations is limited, convenors will process a selection and confirm your presentation not later than Thursday 07th May 2020.
Please note that we do not print the posters, but racks & pins will be provided for up to A0 sizes, portrait format.
Please download the template for oral presentation.
Please download the template for poster presentation.
PRACTICAL INFORMATION
PRICING
(Including two lunches, a Wine & Cheese cocktail and the coffee breaks)
| | |
| --- | --- |
| Private institutions | 250 EUR |
| Public institutions | 180 EUR |
| Students & PhD Scholars | 75 EUR |
| Social dinner | 60 EUR |