September 21, 2022 - September 23, 2022
Ion channels in pathological context, new methods and diagnosis tools
The conference will start on Wednesday 21st September with a welcome lunch and end on Friday 23rd at noon.
Ion channels are a family of ubiquitous proteins with an extraordinary diversity of their molecular and cellular functions, their structure or their expression. This diversity is also represented in the pathological disorders where ion channels are associated with.
Indeed, aberrant function or dysfunction of ion channels have been associated to a large spectra of diseases such as neurological and cardiovascular disorders, diabetes, metabolic diseases but also cancer, a highly metabolic disease.
While the contribution of ion channels to cancers is now beyond the reasonable doubt, their molecular function in those pathological processes solely begin to be understood.
In particular, recent advances suggest that ion channels could have an important role in the relationship of cancer cells with their surrounding environment and in metabolic changes occurring during cancer development. To elucidate the molecular function of ion channels and to potentially use them as therapeutic target, innovative tools will be required.
This LE STUDIUM Conference aims to provide an overview of the state-of-the-art of the physio-pathological role of ion channels, with a special emphasis on cancers, and of the new innovative tools in development for their investigation or their targeting.
Topics
Ion channels
Cancers
Physiopathology
Molecules design
Biotechnology
Convenors
Dr David Crottès, LE STUDIUM Research Fellow
FROM: University of California San Francisco - USA
IN RESIDENCE AT: Nutrition, Growth and Cancer (N2C) / INSERM, University of Tours - FR
Prof. Christophe Vandier, 
Nutrition, Growth and Cancer (N2C) / INSERM, University of Tours - FR​
Prof. Stéphane Petoud, 
Center for Molecular Biophysics (CBM) / CNRS - FR
Confirmed speakers
Oral presentations
Abstracts for oral presentation should be submitted before Monday 5th September 2022. Please upload your abstract during the registration or send it before the deadline to maurine.villiers@lestudium-ias.fr.
The number of oral presentations is limited, convenors will process a selection and confirm your presentation not later than Friday 9th September 2022.
Please note that we do not print the posters, but racks & pins will be provided for up to A0 sizes, portrait format.
Please download the template for oral presentation.
Programme
Wednesday 21st September 2022 – Paris Time ; GMT +2
13:00 Welcome lunch
14:30 Official Opening
Session 1 
15:00 Prof. Lily Jan - Two channel studies with pathological implications
16:00 Prof. André F. Martins - This is all about Imaging metabolism
17:00 Marion Papin - The regulation of SK3 channel by endogenous ether-lipids represents a novel mechanism for tumor aggressiveness control by ion channels
18:30 Public Lecture in French – Prof. Christophe Vandier - Prévention des cancers par les lipides de l'alimentation : le rôle des canaux ioniques
20:00   Wine & cheese cocktail - Tours City Hall
Thursday 22nd September 2022 – Paris Time ; GMT +2
Session 2 
09:15 Prof. Stéphane Petoud – Near-infrared Emitting Lanthanide-based Compounds for Biological Imaging as a Unique Tool for the Detection of Potassium Channels
10:00 Dr Mélanie Paillard - Pathophysiologic relevance of the pharmacology of the mitochondrial Ca2+ uniporter: focus on the MICU1 regulation of MCU
10:30 Coffee break
Session 3 
10:45 Dr Maxime Gueguinou – NCLX is a double-edged sword for the colorectal cancer
11:15 Dr Greet Bultynck - Anti-apoptotic Ca2+-signaling modulation by Bcl-2/Bcl-XL proteins: from molecular mechanisms to relevance in cancer
12:00 Olivier Romito - Role of Ca2+ activated K+ channels (SKCA) in ovarian cancer chemoresistance
12:15 Lunch
Session 4
13:30 Prof. Luis A. Pardo - The voltage-gated potassium channel KV10.1 as a therapeutic target
14:15 Prof. Lucija Peterlin Mašič - Discovery of new benzamide-based Kv1.3 and mitochondrial Kv1.3 inhibitors
14:45 Coffee break
Session 5
15:15 Dr Thierry Brouard – What Can AI do for You?
15:45 Prof. Yuh-Nung Jan - Mechano-sensitive channels in sensory physiology, development and disease
17:00 Departure for guided visit & gala dinner in front of the City Hall
Friday 23rd September 2022 – Paris Time ; GMT +2
Session 6 
09:15 Dr David Crottès – Heterogeneity of ion channels and calcium signaling in cancers
09:45 Dr Raphaël Rapetti-Mauss - The potassium channel Sk2 set a signalling hub bolstering CAF-triggered metastatic process in pancreatic cancer
10:15 Coffee break
Session 7
10:30 Dr Aurélien Chatelier - Fine Tuning of Calcium Constitutive Entry by Optogenetically-Controlled Membrane Polarization: Impact on Cell Migration
11:00 Prof. Jean-Sebastien Rougier - Ion channels and macro-molecular complexes
11:45 Conclusion
Location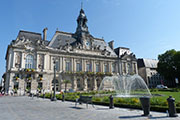 Hôtel de Ville : Boulevard Heurteloup - 37000 TOURS - FR
The event will take place in the city centre at the Hotel de Ville of Tours located Square Jean-Jaures and very near the main train station. This elegant building was designed in the early 20th century by Victor Laloux, the architect of the Gare d'Orsay in Paris (now the Musée d'Orsay).  Its monumental stairs, paintings and sculptures make it a recommended place to visit. Participants will also have the opportunity to discover French cuisine and Loire Valley wines during an evening social.
PRACTICAL INFORMATION
PRICING
(Including two lunches, a Wine & Cheese cocktail and the coffee breaks)
| | |
| --- | --- |
| Private institutions | 250 EUR |
| Public institutions | 180 EUR |
| Students & PhD Scholars | 75 EUR |
| Social dinner & touristic visit | 75 EUR |