December 13, 2022 - December 14, 2022
Cardiovascular Modelling: Basic Science to Clinical Translation
Neurological and cardiovascular diseases are the leading cause of death globally. The use of computer models to simulate the functioning of the human body is viewed increasingly as one of the most promising tools to embrace and better understand the complexity of human pathophysiology, and therefore improve prevention, diagnosis, and treatment of human disease. A significant motivating factor for deployment of biomedical codes in clinical management of cardiovascular disease is the development of human digital twins. Such models would allow personalised guidance for healthcare, disease diagnosis and treatment, and wellbeing for specific individuals. The symposium will focus on characterization of blood flows using modelling as well as imaging tools (e.g., ultrasound) and its links to vessel wall mechanics and cardiovascular disease. This is an area that sees participation and expertise from different fields including vascular biology, fluid mechanics, computer science, medicine, but also imaging, medical device and software certification and regulation for translation into healthcare. The scientific literature in this field offers a rich spectrum of research, from basic science focusing on detailed mathematical, numerical and experimental descriptions of vascular pathophysiology, to applied research where similar approaches are used to test clinical hypotheses. The impact of such a tremendous, cross-disciplinary effort is starting to emerge, with such approaches starting to have an impact on healthcare. The event will aim to promote discussion and shine light on current and emerging research trends in the computational and experimental characterization and role of cardiovascular blood flows, arterial and venous wall mechanics, its correlation with vascular disease, with a specific emphasis on their application to unsolved clinical challenges and translation into healthcare.
Topics
Patient-specific, image-based modelling;
Reduced-order modelling;
Cerebral flow modelling;
Cerebral blood flow measurement;
Cardiovascular disease;
Cardiovascular physiology;
Clinical translation and applied research;
Convenors
Confirmed speakers
Programme
Tuesday 13th December 2022
8:30 Welcome coffee & registration
9:00 Official opening – Alberto Marzo / Ayache Bouakaz (iBrain) + Sophie Gabillet (Le Studium)
Session 1: Cerebrovascular modelling
9:30 Dr Emmanuelle Chaigneau - Investigation of functional hyperaemia with an experiment-based model of brain vasculature
10:00 Dr Ivan Benemerito - Identification of biomarkers for distal perfusion following an ischaemic event: a combined mechanistical-statistical approach. 
10:20 Ahmet Sen - Understanding the relationship between anatomical variations of the circle of Willis and hemodynamics using machine learning
10:40 Weiquiang Liu - 3D blood flow simulations for understanding cerebral vasculopathy in sickle cell patients
11:00 Coffee break
Session 2: Cardiovascular modelling and medical devices
11:30 Prof. Francesco Migliavacca - Moving Aorta: from bench tests to bed side. 
12:00 Benjamin Csippa - Measurement-supported computational framework for the hemodynamic investigation of flow diverter treatments. 
12:20 Anna Ramella - On the modelling of the TEVAR procedure: a detailed FEA-FSI methodology. 
12:40 Sara Bridio - Dimensionality reduction and kernel optimization for the prediction of thrombectomy outcomes
13:00 Lunch (Hotel de Ville)
Session 3: Ultrasound approaches in cardiovascular applications 
14:30 Dr Clément Papadacci - 3D ultrafast ultrasound applications for human heart characterization.  
14:55 Guillaume Lacoin - Intraoperative ultrasound plane wave Doppler imaging allows better definition of gliomal infiltration. 
15:15 Philippe Trochet - Innovative imaging for cardiovascular diseases. 
15:40 Dr Redouane Ternifi - Super-Resolution Ultrasound Imaging: Current Research and Applications
16:05 Coffee break
Session 4: Clinical perspectives and the role of in silico medicine 
16:30-17:00 Dr Ana Paula Narata - Imaging to create virtual humans: the importance of models to improve the management of vascular pathologies 
17:00-17:30 Prof. Alfons Hoekstra – Towards In-Silico Stroke Trials
17:30-18:00 Prof. Diederik Bulters - Risk of Aneurysm Rupture study – rationale and opportunities. 
18:00 Closing remarks
18:30

Public lecture in French:

 Dr Jean-Michel Escoffre & Prof. Damien Lacroix - Innover aujourd'hui pour guérir demain: diagnositcs et thérapies personnalisés
20:00 Social dinner
Wednesday 14th December 2022
8:30 Welcome coffee
9:00  Welcome – Alberto Marzo / Ayache Bouakaz 
Session 5: Cardiac modelling applications
9:15 Prof. Gaetano Burriesci - Design, development and preclinical validation of a novel transcatheter aortic valve concept
9:45 Nada Ghorab - Modelling Coronary Bifurcations: Using angiograms to produce CFD models that predict blood flow – the methodology.
10:05 Giulia Pederzani - Digital Coronary Phantoms as Gold Standard Method for Software Validation and Improvement. 
10:25 Pjotr Hilhorst - An in Silico clinical trial on coronary fractional flow reserve as a replacement for the original clinical trial: a feasibility study. 
10:45 Coffee break
Session 6: Cardiovascular modelling
11:15 Dr Alberto Marzo - The role of collaterals in treatment of intracranial aneurysms. 
11:35 Dr Gabor Zavodszky - Components of the high-risk thrombotic blood flow environment, from cells to organs.
11:55 Ning Wang - Determining image accessible biomarkers for non-invasively distinguishing hypertensive from diabetic renal injury through a mechanistic model and MR imaging. 
12:15 Thomas Feaugas - Design of artificial vascular devices: hemodynamic evaluation of shear-induced thrombogenicity. 
12:35 Closing lunch (Hotel de Ville)
Oral presentations & posters
Abstracts should be submitted before
Monday
07th November  2022
. Please upload your abstract during the registration or send it before the deadline to 
maurine.villiers@lestudium-ias.fr
.
The number of oral presentations is limited, convenors will process a selection and confirm your presentation not later than
Monday
14th November  2022
.
Please 
download the template
 for oral presentation.
Please note that we do not print the posters, but racks & pins will be provided for up to A0 sizes, portrait format.
Location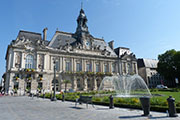 Hôtel de Ville : Boulevard Heurteloup - 37000 TOURS - FR
The event will take place in the city centre at the Hotel de Ville of Tours located in Square Jean-Jaures and very near the main train station. This elegant building was designed in the early 20th century by Victor Laloux, the architect of the Gare d'Orsay in Paris (now the Musée d'Orsay).  Its monumental stairs, paintings and sculptures make it a recommended place to visit. Participants will also have the opportunity to discover French cuisine and Loire Valley wines during an evening social.
PRACTICAL INFORMATION
PRICING
(Including two lunches and the coffee breaks)
| | |
| --- | --- |
| Private institutions | 250 EUR |
| Public institutions | 180 EUR |
| Students & PhD Scholars | 75 EUR |
| Social dinner & touristic visit | 55 EUR |