May 23, 2018 - May 25, 2018
Wood formation and tree adaptation to climate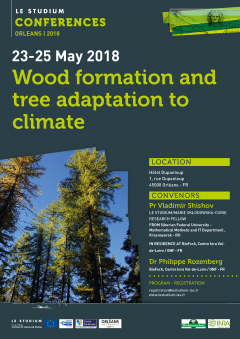 Wood plays key roles in living trees, providing not only mechanical support but also storing and transporting water and nutrients to the leaves, thus allowing them to fix carbon. For this reason, wood characteristics are important in determining the ability of a tree to face environmental cues, including climate change. Indeed, wood anatomy, structure and function fit the environmental conditions the trees are living in. Accordingly, under a strongly and rapidly changing climate these characteristics need to be adjusted to fit the new environmental conditions through phenotypic plasticity and/or evolutionary adaptation.
To promote a sound and future oriented management of forest resources under changing climate it is fundamental that tree breeders and forest managers select and promote individuals, provenances and species that best fit the future conditions. It is therefore important and urgent that plant scientists provide tools and knowledge helping to identify and select the most relevant adaptive traits.
With this conference we aim at gathering experts from different disciplines to present, exchange and discuss their recent advancements related to a better understanding of plant adaptation to climate, with special focus on the wooden plants. The conference will be held on May 23-25 in Orléans (France) and will include five successive sessions, namely:
1) Environmental and/or genetic control of wood formation
2) Methodological developments for the study of wood formation and tree adaptation to climate
3) Potential adaptive wood traits, future selection traits: which and why?
4) Ecophysiological approaches to wood functioning
5) Wood/Climate modeling and information systems
More information will be provided online after a second announcement in December
Main topics
Tree rings, climate change, evolutionary adaptation, phenotypic plasticity, cambial activity, cell profile, seasonal growth, process-based simulation.
Convenors
Pr Vladimir Shishov, LE STUDIUM / Marie Skłodowska-Curie Research Fellow.
FROM: Siberian Federal University - Mathematical Methods and IT Department - RU
IN RESIDENCE AT: Unité AGPF Unité Amélioration Génétique et Physiologie Forestières INRA - FR
Dr Philippe Rozenberg,
Unité AGPF Unité Amélioration Génétique et Physiologie Forestières INRA - FR
Confirmed Speakers
Frank Berninger, university of Helsinki - FI
Annie Deslauriers, Université Chicoutimi - CA
Saul Espinoza, Université Chiapas - MX
Patrick Fonti, World Surf League (WSL) - CH
Guillermo Gea-Izquierdo, INIA-CIFOR - ES
Joël Guiot, CEREGE, CNRS - FR
Pr Emilia Gutierrez, University of Barcelona - ES
Alejandro Martinez-Meier, Instituto Nacional de Tecnología Agropecuaria (INTA) - AR
Cyrille Rathgeber, INRA - FR
Sabine Rosner, 

Universität für Bodenkultur (

BOKU) - AT
Sergio Rossi, Université Chicoutimi - CA
Kathy Steppe, Ghent University - BE
Eugene Vaganov, Siberian Federal University - RU
Scientific Committee
Philippe Rozenberg, INRA, AGPF - FR
Vladimir Shishov, Siberian Federal University - RU
Luc Pâques, INRA, AGPF - FR
Annie Deslauriers, Chicoutimi University - CA
Saul Espinoza, Chiapas University - MX
Alejandro Martinez-Meier, INTA - AR
Patrick Fonti, WSL - CH
ORAL PRESENTATIONS & POSTERS
Abstracts for oral presentation and poster should be submitted before Monday 05th of March 2018. Please upload your abstract during the registration or send it before the deadline to maurine.villiers@lestudium-ias.fr.
The number of oral presentations is limited, convenors will process a selection and confirm your presentation not later than Friday 09th of April 2018.
Please note that we do not print the posters, but racks & pins will be provided for up to A0 sizes. 
Location
Hôtel Dupanloup : 1, rue Dupanloup - 45000 ORLEANS - FR
The conference venue is unique. Located right next to the Orléans' cathedral, the episcopal palace of Orléans, built between 1635 and 1641, locally known as the Hôtel Dupanloup, is a classical French building which served until 1905 of residence to the bishops of Orléans.  Since 2014, the renewed palace hosts the International University Center for Research and Le Studium Loire Valley Institute for Advanced Studies.
Participants will be welcomed in this exceptional surrounding, blending Middle Age and Renaissance cultures with modern design and will have the opportunity to discover French cuisine and wines.
PRACTICAL INFORMATIONS
PRICING
| | |
| --- | --- |
| Private institutions | 250 EUR |
| Public institution | 180 EUR |
| Students & PhD Scholars | 60 EUR |
| Social dinner | 60 EUR |