About us

Who we are - mission
Established in 1996 and inspired by the historical, geographical and human cultures of the Loire Valley, LE STUDIUM is an internationally recognised regional agency, whose goal is to create in region Centre-Val de Loire a dynamic scientific community that includes public and private research stakeholders.
LE STUDIUM welcomes experienced foreign researchers into public and private regional laboratories and organises scientific events, which promote interdisciplinary exchanges between regional and international scientific communities and enhance the development of human capital for research, development and innovation.
LE STUDIUM was installed in heart of the city of Orleans in December 2013, at the premises of the prestigious Hotel Dupanloup, which was renamed the International University Centre for Research. This location has provided exceptional facilities for researchers and an enhanced international presence in the city of Orleans that strengthens its attractiveness, enabling it to welcome high-level talents in the region Central Val de Loire. LE STUDIUM relies on the laboratories in the region Centre-Val de Loire to host foreign researchers that can benefit from and contribute to the laboratories and the region's international recognition in various research themes.
In order to achieve its mission, LE STUDIUM benefits from a strong regional partnership network and works in close collaboration with regional research stakeholders:
Higher education and research: University of Orleans, University François-Rabelais Tours, INSA Centre Val de Loire, ESAD
National research institutes: BRGM, CNRS, CEA, INRA, INSERM
Poles of Competitiveness: Cosmetic Valley, Elastopole, Dream, S2E2
LE STUDIUM Loire Valley Institute for Advanced Studies provides its invited researchers an "intellectual and human space", which favours interdisciplinary exchanges and debates guided by the three necessary conditions required for creative activity, namely Curiosity, Imagination and Intuition.
Activities
LE STUDIUM operates the SMART LOIRE VALLEY PROGRAMME with different activities:
LE STUDIUM offers multiple formats of temporary long stay  (scholarships, professors, etc.) as well as additional programmes (international research consortium, summer school, workshop, seminar) designed to attract to the region experienced foreign researchers. The General Programme is open to all areas of research currently established in the region and specific targeted programmes aim to recruit researchers in connection with the ARD2020 smart specialisation strategy of the Centre-Val de Loire region.
Long stay residence formats
PROFESSORSHIP: Welcoming an internationally recognised Professor who brings expertise to two public or private laboratories in order to share knowledge, lead research projects and teach in region Centre-Val de Loire for three months each year for four years.
FELLOWSHIP: Welcoming an experienced foreign researcher who stays and works for a year in a laboratory of region Centre-Val de Loire.
CONSORTIUM: Creating a team of five researchers –four foreign researchers and one researcher from region Centre-Val de Loire – to exchange and develop new perspectives about a topic; organizing four seminars of one week every six months for two years.
Since 1996 LE STUDIUM has acquired real expertise in recruiting and welcoming experienced foreign researchers and in organising international scientific events, and thus contributes to enrich regional projects and their members, individually or collectively, on impulse of local authorities. 
Scientific animation

LE STUDIUM THURSDAYS: cross-disciplinary meetings every first Thursday of the month, gathering the researchers in residence, their laboratory hosts and guests from the scientific, industrial and institutional sectors.
LE STUDIUM CONFERENCES: two to three days scientific colloquium gathering experts from all over the world, about the thematic of LE STUDIUM research fellows.
LE STUDIUM LECTURES: lectures open to the public, research and innovation stakeholders. 
LE STUDIUM WORKSHOPS: one to four days' workgroup's exchange and reflection with a common objective such as structuring research projects, discussing a line of research or transferring knowledge and technologies...
LEONARDO MEETINGS: general public conferences aiming at highlighting and discussing the challenges of research in region Centre-Val de Loire, including those linked to the socio-economic world.
Welcoming foreign researchers
LE STUDIUM pays for research fellows' salary and accommodation and deals with all logistics and administrative aspects (visa, residence permit, registration to social agencies, medical coverage, school for children, diverse activities…) to welcome them and their family in exceptionally good conditions.
In Orleans LE STUDIUM welcomes its researchers in the prestigious Castle of La Motte Sanguin where distinguished apartments offer an exceptional setting and view on the Loire river.
LE STUDIUM has welcomed in region Centre-Val de Loire more than 130 experienced foreign researchers from 37 countries of Europe, America, Africa, Asia and Oceania, staying in region Centre for 12 to 16 months.
LE STUDIUM relies on the skills of the Mobility Centre put in place between the University of Orléans and the François-Rabelais University in Tours and the global EURAXESS services.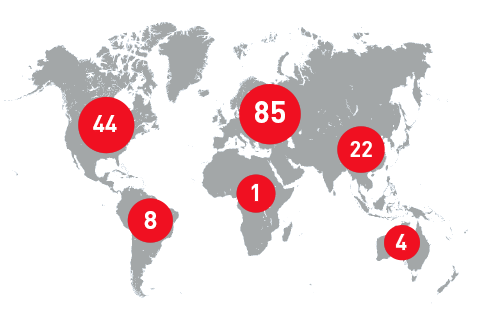 Origin of foreign LE STUDIUM researchers in region Centre-Val de Loire
Scientific Council
LE STUDIUM ensures the recruitment and arrival of highly qualified and skilled international researchers.
A call for projects - Le Smart Loire Valley General Programme* - ,open from November each year to February next year, collects Professorship, Consortium and Fellowship applications which are then evaluated by independent external peer reviewers and an independent Scientific Council.  A final selection of best candidates and high added-value research projects is published each year.
LE STUDIUM Scientific Council is composed of 20 members, all independent scientific experts, regularly renewed, in order to ensure an independent international perspective on the evaluation of scientific projects that are submitted for review.               
LE STUDIUM Scientific Council meets annually, following external peer reviews, to select successful Fellowship candidates. In addition, separately and according to their field of specialization and expertise, Scientific Council members are involved in the review of candidates and proposals from applicants in the Ambition for Research and Development 2020 regional programme.
*this programmes receives funding from the European Union Horizon 2020 research innovation programme under the Marie Sklowdovska Curie grant agreeement # 665790
Scientific Council members list
Governance
LE STUDIUM Loire Valley Institute for Advanced Studies counts among its members the universities of Orleans and François-Rabelais of Tours, the INSA CVL, the ESAD Orléans,  and research institutions present in the region Centre-Val de Loire (BRGM, CEA, CNRS, INRA, INSERM), poles of competitiveness and clusters based in region (Cosmetic Valley, Elastopôle, Pôle S2E2, Pôle DREAM), as well as a number of personalities of the socio-economic world.
Aside from the General Assembly of Members and the Board, a steering committee - Orientation Committee - validates the strategy of LE STUDIUM Institute for Advanced Studies and participates in the evaluation of Institute activities. The Orientation Committee gathers with the members of the board and officers, the representatives of the State (Rector of the Academy and Regional delegate for research and technology), the representatives of local authorities (Regional Council of the region Centre-Val de  Loire, the Loiret General Council and the city of Orleans). The Vice-president of the Regional Council of the region Centre-Val de Loire for Universities, higher education, research and innovation, chairs the Orientation Committee and provides guidance.