April 26, 2018 - April 27, 2018
Giordano Bruno: Will, Power, and Being - Law, Philosophy, and Theology in the Early Modern Era
From Wittenberg to Rome, and Beyond - Bruno Festival, 3rd edition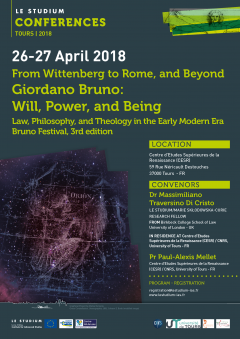 'That a profound sensitivity towards spirituality penetrates all Giordano Bruno's philosophy—as Eugenio Garin puts it in his L'umanesimo italiano—in no way can be denied […]. A religious inspiration goes through and inflames all his writings, although it later leads him even to the blasphemy against the Christian religion.' As the statement suggests, religion actually reveals to be indispensable for an adequate understanding of Giordano Bruno's thought and hence for a correct appreciation of attitudes like, on the one hand, his defence of an infinite universe in cosmology or, on the other hand, his anthropological positions and the importance he gave to philosophy by considering it as an ethical and historical mission. Starting from a re-evaluation of Christianity after Luther's Reform, the event aims to discuss Giordano Bruno's contribution to the history of modern ideas by focusing in particular on theological, moral, and legalpolitical aspects of his philosophy, and by comparing his views to other significant sixteenth-century writers, who include: his fellow countrymen Alberico Gentili and Tommaso Campanella, the masters of the School of Salamanca, François Hotman, Michel de Montaigne, François Bauduin, Celio Secondo Curione, and Jean Bodin. In continuity with the first 2 editions of the event and the meetings that preceded it, special attention will be paid to Bruno's last philosophical teaching: his Wittenberg period and the role of the city in the second half of the sixteenth century, the 'Frankfurt trilogy', the treatises on magic, and the trial documentation.
Convenors
Dr Massimiliano Traversino Di Cristo
FROM Birkbeck College School of Law University of London - UK
IN RESIDENCE AT Centre d'Etudes Supérieures de la Renaissance (CESR) / CNRS, University of Tours - FR
Dr Paul-Alexis Mellet,
Centre d'Etudes Supérieures de la Renaissance (CESR) / CNRS, University of Tours - FR
Slideshow
Confirmed Keynote Speakers
Location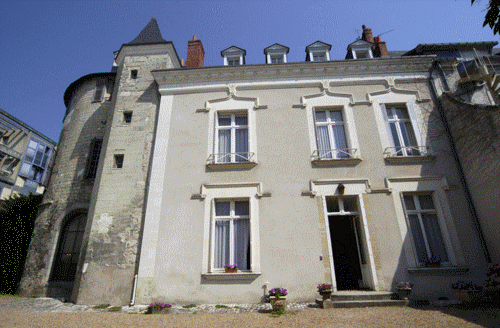 Centre d'Etudes Supérieures de la Renaissance (CESR) :
59, Rue Néricault Destouches - 37000 TOURS - FR
The conference venue is unique. Located right next to the basilica of St Martin in the old city centre of Tours, the Centre d'Études Supérieures de la Renaissance (Centre for Advanced Studies in the Renaissance) is a teaching and research institution which welcomes students and researchers seeking initial or supplementary instruction in all aspects of the Renaissance. The Centre was initially constituted in 1956 on the basis of a library and a documentary archive, supplemented by a collection of photographs and databases. It is now a venue for multi-disciplinary instruction, which, in association with the various Faculties of the University, has responsibility for teaching and research in History, History of Art, Literature, Languages, Musicology, and Philosophy. It currently leads a large research programme dedicated to the cultural regional heritage (Intelligence des Patrimoines). As a research centre it brings together fifty or so researchers committed to the investigation of the "civilization of the Renaissance" from Petrarch to Descartes. Participants will be welcomed in this exceptional surrounding blending Middle Age and Renaissance cultures and will have the opportunity to discover French cuisine and wines.
Conference PROGRAM
Thursday April 26th 2018
Morning Session : Law, Theology, and Politics in Bruno's Philosophy and His Time
Chair: Dr Paul-Alexis Mellet
08:30    Welcome coffee & registration
09:00    Official opening : Sophie Gabillet (Le Studium) & Philippe Vendrix (President of the University of Tours) 
09:15    Dr Massimiliano Traversino Di Cristo - The Role of Theology in Alberico Gentili: His Moderate Lutheranism as a Historical-Genealogical Feature of His Account of the Concepts of Prince and Sovereignty
​10:00    Dr Elisabeth Blum - Irenic Policy – Gasparo Contarini's Dialogue with the Protestants
Discussion
10:45    Coffee Break
11:00    Pr Maria Stefania Montecalvo - Celio Secondo Curione: Re-Discovery of Classicism, Religious Reform, and Political Change
Discussion
11:45    Pr Alberto Bondolfi - Quel rôle pour la théologie dans le De potestate civili de Francisco de Vitoria ?
12:30    Lunch - La Table du Grand Marché
Afternoon Session : Magic, Science, and Philosophical Discourse on Soul and Immortality
Chair: Dr Massimiliano Traversino Di Cristo
15:15    Pr Hilary Gatti - Giordano Bruno's Ash Wednesday Supper as a Prelude to Galileo's Dialogue on the Two Major World Systems
Discussion
16:00    Pr Ignacio Gómez de Liaño Alamillo - Bruno's Magic: Science and Power
Discussion
16:45    Coffee Break
17:00    Dr Angelika Bönker-Vallon - Adam and Eve in Early Modern Anthropology: Giordano Bruno's Position on Preadamitic Life and His Defense of the Concept of Anima mundi
Discussion
17:45    Dr Paul Richard Blum - Polemics on Soul and Immortality: The Background of Bruno's Cabala
Discussion
20:00    Social Dinner - L'Atelier Lebeau
Friday April 27 th 2018
Morning Session : Religious Warfare, European State-Building, and Literary Polemics
Chair: Dr Elisabeth Blum
08:45    Welcome coffee
09:00    Dr Elisabetta Tarantino - History and Religion in Candelaio
Discussion
09:45    Pr Raffaele Ruggiero - François Bauduin and the Model of Roman Jurisprudence in the Early Modern State Building during the European Religious Warfare
Discussion
10:30    Coffee break
10:45    Dr Boudewijn Sirks - Common right and reason' against Parliament and King
Discussion
11:30    Dr Paul-Alexis Mellet - De quoi la Saint-Barthélemy est-elle le nom ?
Discussion
12:15    Closing Remarks
12:30    Lunch - La Table du Grand Marché
PRICING
Including two lunches and coffee breaks
| | |
| --- | --- |
| Public institutions | 75 EUR |
| Students & PhD Scholars | 50 EUR |
| Social Dinner (Thursday 26th) | 55 EUR |
WITTENBERG EVENTS
Festival Bruniano, 3rd Edition Tours & Wittenberg
Download the poster of the Wittenberg colloquium