June 28, 2022 - June 30, 2022
Understanding, preserving and improving the world around us
LE STUDIUM 25 Years Conference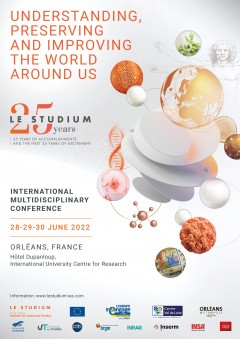 Established in 1996 in Orleans by Prof. Paul Vigny, LE STUDIUM has become the Loire Valley Institute for Advanced Studies covering all research fields. Over the past 25 years, it has welcome more than 240 international scientists originating from 47 countries all over the world. Its actions have contributed to boost international scientific exchanges in the Centre-Val de Loire region and have ensured a steady visibility to the regional research and innovation ecosystem.
LE STUDIUM will celebrate this anniversary by a major interdisciplinary and transdisciplinary conference taking place in Orléans on June 28-30, 2022. The goal of this conference is to gather a large number of present and past guests, professors, fellows and visitors, who have performed their research in regional laboratories and who will illustrate the multidisciplinary activities of LE STUDIUM. This conference will give the opportunity to acknowledge these 25 years of accomplishments together with the successful implementation of the European COFUND Smart Loire Valley Fellowships Programme.
LE STUDIUM Loire Valley Institute for Advanced Studies is one of the oldest institutes in France and unique in France offering a full panel of research possibilities from mathematics to humanities, including hard and soft matter studies from material sciences to chemistry and biology. This features the diversity and potential of the Centre-Val de Loire region's research landscape.
Sciences and societal concerns are moving along forward and LE STUDIUM, keeping track of these trends, has defined a strategic vision for the future to embrace scientific challenges and support its regional research partners' strategies. A series of Keynote speakers will bring their vision and of these future challenges as well.  This conference is also an opportunity for LE STUDIUM management to present the elements of perspectives paving its future strategy: offering new programmes and events, taking into account regional scientific priorities, engaging into European and international networks, fostering interdisciplinary projects and providing support to innovation and socio-economic activities at the regional level.
---
  Créée en 1996 à Orléans par le professeur Paul Vigny, l'agence LE STUDIUM est devenue le Loire Valley Institute for Advanced Studies ouvert à tous les domaines de la recherche. Au cours des 25 dernières années, il a accueilli plus de 240 scientifiques internationaux originaires de 47 pays du monde entier. Ses actions ont contribué à dynamiser les échanges scientifiques internationaux en région Centre-Val de Loire et ont assuré une visibilité constante à l'écosystème régional de recherche et d'innovation.
LE STUDIUM célébrera cet anniversaire par une grande conférence interdisciplinaire et transdisciplinaire qui aura lieu à Orléans du 28 au 30 juin 2022. L'objectif de cette conférence est de réunir un grand nombre de chercheurs invités actuels et passés, professeurs, visiteurs, qui ont effectué leurs recherches dans les laboratoires régionaux et qui illustreront les activités multidisciplinaires du STUDIUM. Cette conférence sera l'occasion de mettre en lumière ces 25 années de réalisations ainsi que la mise en œuvre réussie du programme européen COFUND Smart Loire Valley Fellowships.
LE STUDIUM Loire Valley Institute for Advanced Studies est l'un des plus anciens instituts Français et est unique en France. Il offre un panel complet de possibilités de recherche, des mathématiques aux sciences humaines, en passant par l'étude de la matière dure et molle, des sciences des matériaux à la chimie et à la biologie. Cela illustre la diversité et le potentiel du paysage de la recherche de la région Centre-Val de Loire.
Les sciences et les préoccupations sociétales vont de paires et LE STUDIUM, suivant ces tendances, a défini une vision stratégique pour les années à venir afin de relever certains défis et de soutenir ses partenaires de recherche régionaux dans leur stratégie. Une série d'orateurs principaux apporteront également leur vision de l'avenir et des enjeux.  Cette conférence est également l'occasion pour la direction de LE STUDIUM de présenter les éléments de perspectives qui jalonnent sa stratégie future : offrir de nouveaux programmes et événements, prendre en compte les priorités scientifiques régionales, s'engager dans des réseaux européens et internationaux, favoriser les projets interdisciplinaires et apporter un soutien à l'innovation et aux activités socio-économiques régionales.
Confirmed speakers
Dr Conchi Ania (CEMHTI, CNRS - FR) - Porous Carbons for Water Treatment: facing current pollution threats with advanced methods
Dr Dominique Arrouays (Centre INRAE Val de Loire - FR) - InfoSol Digital soil mapping from territories to globe. Progress and challenges
Prof. Richard Freedman (Haverford College - USA) - Decoding Music:  What Musicology and Data Science Can Learn from Each Other
Dr Erida Gjini (University of Lisbon - PT) - Coexistence near neutrality
Prof. David Graves (Princeton University - USA) - Low Temperature Plasma with Applications from Nanofabrication to Biomedicine
Dr Natalia Kirichenko (Russian Academy of Science - RU) - Use of archival data and modern molecular genetic tools in studying invasions of tree insect pests
Prof. Jens Moesgaard (Stockholm University - SE) & Dr Guillaume Sarah (IRAMAT, CNRS - FR) - A successful collaboration between humanities and hard sciences: the study of Viking coins in Normandy
Prof. Akkihebbal Ravishankara (Colorado State University - USA) - Our world can mitigate environmental changes: Montreal Protocol as a case study
Prof. Christophe Sinturel (ICMN, CNRS, Université d'Orléans - FR) -  Block copolymer self-assembly in thin films
Location
Hôtel Dupanloup : 1, rue Dupanloup - 45000 ORLEANS - FR
The conference venue is unique. Located right next to the Orléans' cathedral, the episcopal palace of Orléans, built between 1635 and 1641, locally known as the Hôtel Dupanloup, is a classical French building which served until 1905 of residence to the bishops of Orléans.  Since 2014, the renewed palace hosts the International University Center for Research and Le Studium Loire Valley Institute for Advanced Studies.
Participants will be welcomed in this exceptional surrounding, blending Middle Age and Renaissance cultures with modern design and will have the opportunity to discover French cuisine and wines.
Practical Information