December 2, 2019 - December 4, 2019
Skin Models in Cosmetic Science: Bridging Established Methods and Novel Technologies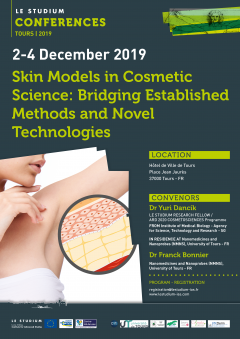 THE REGISTRATION IS CLOSED 
The conference will start on Monday 02nd December at 12:30 and end on Wednesday 04th at noon.
The International Interdisciplinary Conference titled "Skin Models in Cosmetic Science: Bridging Established Methods and Novel Technologies" will be held from the 2nd to the 4th of December 2019 in Tours, France.
The Conference aims to bring together an international group of experts to discuss the state-of-the-art in the research and development of skin models and novel analytical techniques for efficacy and safety testing of cosmetic products. Talks and discussions will contrast various industrial and academic viewpoints and visions regarding the characterization and evaluation of cosmetic products, particularly as these relate to the use of in vitro, ex vivo and in vivo models of human skin and non-invasive biophotonic techniques. The Conference will also address the topic of regulatory requirements for the validation of novel skin models and analytical techniques.
Talks and discussions will thus center on the following questions:
What are the roles of alternative skin models in the evaluation of cosmetic products?
Which skin models are appropriate for specific efficacy and/or safety applications and criteria?
What roles do non-invasive biophotonic techniques play in the evaluation of cosmetic products?
What are the necessary regulatory steps for adoption of the most promising biophotonic techniques, in order to incorporate them into or go beyond currently accepted evaluation methods?
A further aim is to highlight the research and development in the cosmetic sciences conducted with the region Centre-Val de Loire. Held in the heart of the Cosmetic Valley technopole, the Conference is meant to promote national and international collaborations across industry and academia. Regional, national and international scientists in the field are strongly encouraged to attend and present their research.
While a panel of renowned invited speakers will establish the actual context through plenary sessions, a strong emphasis will be given to young scientists. In each session slots for oral presentations will be dedicated to rising scientists in the field to offer them a chance to present their work and to encourage their participation in the discussions.
Student participation is also strongly encouraged. To this end, the Conference includes a poster session preceded by a flash presentation session. Students who wish to may present their work in 2-3 min talks in order to initiate discussions in front of their posters. 
This international conference is organised in the framework of the ARD 2020 Cosmetosciences Programme.
Topics
In vivo and excised human skin in cosmetic sciences
Advantages and limitations, complementarity for efficacy and safety testing, etc.
Human reconstructed skin for cosmetic R&D
Advantages and limitations for efficacy and safety testing, etc.
Novel skin equivalent models and their characterization
Synthetic, lipid membranes, skin equivalents, skin-on-chip, 3D bioprinted skin, barrier composition and properties. 
Non-invasive biophotonic techniques in cosmetic sciences
Multiphoton microscopy / FLIM, Raman spectroscopy, optical coherence tomography, photothermal IR spectroscopy, comparison to other analytical techniques.
Convenors
Slideshow
Confirmed speakers
Prof. Joke A. Bouwstra, Leiden Academic Centre for Drug Research - NL
Prof. Malcolm Clench, Sheffield Hallam University - UK
Dr Maxim E. Darvin, Center of Experimental and Applied Cutaneous Physiology / Charité-Universitätsmedizin Berlin - DE
Dr Helena Kandarova, Centre for Experimental Medicine / Slovak Academy of Sciences - SK
Dr Victoria Klang, University of Vienna, Faculty of Life Sciences - AT
Prof. Karsten König, Saarland University / JenLab GmbH / UdF GmbH - DE
Dr Robert Maidhof, The Estee Lauder Companies Inc. - USA
Dr Claudio Nico, RiverD International B.V - NL
Dr Jonas Ogien, DAMAE Medical - FR
Dr Christian Pellevoisin, EPISKIN - FR 
Dr Francis Vial, SPINCONTROL - FR
Prof. Ali Tfayli, lip(sys)2 / Université Paris Saclay-Paris Sud - FR
Oral presentations & posters
Abstracts for oral presentation and poster should be submitted before Monday 28th October 2019. Please upload your abstract during the registration or send it before the deadline to maurine.villiers@lestudium-ias.fr.
The number of oral presentations is limited, convenors will process a selection and confirm your presentation not later than Thursday 31th October 2019.
Please note that we do not print the posters, but racks & pins will be provided for up to A0 sizes, portrait format.
Please download the template for oral presentation.
Please download the template for poster presentation.
BEST POSTER AWARDS
Location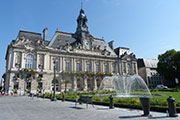 Hôtel de Ville : Boulevard Heurteloup - 37000 TOURS - FR
The event will take place in the city centre at the Hotel de Ville of Tours located Square Jean-Jaures and very near the main train station. This elegant building was designed in the early 20th century by Victor Laloux, the architect of the Gare d'Orsay in Paris (now the Musée d'Orsay).  Its monumental stairs, paintings and sculptures make it a recommended place to visit. Participants will also have the opportunity to discover French cuisine and Loire Valley wines during an evening social.
PRACTICAL INFORMATION
Programme
Monday December 2nd 2019
12:30    Welcome lunch and registration
14:00    Official opening: Vice President of the University of Tours and LE STUDIUM
​14:30    Emmanuelle Percheron, Cosmétosciences Programme
​Session 1: In vivo and excised human skin in cosmetic sciences
14:45    Dr Francis Vial - How to evaluate the efficacy of anti-aging products by in vivo approach?
15:15    Dr Robert Maidhof - Skin autofluorescence as a predictor of epidermal proliferation and clinical performance of cosmetic formulations
15:45    Dr Claudio Nico - Non-invasive in vivo analysis of the skin by Raman spectroscopy – an old technique with a new method for quantitative results of the penetration of topically applied materials
16:15    Coffee break
Session 2: Human reconstructed skin in cosmetic sciences - industry viewpoint
16:45    Dr Christian Pellevoisin - 3D models, a tool for routine screening and discovery of new application areas
17:15    Dr Helena Kandarova - Skin models in cosmetic science from an industry perspective - standardized tissue models for correct hazard identification and safety testing
17:45    Dr Michael Pastore - Nativeskin®, a ready-to-use living human skin assay to test the efficacy and safety of dermocosmetics
18:05    Poster flash presentations (2 mins)
18:45    Public lecture in French: Franck Bonnier / Yuri Dancik : Produits cosmétiques: Parlons pénétration cutanée!
20:00    Wine and cheese cocktail - Hôtel de ville
Tuesday December 3rd 2019
​Session 3: Ex vivo skin methodologies
09:00    Dr Hanan Osman-Ponchet - Use of alternative skin models in safety and efficacy testing of cosmetic products
09:30    Dr Victoria Klang - Application of ATR-FTIR Spectroscopy and Confocal Raman Spectroscopy for ex vivo skin penetration studies
10:00    Dr Laurène Roussel-Berlier - The Future Trends of Cutaneous Bioavailability for Cosmetic Industry
10:20   Coffee break
​Session 4: Novel skin equivalent models and their characterization
10:50    Prof. Joke Bouwstra - Barrier properties of human skin models
11:20    Dr Francisca Erdő - Skin-on-a-Chip Device for Ex Vivo Monitoring of Transdermal Drug Delivery
11:40    Dr Catherine Grillon - Skin physioxia as a new parameter to improve in vitro skin models
12:00    Mariana Carrancá - Evaluation of a novel tunable lysine dendrimers and polyethylene glycol hydrogel as a three dimensional matrix to support tissue formation and the development of full thickness skin models
12:20    Lunch
​Session 5 part 1: Non-invasive techniques in cosmetic sciences
13:40    Prof. Karsten König - In vivo multiphoton tomography
14:10    Dr Ana-Maria Pena - Multiphoton imaging in cosmetics research from in vitro to in vivo
14:30    Dr Jonas Ogien - Non-invasive characterization of skin in depth using LC-OCT
15:00    Prof. Ali Tfayli - Methodologies for cutaneous investigations: analytical chemistry for in vivo, excised and reconstructed human skin characterization
15:30    Coffee break / Poster viewing session
​Session 5 part 2: Non-invasive techniques in cosmetic sciences 
16:00    Dr Maxim Darvin - Important features in determination of the water profile of the stratum corneum in untreated and treated skin using confocal Raman microscopy
16:30    Fatima Alsamad - Assessment of Advanced Glycation End-products by Raman Spectroscopy
16:50    Dr Yuri Dancik - Study of the effects of storage conditions on the barrier function of reconstructed human epidermis by confocal Raman spectroscopy
17:10    Coffee break
18:00    Guided visit of the historical center of Tours
20:00    Gala dinner at Château Belmont
Wednesday December 4th 2019
​Session 6: Imaging in cosmetic sciences
09:00    Prof. Malcolm Clench - Mass Spectrometry Imaging of Skin Models: A Powerful Technique for The Study of Cosmetics, Drugs and Toxicants
09:30    Dr Guillaume Collet - Laser scanning confocal macroscopy in the near-infrared: If we can see through the skin, we can see inside
09:50    DrJean-Marc Grégoire - High resolution ultrasound imaging of the skin: principle, some clinical applications and novelties
10:10    Aline Stella - Simultaneous estimation of spectra and penetration profile in Raman imaging by non-supervised MCR-ALS: application to active cosmetic ingredient tracking into the skin
10:30    Coffee break
​Session 7: Method development, cellular response 
11:00    DrAndy Forreryd - GARD®skin for in vitro assessment of skin sensitizers using a genomic biomarker signature and machine learning technology
11:20    Dr Anna Gustafsson - Effect of IFN-γ on the kynurenine pathway in monolayer-cultured keratinocytes and 3D reconstructed human epidermis model -can the kynurenine/tryptophan ratio serve as biomarker in disordered skin?
11:40    Ulises Lopez Gonzalez - Analysis of stimulated solar radiation effects of in vitro skin models by Raman spectroscopy            
12:00    Joudi Bakar - Comprehensive characterization and simultaneous analysis of overall epidermis layer lipids using LC/HR-MSn
12:20    Best poster awards, concluding remarks and Lunch box distribution
PRICING
(Including two lunches, a Wine & Cheese cocktail and the coffee breaks)
| | |
| --- | --- |
| Private institutions | 250 EUR |
| Public institutions | 180 EUR |
| Students & PhD Scholars | 75 EUR |
| Social dinner | 60 EUR |