September 27, 2017 - September 29, 2017
The role of glycosylation on serpin biology and conformational disease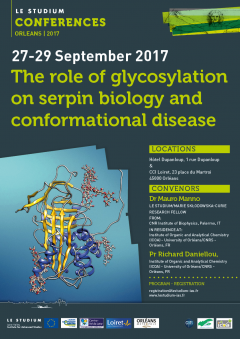 The registration is closed !
The aim of the conference is to bring together scientists working on the molecular aspects of protein conformational disease, specifically on serpinopathies, and on the role of glycosylation on the folding, stability, function and cellular fate of serpin proteins. Although this topic is recognised as an important aspect in the field, it has not been the focus of a dedicated conference so far. This event aims to be a milestone in the broader topic of the role of glycosylation on conformational disease, devoting a substantial time to open discussion with the intention of fostering collaborations and promoting new ideas.

 Immunoshape Session
Glycoscience, which focuses on the study of the structural and functional roles of carbohydrates in their biological context, has an increasing impact on many areas such as biotechnology, health, food and energy. IMMUNOSHAPE is a Marie Curie European Training Network that provides multidisciplinary and multisectorial training in biomedical glycoscience and its industrial applications to a new generation of young scientists. The training  course on  Intellectual property strategy and applications in life sciences will be on the morning of September 27th and is open to all the participants of the LE STUDIUM Conference on The role of glycosylation on serpin biology and conformational disease.
Please specify your interest in attending this training session in your registration form. Registration to the session is free but mandatory.
LOCATION
CONVENORS
Dr Mauro Manno, LE STUDIUM / Marie Skłodowska-Curie Research Fellow.
FROM: CNR Institute of Biophysics, Palermo, IT
IN RESIDENCE AT:
Institute of Organic and Analytical Chemistry (ICOA) - University of Orléans/CNRS - Orléans - FR
Pr Richard Daniellou
Institute of Organic and Analytical Chemistry (ICOA) - University of Orléans/CNRS - Orléans - FR 
Slideshow
SPEAKERS
SCIENTIFIC COMMITTEE
Pr Richard Daniellou, University  of Orléans - FR
Dr Mauro Manno, CNR Institute of Biophysics at Palermo - IT
Dr Maria Elena Miranda Banos, Sapienza Univ. of Rome - IT
MAIN TOPICS
Glycosylation, serpins, serpinopathies, protein conformational disease, protein folding and misfolding, protein traffickig
CALL FOR ABSTRACT
Abstracts, Bio & Posters must be written in English. 
Abstract are requested for oral and poster presentations focused on specific topic area including glycosylation, serpins, serpinopathies, protein conformational disease, protein folding and misfolding, protein trafficking.
Abstract are limited to 250 words, and should be submitted via email to Maurine Villiers
Due date Friday 18th August 2017 for oral presentations & posters.
Conference PROGRAM
Wednesday September 27th 2017
Immunoshape session
IP IN PHARMACEUTICAL AND DIAGNOSTIC PRODUCT DEVELOPMENT
09h00   IP Lecture by William Hammond (French Patent Attorney)
10h30   Coffee break
10h45   IP Case studies by William Hammond (French Patent Attorney)
12h30    Welcome lunch & registration
Opening session
14h00   Opening
14h30   H2020 funding opportunities, Thomas Rochette-Castel (Cellule Mutualisée Europe Recherche - CMER)
15h00   Pr Marco Cicardi - SERPING1 mutations, a serpinopathy leading to recurrent angioedema
15h30   Coffee break
Session 1: Glycosylation and its clinical implication in Serpinopathies
16h00   Pr Philippe Delannoy - Protein glycosylation: nature, biosynthesis and disease implications
16h30   Pr Javier Corral - Glycosylation of antithrombin: data from patient
17h00   Pr Markus Glatzel - Insights into the pathophysiology of Familial Encephalopathy with Neuroserpin Inclusion Bodies using murine models
17h45   Orléans city center guided visit
19h15   Wine & cheese cocktail at Hôtel Dupanloup
Thursday September 28th 2017
Session 2: Neuroserpin: function, dysfunction, therapy
08h30   Welcome coffee
09h00   Pr Denis Vivien - Single chain tPA versus two chain tPA from fibrinolysis to neuronal signaling
09h30   Dr Giovanna Galliciotti - Neuroserpin in nervous system development, manteinance and degeneration
10h00   Pr Stefano Ricagno - Effects of embelin in neuroserpin polymerisation
10h30   Coffee break & posters session
Session 3: ER: Stress, accumulation, clearance
10h50   Pr Stefan Marciniak - Measuring ER viscosity: relevance to alpha-1 antitrypsin deficiency
11h20   Dr Benoit Roussel - Non-proteolytic roles for the serine protease tPA in the ischemic brain: interactions and modifications on the ER stress and autophagic pathways
11h50   Ilaria Fregno - Clearance of proteosome-resistant protein polymers from the mammalian ER
12h10   Dr Riccardo Ronzoni - Kinetics of Z α1-antitrypsin polymers: intracellular accumulation and secretion
12h30   Lunch
Session  4: Glycosylation and its biological implication in Serpinopathies
14h00   Dr Maria Elena Miranda Banos - Neuroserpin polymers from the cell biology perspective: effects of N-glycosylation and induction of oxidative stress in cell models of dementia FENIB
14h30   Pr Bibek Gooptu - Biophysical characterisation of glycosylation and its effects in α1-antitrypsin
15h00   Dr Irene Martínez Martínez - Study of the antithrombin folding using the N-glycosylation as a tool
15h30   Dr María Eugenia de la Morena-Barrio - Defects of N-glycosylation on antithrombin
15h50   Coffee break
Session  5: Post-translational heterogeneity 
16h10   Dr Sonia Caccia - C1-Inhibitor, The Heavy Serpin
16h40   Pr Anna Fra - Uncommon behaviour of rare Alpha-1 Antitrypsin variants
17h10   Mattia Laffranchi - Hetero-polymerization of Z AAT with other alpha1-antitrypsin variants in cellular models
17h30   Jihen Ati - Glycosylate me, LEXSY !
17h50   Open session and discussion on Networking
20h15   Social Dinner
Friday September 29th 2017
Session  6: Polymers: pathways, structures
08h30   Welcome coffee
09h10   Dr Mauro Manno - The well-tempered polymerisation of neuroserpin: a biophysical perspective
09h40   Dr James Irving - Tools for probing the alpha-1-antitrypsin polymerisation pathway
10h10   Dr Vincenzo Martorana  - Can SAXS experiments help in elucidating the structure of serpin protein polymers?

10h50   Coffee break
Closing Session
11h10   Pr David A. Lomas - Therapeutic strategies for antitrypsin deficiency 
11h40   Closing remarks
PRACTICAL INFORMATIONS
REGISTRATION & Pricing
Registration has to be completed before the meeting and upon abstract acceptance by sending email to Maurine Villiers.
Registration fees include: conference participation, welcome cocktail on 27/09, light lunch on 28/09, coffee breaks.
| | |
| --- | --- |
| Private institutions | 250 EUR |
| Researchers | 180 EUR |
| Students | 60 EUR |
| Social dinner | 60 EUR |