October 15, 2018 - October 17, 2018
Progress in Organofluorine Chemistry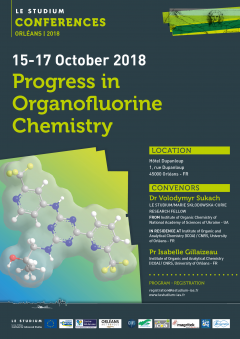 The registration is closed. 
The Institute of Organic and Analytical Chemistry (ICOA UMR CNRS 7311, University of Orleans) together with LE STUDIUM Loire Valley Institute for Advanced Studies organize an international scientific meeting which will be held in October, 15-17 2018 in Orleans, France.
This symposium will bring together an international panel of world renowned keynote speakers who will present cutting edge lectures covering recent progress and perspectives in organofluorine chemistry. Fluorine-containing compounds are of high interest in organic chemistry as they have found in a wide range of applications in pharmaceuticals, agrochemicals, medical imaging, polymers and material science. The conference aims to highlight new synthetic strategies for fluorine incorporation into organic molecules, and to demonstrate the unique potential of fluorine in modulating their structural, physical and biological properties.
Plenary and invited lectures will be complemented by the presentation of oral communications given by young scientists, as well as posters.
Altogether we hope that this conference will favor not only new discoveries but also the exchange of ideas for further collaborations and development. We thus wish all participants a very stimulating, rewarding and memorable meeting.
Convenors
Dr Volodymyr Sukach, LE STUDIUM / Marie Skłodowska-Curie Research Fellow.
FROM: Institute of Organic Chemistry of National Academy of Sciences of Ukraine - UA
IN RESIDENCE AT: Institute of Organic and Analytical Chemistry (ICOA) / CNRS, University of Orléans - FR
Pr Isabelle Gillaizeau,
Institute of Organic and Analytical Chemistry (ICOA) / CNRS, University of Orléans - FR
Slideshow
Confirmed Speakers
Dr Petr Beier, Institute of Organic Chemistry and Biochemistry - CZ
Dr Tatiana Besset, CNRS COBRA, INSA, Université de Rouen - FR
Pr Thomas Lectka, Johns Hopkins University, Department of Chemistry - USA
Dr Emmanuel Magnier, Institut Lavoisier de Versailles - FR
Pr David O'Hagan, School of Chemistry, University of St Andrews - UK
Pr Troels Skrydstrup, Interdisciplinary Nanoscience Center, Aarhus University - DK
Pr Vadym Soloshonok, Ikerbasque, Basque Foundation for Science - ES
Pr Sébastien Thibaudeau, IC2MP, University of Poitiers - FR
Dr Jean-Pierre Vors, Bayer CropScience - FR
Pr Yurii Yagupolskii, Institute of Organic Chemistry, NAS of Ukraine - UA
Pr Samir Zard, Laboratoire LSO Ecole Polytechnique,  Universite Paris-Saclay - FR
ORAL PRESENTATIONS & POSTERS
Abstracts for oral presentation and poster should be submitted before Monday 17th of September 2018. Please upload your abstract during the registration or send it before the deadline to maurine.villiers@lestudium-ias.fr.
The number of oral presentations is limited, convenors will process a selection and confirm your presentation not later than Friday 22nd of September 2018.
Please note that we do not print the posters, but racks & pins will be provided for up to A0 sizes, portrait format. 
The best communications in the area of "Cancer or Regenerative Pharmacology"  will be selected by conference's scientific committee.
The authors of those abstracts will receive in October, invitations to publish their work (experimental or review) in the special volume of The European Journal of Pharmacology (2016 IF~3), edited by Professor Marek J. Łos.
Location
Hôtel Dupanloup : 1, rue Dupanloup - 45000 ORLEANS - FR
The conference venue is unique. Located right next to the Orléans' cathedral, the episcopal palace of Orléans, built between 1635 and 1641, locally known as the Hôtel Dupanloup, is a classical French building which served until 1905 of residence to the bishops of Orléans.  Since 2014, the renewed palace hosts the International University Center for Research and Le Studium Loire Valley Institute for Advanced Studies.
Participants will be welcomed in this exceptional surrounding, blending Middle Age and Renaissance cultures with modern design and will have the opportunity to discover French cuisine and wines.
PRACTICAL INFORMATIONS
Conference programme
Monday October 15th 2018
12:30    Welcome lunch & registration
14:00    Official Opening: Pr Ioan Todinca (University of Orléans), Sophie Gabillet (LE STUDIUM), Pr Pascal Bonnet (ICOA) & Pr Isabelle Gillaizeau (ICOA)
14:20    Pr Vadim Soloshonok - Useful reagents for installation of CF3, CF2, and quaternary CF groups
15:00    Pr David O'Hagan - Some novel organo-fluorine motifs
15:40    Coffee break & Posters session
16:20    Dr Volodymyr Sukach - Fluoroalkyl ketimines in decarboxylative Mannich reaction
16:45    Pr Troels Skrydstrup - Carbonlyative Couplings with Fluorinated Building Blocks
17:25    Pr Samir Zard - Radicals in Action: New Manifold Routes to Organofluorine Structures
18:05    Coffee break
18:30    Public Lecture in French : Dr Pascal Bouyssou - Vin et chimie, amis ou ennemis ?
20:00    Wine & cheese cocktail​
Tuesday October 16th 2018
08:45    Welcome coffee
09:00    Pr Yurii Yagupolskii - Advances within fluorine-containing groups molecules  – C, O, S and N-centered groups
09:40    Dr Jean-Pierre Vors - Fluorine, a "heavy weight" element for Agrochemists: The discovery of isoflucypram
10:05    Coffee break & Posters session
10:50    Dmytro Ryzhakov - Radical-Mediated dearomatization of indoles with sulfinate reagents for the synthesis of fluorinated spirocyclic indolines
11:05    Dr Grégory Chaume - Use of Trifluoromethylated Pseudoprolines for the Design of Collagen Triple Helix containing Unusual C(5)-Substituted Proline Surrogates
11:20    Dr Elsa Anselmi - High functionalization of S-perfluorinated sulfoximines
11:35    Idris Habibu Mahmud - Possible aggregation effect in fluorous-tagged glucosamine-β(1→3)glucosamine disaccharide synthesis
12:00    Lunch
13:30    Pr Thomas Lectka - Fun with Fluorine: The Wild Cat in Cage-Like Molecules​
14:10    Pr Sébastien Thibaudeau - Using superacid chemistry to enrich molecular chemical space
14:50    Dr Patrick Diter - Preparation of Vinyl S-Trifluoromethyl NH Aryl Sulfoximines and their applications in catalysis
15:05    Mehdi Tazi - Fluoroferrocenes: A new family of fluorine compounds
15:20    Coffee break & Posters session
16:05    Dr Tatiana Besset - New Solutions to Access Valuable Fluorinated Scaffolds
16:45    Badr Jismy - Efficient synthesis of original fluorinated imidazo[1,2-a]pyrimidines and pyrazolo[1,5-a]pyrimidines via PyBroP-Mediated Coupling and SNAr reactions
17:00    Dr Ling Peng - Charm of fluorine chemistry in study biological events
17:15    Dr Ana Vila Verde - Understanding the seemingly unpredictable changes in amino acid hydrophobicity with fluorination
18:00    Guided visit of the city center of Orléans
19:30    Social dinner - Le Lift
Wednesday October 17th 2018
08:45    Welcome coffee
09:00    Dr Petr Beier - Azido(per)fluoroalkanes: Useful fluorinated building blocks
09:40    Dr Emmanuel Magnier - S-Perfluoroalkyl sulfoximines: preparation and use as source of radicals under photoredox catalysis
10:20    Coffee break
11:00    Dr Ivan Kondratov - Synthesis of new fluorinated proline analogues from polyfluoroalkyl β-ketoacetals and ethyl isocyanoacetate
11:25    Weisheng Huang - Enantioselective synthesis of di and trifluoromethylated Cyclopropanes
11:40    Dr Alberto Gómez Herrera - Recent advances in the synthesis of fluorinated N-heterocycles: FAR chemistry and beyond
11:55    Scientific Conclusions
PRICING
Including two lunches, a Wine & Cheese Cocktail and the coffee breaks
| | |
| --- | --- |
| Private institutions | 250 EUR |
| Public Institutions | 180 EUR |
| Students | 75 EUR |
| Social dinner | 60 EUR |