May 21, 2019 - May 23, 2019
New avenues for the behavioral manipulation of disease vectors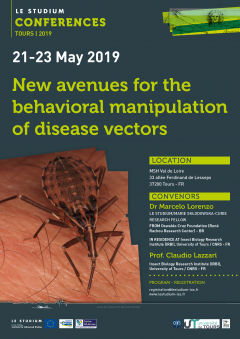 The registration is closed. 
Insect behavior is currently the focus of studies ranging from the characterization of its molecular bases to understanding more complex neurophysiological aspects of foraging, mating and egg laying related tasks. This has received particular interest in the case of arthropods vectoring pathogens to humans and livestock. The international conference entitled "New avenues for the behavioral manipulation of disease vectors", organized by LE STUDIUM Loire Valley Institute for Advanced Studies, will be held on 21st-23rd May 2019 in Tours, France. This international conference intends to bring together scientists, students and entrepreneurs interested in this fascinating field with the objective of confronting different views, exploring vector control needs and future developments. High quality contributions describing cutting-edge research in all areas of the study of vector behavior are cordially invited for presentation at the conference. Topics that will be covered include, among others, vector functional genetics underlying behavioral processes, neurophysiology, sensory ecology, functional anatomy, landscape ecology and the development of new control tools.
Convenors
Slideshow
Conference speakers
Dr Romina Barrozo, University of Buenos Aires - AR
Prof. Jonathan Bhobot, Hebrew University of Jerusalem - IL
Dr Anna Cohuet, Research Institute for Development (IRD) - FR

Dr Teun Dekker

,

Swedish University of Agricultural Sciences (SLU) - SE

Prof. Consuelo De Moraes, ETH - CH
Dr Noushin Emami, Wenner-Gren Institute, Stockholm University - SE
Prof. Gabriella Gibson, Natural Resources Institute (NRI) - UK
Dr Alessandra Guarneri, Oswaldo Cruz Foundation - BR
Dr Sharon Hill, Swedish University of Agricultural Sciences (SLU) - SE
Prof. Richard Hopkins, Natural Resources Institute (NRI) - UK
Prof. Rickard Ignell, Swedish University of Agricultural Sciences (SLU) - SE
Dr Guillaume Lacour, Altopictus & Institut Pasteur de la Guyane - FR
Dr Chloé Lahondère, Virginia Tech - US
Dr Jose Latorre, Regional Center for Genomic Studies-UNLP - AR
Prof. Walter Leal, Univ. of California-Davies - US
Dr Agenor Mafra-Neto, ISCA Technologies - US
Prof. Jeff Riffell, University of Washington - US
Dr Niels Verhulst, National Centre for Vector Entomology - CH
Dr Clement Vinauger, Virginia Tech - US
Posters
Abstracts for poster should be submitted before Monday 29th of April 2019. Please upload your abstract during the registration or send it before the deadline to maurine.villiers@lestudium-ias.fr.
Please note that we do not print the posters, but racks & pins will be provided for up to A0 sizes, portrait format. 
Please download the template for posters.
BEST POSTER AWARDS: 
Please find the names of the winners:
Programme
Tuesday May 21st 2019
08:30    Welcome coffee & registration
09:00    Official Opening
09:30    Dr Marcelo Lorenzo - New avenues for the behavioral manipulation of disease vectors: state of the art
10:00    Coffee break
​Session 1: Molecular bases of sensory reception in insect vectors
10:30    Prof. Rickard Ignell - Modulation of the onset of host seeking in mosquitoes
11:00    Dr Jose Latorre - A neuromodulatory core potentially involved in the control of sensory processes at insect antennae
11:30    Prof. Jonathan Bhobot - The Pleiotropic Roles of Indoles in Mosquito Olfaction
12:00    Lunch
13:30    Dr Sharon Hill - Regulation of the olfactory neurotranscriptome of the dengue vector, Aedes aegypti, during the first gonotrophic cycle
14:00    Dr Romina Barrozo - Taste system: a truly reliant sense in food recognition
14:30    Coffee break
15:00    Prof. Matthew DeGennaro - Understanding mosquito olfactory behavior in the laboratory and the field
15:30    Prof. Walter Leal - Chemical ecology-based strategies for reducing mosquito-human interactions (and transmission of arboviruses)
16:30-18:00    Posters session
18:30    Public Lecture in French : Dr Guillaume Lacour - Biologie d'un envahisseur : le moustique tigre Aedes albopictus
20:00    Wine & cheese cocktail - Les gens heureux 
Wednesday May 22nd 2019
08:45    Welcome coffee
09:00    Prof. Claudio Lazzari - Vector behavioral plasticity: a dimension needing attention
09:30    Coffee break
​Session 2: From neuroethology to behavioral manipulation
10:00    Dr Alessandra Guarneri - Trypanosomes and R. prolixus: flagellate development and associated behavioral changes induced by infection
10:30    Dr Chloé Lahondère - Some like it hot: thermal biology of disease vector insects
11:00    Prof. Richard Hopkins - Location, Location, Location. Mosquito movement in the context of insect searching behaviour
11:30    Dr Niels Verhulst - Host and temperature preferences of mosquitoes
12:00    Lunch
13:30    Dr Clement Vinauger - Mechanisms of rhythmic mosquito-host interactions
14:00    Prof. Jeffrey Riffell - The neural basis of nectar feeding in Aedes aegypti mosquitoes
14:30    Prof. Consuelo De Moraes - Olfactory information in vector attraction and disease diagnosis
15:00    Dr Anna Cohuet - State-dependent behaviour among mosquito vectors, target the epidemiologically-relevant population
15:30    Poster session​ & coffee break
17:00    Departure by bus from MSH to Villandry Castle
19:30    Dinner at Château de Beaulieu Restaurant
Thursday May 23rd 2019
09:00    Welcome coffee
09:30    Dr Noushin Emami - Decoding Language of Transmission, Plasmodium falciparum
10:00    Prof. Gabriella Gibson - 'Catching them out' at their own game; applying the rules of insect behaviour to score!
10:30    Coffee break
11:00    Dr Teun Dekker - A slow release matrix for oviposition attractants AND Bacillus to synergize mosquito control
11:30    Dr Agenor Mafra-Neto - Semiochemical tools for the effective management of vectors of disease
12:00    Best poster ceremony & ​Closing remarks
Location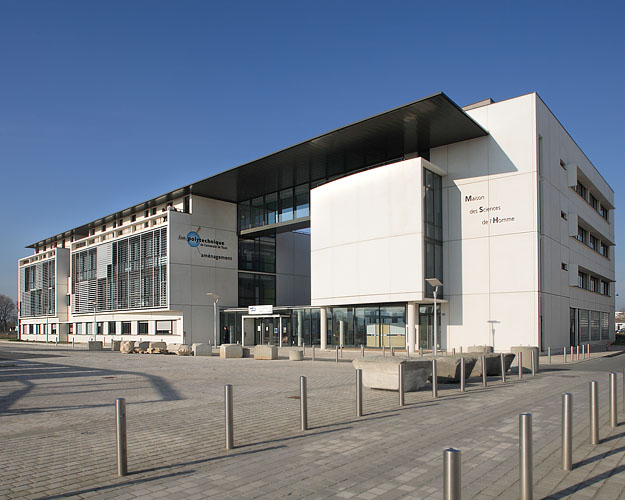 MSH Val de Loire : 33 allée Ferdinand de Lesseps - 37200 TOURS - FR
PRACTICAL INFORMATION
PRICING
(Including two lunches, a Wine & Cheese cocktail and the coffee breaks)
| | |
| --- | --- |
| Private institutions | 300 EUR |
| Public institutions | 250 EUR |
| Students & PhD Scholars | 150 EUR |
| Gala dinner | 60 EUR |