June 18, 2019
N and P cycling in catchments: How can isotopes guide water resources management?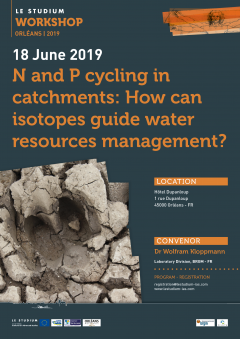 The registration is closed.
Nutrient cycling at catchment scale remains a major issue for both surface water and groundwater management. Huge efforts have been made over recent decades in terms of regulation and adaptation of agricultural practices in many parts of Europe and elsewhere. However, there are frequent examples for persistent tendencies of water quality deteriorations, in particular for groundwater bodies impacted by nitrate contamination so that nutrients remain a challenge for water management. The STUDIUM workshop intends to bring together water managers and regulators with scientists from different disciplines, including soil sciences, agronomy and hydrology/hydrogeology and geochemistry. Participants will discuss the fundamentals and newest developments in the use of environmental isotope tracing to understand N and P sources, transport and transformation in soil, surface water, unsaturated zone and groundwater. The workshop will focus on the assets but also on the limitations of isotope fingerprinting on nitrogen and phosphorous compounds, address the timeline of the transport and transformation processes and our ability to anticipate the future evolution of nutrient contamination of water resources. A combination of invited talks with ample time for discussion will provide a forum for supporting stakeholder requirements with the guidance of scientific approaches, in terms of understanding the complexities of nutrient transfer from the soil surface to water bodies. Main points are the identification of nutrient sources, of processes occurring in the different compartments, and the prediction of the future evolution of the quality of water bodies on the background of regulatory targets (e.g. the EU Water Framework Directive).
French version
Le cycle des éléments nutritifs à l'échelle du bassin versant demeure un enjeu majeur tant pour la gestion des eaux de surface que des eaux souterraines. D'énormes efforts ont été déployés au cours des dernières décennies en termes de réglementation et d'adaptation des pratiques agricoles dans de nombreuses régions d'Europe et ailleurs. Cependant, il existe de nombreux exemples de tendances persistantes à la détérioration de la qualité de l'eau, en particulier pour les masses d'eau souterraines touchées par la contamination par les nitrates, de sorte que les nutriments restent un défi pour la gestion de l'eau. L'atelier STUDIUM vise à réunir les gestionnaires et les régulateurs de l'eau avec des scientifiques de différentes disciplines, dont les sciences du sol, l'agronomie, l'hydrologie/hydrogéologie et la géochimie. Les participants discuteront des principes fondamentaux et des derniers développements dans l'utilisation du traçage des isotopes environnementaux pour comprendre les sources d'azote et de phosphore, leur transport et leur transformation dans le sol, les eaux de surface, la zone non saturée et les nappes. L'atelier portera sur les atouts, mais aussi sur les limites de la caractérisation isotopique de l'azote et des composés phosphorés, sur le temps du transport et de la transformation des nutriments à l'échelle du bassin. Il questionnera de notre capacité à prévoir l'évolution future de la contamination des ressources en eau par les nutriments. En combinant conférences invitées et un temps de discussion, l'atelier tentera à répondre aux besoins des parties prenantes de comprendre les complexités du transfert des éléments nutritifs de la surface du sol vers les masses d'eau, en s'appuyant sur des approches scientifiques. Les points principaux sont l'identification des sources d'éléments nutritifs, des processus se produisant dans les différents compartiments et la prévision de l'évolution future de la qualité des masses d'eau en tenant compte des objectifs réglementaires (par exemple, la directive-cadre sur l'eau de l'UE).
German version
Der Nährstoffkreislauf im Wassereinzugsgebiet bleibt ein entscheidendes Thema sowohl für die Qualität der Oberflächengewässer als auch für die Grundwassermanagement. In den letzten Jahrzehnten wurden in vielen Teilen Europas und anderswo große Anstrengungen zur Regulierung und Anpassung der landwirtschaftlichen Praktiken unternommen. Es gibt jedoch häufig Beispiele für anhaltende Tendenzen einer Verschlechterung der Wasserqualität, insbesondere bei Grundwasserkörpern, die von Nitratbelastungen betroffen sind, so dass der Nährstoffkreislauf eine Herausforderung für die Wasserwirtschaft bleibt. Der Workshop STUDIUM soll Wassermanager und Wasseraufsichtsbehörden mit Wissenschaftlern aus verschiedenen Disziplinen zusammenbringen, darunter Bodenkunde, Agronomie und Hydrologie/Hydrogeologie und Geochemie. Die Teilnehmer werden die Grundlagen und neuesten Entwicklungen bei der Verwendung von Umweltisotopen zum Verständnis von N- und P-Quellen, Transport und Transformation im Boden, in Oberflächengewässern, der ungesättigten Bodenzone und im Grundwasser diskutieren. Der Workshop wird sich auf die Stärken der Isotopenbestimmung an Stickstoff- und Phosphorverbindungen konzentrieren, aber auch die Grenzen dieser Methoden aufzeigen. Ein weiterer Schwerpunkt wird auf der Zeitachse der Transport- und Transformationsprozesse liegen und auf unserer Fähigkeit, die zukünftige Entwicklung der Nährstoffbelastung von Wasserressourcen vorherzusagen. Eine Kombination aus Vorträgen geladener Sprecher mit reichlich Zeit für Diskussionen soll dem Bedürfnis der Interessengruppen gerecht werden die Komplexität des Nährstofftransfers von der Bodenoberfläche bis ins Grundwasser zu verstehen, gestützt durch wissenschaftliche Ansätze. Schwerpunkte sind die Identifizierung von Nährstoffquellen, die Prozesse in den verschiedenen Teilsystemen und die Vorhersage der zukünftigen Entwicklung der Qualität von Gewässern und Grundwasserressourcen vor dem Hintergrund regulatorischer Zielen (z.B. der EU-Wasserrahmenrichtlinie).
Convenor
Slideshow
Confirmed speakers
Ramon Aravena, University of Waterloo - CA
Teresa Garrido, Catalan Water Agency - ES
Daren Gooddy, BGS, Wallingford - UK
Dan Lapworth, BGS, Wallingford - UK
Bernhard Mayer, University of Calgary - CA
Núria Micola, Catalan Water Agency - ES
Neus Otero, University of Barcelona - ES
Mathieu Sebilo, Sorbonne University, Paris - FR
Ben Surridge, University of Lancaster - UK
PRACTICAL INFORMATIONS
Preliminary programme
Monday June 17th 2019
19:30    Icebreaker dinner - Le Lift
Tuesday June 18th 2019
09:00    Welcome coffee
09:30    Wolfram Kloppmann - Isotope fingerprinting and groundwater dating: introduction
10:00    Mathieu Sebilo - Dynamic of nitrogen at temporal and spatial scales. From soil to watershed : Contribution of Isotope Biogeochemistry
10:30    Coffee break
10:45    Nuria Micola & Teresa Garrido - The use of isotopes for the water management in Catalonia
11:15    Ramon Aravena - The role of geology on the behaviour of nitrate in groundwater
11:45    Round table and Coffee
12:30    Lunch at Le Tonnelier
14:00    Bernhard Mayer - Occurrence and fate of nitrate in groundwater of Alberta: the importance of redox reactions
14:30    Neus Otero - Isotopes as tracers of the efficacy of induced nitrate attenuation strategies
15:00    Ben Surridge - Opportunities to use stable isotope analysis to understand phosphorus and nitrogen metabolism in freshwater ecosystems
15:30    Daren Gooddy - Recent Advances and Challenges in Nutrient Source Apportionment using Phosphate Oxygen Isotopes
16:00    Round table and Coffee