March 22, 2017 - March 23, 2017
Messenger RNA therapeutics: advances and perspectives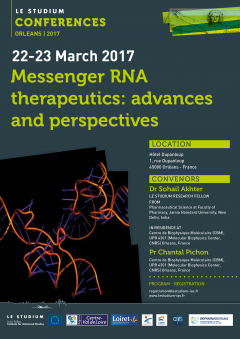 In the framework of the regional Biopharmaceuticals ARD2020 Programme, LE STUDIUM Loire Valley Institute for Advanced Studies together with the Center for Molecular Biophysics are organising an international conference on mRNA therapeutics advances and perspectives.
The continuous research over a decade has led to excellent progress in the mRNA biology field and has extended our understanding of the distinctive features of mRNA. At this stage, researchers have learnt to stabilize and manipulate this biomolecule and now recent findings are actually transforming mRNA into new drugs category with many therapeutic applications. However, efforts on interdisciplinary biomedical approach are still required to translate the potentially commendable preclinical findings on mRNA therapeutics into the clinic. The conference will be held with the objective to discuss and exchange innovative ideas in the path of messenger RNA-based therapeutics. The presentations include internationally renowned biomedical researchers from the diverse area: vaccination, innovative therapies and delivery systems
Convenors
Dr Sohail Akhter, LE STUDIUM RESEARCH FELLOW
FROM: Pharmaceutical Science at Faculty of Pharmacy, Jamia Hamdard University, New Delhi, India
IN RESIDENCE AT: Centre de Biophysique Moléculaire (CBM), UPR 4301 (Molecular Biophysics Center, CNRS) Orleans, France
Pr Chantal Pichon
Centre de Biophysique Moléculaire (CBM), UPR 4301 (Molecular Biophysics Center, CNRS) Orleans, France
Confirmed speakers
​Pr Philippe Barthelemy, Cancéropôle Grand Sud Ouest, équipe Chimie des acides nucléiques, aptamères, sondes et transport - INSERM U 1212 – France
Pr Nicolai Bovin, Synthaur LLC - Russia
Pr Rebecca Cox, University of Bergen – Norway
Dr Mustafa Diken, TrOn-Mainz – Germany
Dr Jonathan Finn, Intellia Therapeutics – USA
Pr Carlos Alberto Guzman, Department of Vaccinology, Helmholtz Centre for Infection Research – Germany
Pr Jacek Jemielity, Laboratory of Bioorganic Chemistry Centre of New Technologies University of Warsaw – Poland
Pr Jonathan Heddle, Malopolska Center for biotechnology – Poland
Pr Mickael Kormann, University Children's Hospital - Section I Pediatric Infectiology & Immunology Tubingen University" – Germany
Dr Ine Lentacker, Laboratory for General Biochemistry and Physical Pharmacy, Ghent University – Belgium
Dr Kenneth Mc Cullough, Institute of Virology and Immunology – Switzerland
Dr Patrick Midoux, Center of Molecular Biophysics – France
Dr Bruno Pitard, In Cell Art – France
Dr Philippe Roingeard,  PU-PH Faculty of medicine François Rabelais and University Hospital of Tours – France
Pr Nicola Tirelli, University of Manchester - UK
Pr Kris Thielemans, Vrije Universiteit Brussel – Belgium
Pr Richard Weiss, Austria Department of Molecular Biology, University of Salzburg – Austria
Programme
WEDNESDAY 22ND OF MARCH
08H00 Welcome coffee registration       
08H45 Official opening
KEYNOTE LECTURE
09H00 Pr Kris Thielemans
Trimix technology for mRNA- based vaccination                
SESSION 1 : UNIVAX EU PROJECT            
09H35 Dr Kenneth McCullough
Dendritic cells and Self-Amplifying Replicons Vaccines: the Univax consortium​          
10H10 Pr Carlos Guzmán
Adjuvantation with cyclic-di-nucleotides: an efficacious strategy to tailor humoral and cellular immune responses to vaccination                        
10H40 Coffee break      
11H10 Pr Rebecca Cox  
Human clinical studies of influenza vaccines.                     
11h40 Oral presentation : Dr Thomas Démoulins 
12H00 Pr Nicolai Bovin
12H30 Pr Nicola Tirelli
13H00 Lunch
SESSION 2 : MRNA STRUCTURE, PRODUCTION AND TRAFFICKING                            
14H00 Pr Jacek Jemielity
Chemical modifications at 5' end of mRNA: towards mRNA-based gene therapy.
14H30 Dr Mustafa Diken       
Systemic delivery of mRNA vaccines for potent cancer immunotherapy.     
15H00 Oral presentation : Lucie Pigeon
15H20 Oral presentation : Rein Verbeke
SESSION 3 : MRNA AS INNOVATIVE THERAPEUTICS 
15H40 Pr Michael Kormann
Therapeutic application of chemically modified mRNA in mouse models of severe lung diseases        
16H10 Coffee break      
16H40 Pr John Finn        
Robust In Vivo Gene Editing in Mouse Hepatocytes with Systemic Lipid Nanoparticle Delivery of CRISPR/Cas9 Components                    
17H10 Pr Richard Weiss
Paving the way for prophylactic allergy gene vaccines –naturally acquired immunity as a template for vaccine design. 
17H40 Oral presentation : Federico Perche
18H30 Public Lecture in french by Pr Philippe Roingeard
Défi et challenge de la mise au point d'un vaccin contre le virus de l'hépatite C                
20H00 Gala dinner at Le Lift            
THURSDAY 23RD OF MARCH
SESSION 4: MRNA DELIVERY
09H00 Dr Bruno Pitard
Bioinspired delivery systems for mRNA vaccines and medicines               
09H30 Dr Patrick Midoux
LPR-based mRNA vaccine delivery systems
10H00 Dr Ine Lentacker
Ultrasound triggered mRNA delivery to dendritic cells: towards an in vivo cancer vaccination strategy?
10H30 Coffee break
11H00 Pr Philippe Barthélémy 
Nucleic acid chemistry for nanomedicine
11H30 Pr Jonathan Heddle
Building Artificial Nanoscale Structures With Proteins 
12H00 Dr Sohail Akhter
12H30 Conclusions and Closing ceremony          
13H00 Lunch
14H30 Guided visit
Main topics
mRNA therapeutics; mRNA expression; mRNA delivery and intracellular trafficking ; mRNA-based vaccination; RNA Replicons technology; adjuvants in vaccine; nucleic acid vectors; synthetic non-viral vectors; dendritic cell targeting. 
Scientific committee
Kenneth.Mc Cullough
Carlos Gunzmann
Chantal Pichon
Sohail Akhter
Patrick Midoux 
PRICING
| | |
| --- | --- |
| Private institutions | 250 EUR |
| Researchers | 180 EUR |
| Students | 60 EUR |
| Gala dinner | 60 EUR |