February 7, 2019 : 16H00
Towards a new way of exploring coercive sexual relations?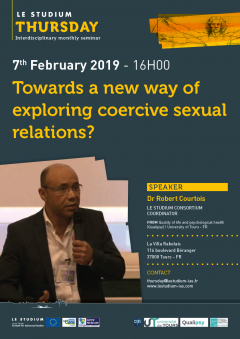 Sexual violence is a major and growing public health issue worldwide. The creation of Studium Consortium ARSA ("Assessment of Risk of Sexual Assault: Psychological adjustment, neuropsychological and psychiatric determinants") enabled us to establish a multidisciplinary international research team of psychologists, neuropsychologists, psychiatrists and criminologists. We decided to explore a new way to better understand and explain sexual violence that consists of describing risk factors for coercive sexual relations (including all inappropriate or unwanted relationships) by using a dimensional approach based on the Research Domain Criteria (RDoc) created by the American 'National Institute of Mental Health' (NIMH). This is a research framework for new approaches to investigating mental disorders. It aims to integrate many levels of information (from genomics and circuits to behavior and self-reports) in order to explore basic dimensions of functioning that span the full range of human behavior (from normal to pathological). Improving the prevention of sex offending requires multidisciplinary and comprehensive studies (from the general population to sexual offenders). To meet this aim, we are planning to respond to a European (or international) call for proposals next year. We also think that it would be appropriate to use the research funding we obtained from the French government for a project entitled "Impact of a structured clinical assessment, of providing test feedback, and of supporting sexual offenders' in their readiness to change (evaluated by the URICA scale): a multicenter randomized controlled open-label trial" (University Hospital of Tours), with a grant of € 337,700 in 2019 (DGOS 2017-2018 campaign - Research programs on the performance of the care system). We will conduct studies in five French hospitals to explore sexual offenses taking a dimensional approach using the MIDSA (Multidimensional Inventory of Development, Sex, and Aggression scale).
Speaker
LE STUDIUM RESEARCH CONSORTIUM COORDINATOR
Dr Robert Courtois
FROM: Quality of life and psychological health (Qualipsy) / University of Tours - FR