February 5, 2019 - February 6, 2019
Refactoring Monoterpenoid Indole Alkaloid Biosynthesis in Microbial Cell Factories (MIAMi)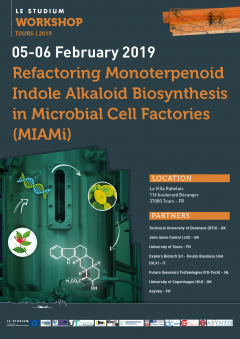 Plants produce some of the most potent human therapeutics and have been used for millennia to treat illnesses.  Despite the huge repertoire of plant-derived pharmaceuticals, most of these products do not make it to the market because they are found in minute quantities in plants, they are difficult to extract, and there is limited knowledge about their biosynthetic pathways, makeing them underrepresented in recently introduced medicines.
It is exemplified with monoterpenoid indole alkaloids (MIAs) that are plant secondary metabolites showing a remarkable structural diversity with more than 2000 MIAs derived from a common precursor and pharmaceutically valuable biological activities. Potent anti-cancer drugs irinotecan, vinblastine and vincristine, and anti-Alzheimer tabersonine are some of the few established MIA therapeutics on market, with combined annual market sizes >1.2B €4.
As a consequence, sourcing plant-derived pharmaceuticals based on plant-based extraction threatens to cause species extinction. In addition, new regulatory laws seek to create conditions to promote biodiversity conservation and sustainable use of genetic resources, which in the short term is expected to further impact the supply chains of many valuable plant natural products.
Moreover, as many plant species are not readily genetically manipulated, and synthetic chemistry holds little promise for bulk production of complex plant-derived therapeutics, there is a need for new technologies for both pathway discovery of plant-derived therapeutics and their refactored biosynthesis in genetically tractable and sustainable production hosts.
The mission of the consortium for Refactoring Monoterpenoid Indole Alkaloid biosynthesis in Microbial cell factories (MIAMi) is to develop new tools and methodologies to discover complex biosynthetic pathways in plants and optimize their production in microbes. To do so, the MIAMi consortium will implement a new integrated omics-based platform technology to uncover MAI biosynthetic pathways and tools to enable the refactoring of > 1,000 biosynthetic pathways of promising news anti-cancer and antipsychotic drug leads in yeast with special focus on compartmentalization, DNA parts standardization, and supervised learning algorithms for biosynthetic pathway designs.
With the excellent and interdisciplinary track-record of the intersectorial MIAMi consortium, there is a huge potential for the European biotech industry, the environment, and human health by developing new technologies for natural product pathway discovery, and by designing and rationally refactoring their biosynthetic pathways in microbes, ultimately enabling technologies for both discovery of new natural product biosynthetic pathways, and sustainable production, testing and development of new plant-derived pharmaceuticals.
Partners
CONFIRMED SPEAKERS
Vincent Courdavault, University of Tours - FR
Davide De Lucrezia, Explora Biotech Srl - Doulix Business Unit (DLX) - IT
Ron Dirks, Future Genomics Technologies (FG-Tech) - NL
Thomas Dugé De Bernonville, University of Tours - FR
Stéphanie Graf, Axyntis - FR
Dagny Grzech, John Innes Centre (JIC) - UK
Lea Hansen, Technical University of Denmark (DTU) - DK
Christian Janfelt, University of Copenhagen (KU) - DK
Chloe Langley, John Innes Centre (JIC) - UK
Jillian Marc, University of Tours - FR
Sarah O'Connor, John Innes Centre (JIC) - UK
Ines Soares Teto Carqueijeiro, University of Tours - FR
Sumesh Sukumara, Technical University of Denmark (DTU) - DK
Konrad Viehrig, Technical University of Denmark (DTU) - DK
Jie Zhang, Technical University of Denmark (DTU) - DK
Slideshow
Location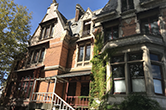 Villa Rabelais
116 boulevard Béranger, 37000 TOURS
The Villa Rabelais XIXth century building used to host Tours' Faculty of Law. Recently renovated, this building now hosts the Loire Valley International city of Gastronomy, the European Institute for Food History and Cultures and the Fooding Department of the University of Tours. They all contribute to a rich activities programme offered to a large variety of publics.
Hotel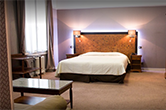 Grand Hôtel de Tours
9, Place du général Leclerc, 37000 TOURS
Tél : 02.47.05.35.31
contact@legrandhoteltours.com
Conference programme
Tuesday February 5th 2019
08:30    Welcome Michael Jensen
08:40    Vincent Courdavault - The BBV lab and the synthesis of alkaloids 
09:00    Thomas Dugé de Bernonville - In silico processing of omics data for candidate gene identification
09:20    Ines Soares Teto Carqueijeiro - 

Validating our genes–Technical approaches: VIGS, BiFC, Biochemistry

09:40    Jillian Marc - 

Upstream process: from lab to pilot scale by multi-scales approach

10:00    Coffee break​
10:20    Jie Zhang / Lea Hansen - Efficient Refactoring of MIA Biosynthesis in Yeast
10:40    Konrad Viehrig - P450 enzyme engineering of the MIA pathway
11:00    Sumesh Sukumara - Impact Assessment of MIA Targets
11:20    Davide De Lucrezia - Bridging the gap between design and synthesis.
11:40    Christian Janfelt - Mass spectrometry imaging by MALDI and DESI of plant metabolites
12:00    Cocktail - Lunch
 
13:20    Sarah O'Connor - Overview of the MIA: applications for new to nature compounds
13:40    Dagny Grzech - Rapid assay of MIA genes
14:00    Chloe Langley - Do biosynthetic enzymes interact?
14:20    Stéphanie Graf - Axyntis strategy for Biopharmaceuticals
14:40    Ron Dirks - Third generation sequencing and genome assembly
15:00    Discussion between partners
16:00    Closing remarks Michael Jensen / Vincent Courdavault
 
16:30    Back to the hotel
17:30    Guided visit of the city centre - Departure in front of le Grand Hôtel
18:30    Wine tasting
20:00    Dinner - Restaurant La Deuvalière
Wednesday February 6th 2019
08:00    Departure by bus from the train station
10:00    Visit of Axyntis Laboratory
12:30    Lunch at the restaurant La Scala - Offered by Axyntis
14:30    Departure by bus to Paris - Porte d'Orleans metro station