May 28, 2019 - May 29, 2019
Rebel streets: urban space, art, and social movements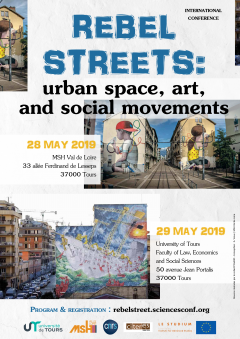 Art's presence in the urban space is dynamic and interactive that communicates the complex forms of globalization, cultural hybridity, and plurality in contemporary daily life—where we experience politics. The new forms of agencies and strategies of urban creativity in the form of graffiti, wall paintings, yarn bombing, stickers, urban gardening, street performances, tactical art, creative campaigns and theatrical actions—among others—demand an active spectatorship (Whybrow, 2011) and have a growing power to renegotiate space for new forms of political participation.
Social mobilizations in the neoliberal cities constitute a common theme in texts inspired by Henri Lefebvre's colossal work on production and reproduction of urban space (Lefebvre, 1968) and David Harvey's book Rebel Cities (Harvey, 2012). Urban creativity has a broad scope of interests from a clear "right to the city" perspective with its ecological, spatial, and ideological agenda to the struggles of civil rights, and individual and collective freedoms. While, this aspect has opened the research into recognizing street art as a genre for "political democratization" (Bengtsen & Arvidson, 2014), the growing significance of art in social and spatial justice movements has been neglected by both social movement theory and art theory. Thus, the analysis of art and urban social movements is still academically insufficient, although art is well-recognized to have had an essential part during the Egyptian and Tunisian revolution (Abaza 2016), Spanish Indignados (Ramírez Blanco 2018), Greek Aganaktismenoi movement (Tsilimpoudini 2016) and the Gezi Uprising (Tunali 2018).
Rebel Streets conference will engage in the questions that scrutinize the complex relationships between urban space, social resistance, and art, such as:
How can art in the public space be used as a weapon of resistance and a means of reconstruction?
Are street artists obliged to be a part of the urban resistance against neoliberalism?
How does art respond uniquely to gentrification?
How do public artistic expressions reveal, delimit or question the complexity of neoliberal urbanization?
How can we interpret the poetics of urban art from the perspective of subcultures, freedom of expression, and the limits of criminality?
How is street art activism perceived by the authorities, politicians, businesses, and the wider public?
What prompts urban artists to communicate with urban dwellers with their marks on the city's surface?
What kind of public should critical urban art try to constitute and what kind of public spaces are needed to that effect?
What can we learn from urban art about visual resistance in the interplay with political power structures?
Under what conditions could art become effective in reclaiming the cities as sites of resistance and change?
Convenors
Dr Tijen Tunali, LE STUDIUM / Marie Skłodowska-Curie Research Fellow
FROM: University of New Mexico - US
IN RESIDENCE AT: CITERES (CItés, TERritoires, Environnement, Sociétés), CNRS / University of Tours - FR
Dr Gülçin Erdi,
CITERES (CItés, TERritoires, Environnement, Sociétés), CNRS / University of Tours - FR
Scientific Commitee
Tijen Tunali, Art History and Visual Studies Université de Tours - FR
Gülçin Erdi, Sociology, French Center for Scientific Research-CITERES - FR
Bénédicte Florin, Geography, French Center for Scientific Research-CITERES - FR
Temenuga Trifonova, Visual Studies, York University - CA
Christophe Genin, Philosophy of Art, Université de Paris 1 Sorbonne - FR
Christian Gerini, Philosophy, Université de Toulon - FR
Peter Bengtsen, Art History and Sociology, Lund University - SE
Myrto Tsilimpounidi, Geography, University of Aegean - GR
Tatiana Debroux, Geography, Université Libre de Bruxelles - BE
Julia Ramirez-Blanco, Art History, Universitat de Barcelona - ES
Ilaria Hoppe, Art and Philosophy, Katholische Privat-Universität Linz - AT
PRACTICAL INFORMATION
Conference programme
Tuesday May 28th 2019
08:30    Welcome coffee
09:00    Welcome speech by Nora Semmoud
09:15    Opening Speech by Gülçin Erdi & Tijen Tunali - Art and Urban Social Movements
09:40    Keynote Speech: Ilaria Hoppe - Graffiti is back: About the interconnection of visual and spatial practices in Berlin
Parallel Sessions:
Session 1A: Art, Space and Place in the Neoliberal City (Room: MSH Salle Polyvalente; Moderator: Divya Leducq)
10:40    Panos Leventis - Mapping the old city: Street art and community building in Nicosia, Cyprus
11:10    Irit Carmon Popper - Art Interventions as tools of civil rights in conflictual sites
11:40    Mor Cohen - Ecosophical art practices in Israeli urban spaces
12:10    Discussions
Session 1B: Urban Art and Everyday Resistance (Room: MSH Salle 147; Moderator: Tijen Tunali)
10:40    Sreejata Roy - Street art and every day: A Collaborative community art project engaging young women in an urban village in New Delhi
11:10    Zeynep Uğur - From staging to enacting politics: The case of alternative theatres in Istanbul
11:40    Justin Malachowski - Imagining the Sha`b: Exploring the fears and hopes of the new empowered political actor through the public arts in Tunisia
12:10    Discussions
MSH Salle Polyvalente
12:30    Lunch Buffet
14:00    Keynote Speech: Julia Ramírez Blanco - Activist aesthetics in Madrid's 2011 camp
Parallel Sessions:
Session 2A: Art and Activism on the Streets (Room: MSH Salle 147; Moderator: Roman Stadnicki)
15:10    Tijen Tunali - Art on the rebel streets and the case of Gezi Uprising in Turkey
15:40    Mohamed El-Shewy - The spatial and aesthetic politics of street art in post-revolution Egypt
16:10    Irina Kozlova - This is our city: Spatial structure of street protests in contemporary Russia
16:40    Coffee break
16:50    General discussion
Session 2B: Art, Communities and Anti-Gentrification Resistance (Room: MSH Salle Polyvalent; Moderator: Gülçin Erdi)
15:10    Michelle Veitch - Indigenous cultural resurgence and creative city discourses
15:40    Marie-Pierre Vincent - Art and anti-gentrification resistance: the role of two artists in a local community market (Ridley Road market, in the borough of Hackney, Inner London
16:10    Heather Shirley, Todd Lawrence, Paul Lorah, Martin Beck, Tiaryn Daniels, Hannah Shogren-Smith & Chioma Uwagwu - The urban art, landscapes, and community stories project: Mapping art, narrative, and community in St.Paul, Minnesota
16:40    Coffee break
16:50    General discussion
18:00    Conference Cocktail and Exhibition: The Art of the Oaxaca Commune:  The Right to the City, The Right to Visual Democracy
Wednesday May 29th 2019
09:00    Morning coffee
09:30    Keynote Speech (in the Faculty of Social Sciences and Economics, Salle de Conseil (2nd Floor)): Peter Bengtsen - Living with Street Art
Parallel Sessions:
Session 3A: Urban Encounters: Art, Architecture and the Public in the Neoliberal Era (Room: Salle de Conseil; Moderator: Christian Gerini)
10:40    Christian Gerini - The yellow vests movement in France and its expression on the walls by street artists
11:10    Konstantinos Avramidis - Writing [on] architecture in crisis-ridden Athens: The aesthetics of destruction and reconstruction
11:40    Mathilde Vignau and Alexandre Grondeau - Arts, culture and neoliberalism: instrumentalization and resistances through the case of Marseille
12:10    Discussions
Session 3B: Street Art Utopia and Its Discontents (Room: POR B 2; Moderator: Ilaria Hoppe)
10:40    Vittorio Parisi - Neoliberalism and the death of graffiti: a "spectral" analysis
11:10    Sandra Uskoković and Boris Bakal - Urboglyphs - Urban figures of memory
11:40    Tina Bitouni - Racist street art: implicitness, impunity and interaction
12:10    Discussions
MSH Salle Polyvalente
12:30    Lunch Buffet
14:00    Keynote Speech: Myrto Tsilimpoudini - If these walls could talk': Political street art from the streets of Athens
Parallel Sessions:
Session 4A: Art, Urban Space and Migration Crisis (Room: Salle de Conseil; Moderator: Myrto Tsilimpoudini)
15:10    Christy Petropoulou & Orestis Pangalos - Representing and commoning the 'refugee crisis
15:40    Geneviève Guetemme - Street art's take on migration
16:10    Vincent Lambert - Palimpsested walls for an entanglement heritage: street art & graffiti against financial & migration policies in contemporary Europe
16:40    Coffee break
16:50    General discussion
Session 4B: Artistic Intervention, Re-appropriation and Self-Organization in the Urban Space (Room: POR B 2; Moderator: Julia Blanco Ramirez)
15:10    Demet Lüküslü - Street musicians struggling to open for themselves a space in the city
15:40    Iberia Pérez González - TRAMA: Artists' initiatives and Territorial Autogestion in post-crisis Argentina
16:10    Gabriele Boero - The 'Assedio' project in Turin, Italy: a real siege to give an example of Street Artists' resistance in public space re-appropriation
16:40    Coffee break
16:50    General discussion
PRICING
| | |
| --- | --- |
| Registration fees | 24 EUR |
| Participation to the dinner (29th May) | 25 EUR |