November 7, 2016 - November 9, 2016
Practical Engagements and the Social-Spatial Dimensions of the Post-Petroleum Future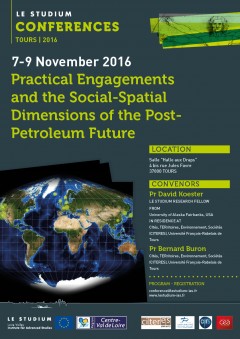 The unfolding energy transition, necessitated by international decarbonization agreements and other social and ecological demands, raises numerous questions about the roles cities, regions, communes, local cooperatives and other geographical-political-social entities will play. How will communities be positioned in shaping the future?  Will the most important energy developments during the transition be at the level of sub-national regions and local communities?  Or are transnational regional efforts equally well positioned to make a difference?  How do social scale and corresponding forms of relations, association and organization align with particular ways of envisioning the future?
The aim of this symposium is to examine the social dimensioning of the energy transition with a special but not exclusive consideration of the case of introducing hydrogen and fuel cells into the energy arena. The intersecting range of presentations will explore the relationship between the social scale of future visions and the social scale of actual unfolding of techno-social development.  In the case of hydrogen, discussions will explore the question of how visions of the future involving this new energy vector are taking shape in distinct social and geographical spaces. 
Convenors
Invited Speakers
Dr Fabienne Picard, Université de Technologie de Belfort-Montbéliard (UTBM) – FRANCE
Dr Sangook Park, School of Public Administration - Soongsil University (Seoul) – SOUTH COREA
Dr Béatrice Cointe, Laboratoire méditerranéen de sociologie (LAMES UMR 7305) , Aix-Marseille Université – FRANCE
Pr Stefan Bouzarovski, University of Manchester – UK
Dr Alain Nadaï, Centre International de Recherche sur l'Environnement et le Développent (CIRED) – FRANCE
Pr Dominique Pécaud, Institut de l'Homme et de la Technologie, Polytech Nantes, Université de Nantes – FRANCE
Dr Hervé Flanquart, Université du Littotal Côte d'Opale (ULCO) – FRANCE
Dr Vanesa Castan Broto, University College London - UK
Sanne Østergaard Nielsen, Business Academy Aarhus - DENMARK
Stanley Osserman, Hawaii Center for Advanced Transportation Technologies - USA 
Dr Sharon Klein, University of Maine - USA  
Pr Dominique Desjeux, Université Paris Descartes Sorbone Paris Cité - France
PROGRAMME
Monday 7th November
09H15    Welcome coffee – registration
09H45    Opening remarks            
10H05    CITERES Patrice Melé
ETICS, Thibault Danteur, Jean-Philippe Fouquet, Christèle Assegond
Session I – Communities, Projects and Visions
CHAIR Dr Alain Nadaï        
10H45    Dr Sharon Klein
The Power of the People: socio-economic dimensions of community-based energy initiatives in the United States
11H25    Pr Dominique Pécaud
Social acceptability or the hypothesis of sociological voluntarism     
12H10    Lunch            
Session II – Zooming in on Hydrogen Programs
CHAIR Pr Stefan Bouzarovski
14H00    Pr David Koester
The social and discursive dimensions of hydrogen in the energy transition    
14H40    Dr Béatrice Cointe
Hydrogen futures on the lab bench: a sociological investigation of one interdisciplinary research project on biohydrogen
15H20    Dr Sangook Park
Social Shaping of the Hydrogen Future: a Comparative Case Study on the Hydrogen Niche Formation in Iceland, Korea and the UK.    
16H00    Coffee Break            
Roundtable – Hydrogen and Energy Transitions in Hawai'i and Denmark
MODERATOR Pr David Koester
16H30    Stan Osserman & Dr Sanne Østergaard Nielsen
18H00    Shuttle departure for Chateau of Villandry - Wine tasting and gala dinner
Tuesday 8th November
Session III –  Urban and Local, Materiality and Social Spaces in the Energy Transition
CHAIR Dr Sharon Klein    
10H00    Pr Stefan Bouzarovski 
Retrofitting the City: Practices of resilience and flexibility in the built environment    
10H40    Dr Vanesa Castán Broto
The material politics of urban energy transitions    
11H20    Coffee Break            
11H40    Dr Alain Nadaï
Surfing on TEPOS, reach and limits of French Policy localism
12H30    Lunch at Les Lionceaux        
Session IV  – Frames for Hydrogen Energy
CHAIR DR Vanesa Castan Broto
14H30    Dr Fabienne Picard
Approaching the fuel cell technologies from an industrial perspective     
15H10    Dr Hervé Flanquart
Installations of production and storage of energy: what social acceptability? Is hydrogen a special case?
15H50    Coffee break            
16H10    Pr Dominique Desjeux
What are the constraints and potentialities of the social process of transformation of energy uses?    
16H50    Discussion and closing words
18H30    LE STUDIUM Lecture, Côme Bastin, journalist Paléo-énergétique, WE DEMAIN
20H00    Dinner at Les Saveurs
Wednesday 9th November
Pricing
| | |
| --- | --- |
| Private institution | 200 EUR |
| Public institution | 150 EUR |
| Students | 75 EUR |
| Gala dinner | 60 EUR |
| Excursion | 90 EUR |
TALK, ABSTRACT & POSTER SUBMISSION
Abstract, Bio & Poster must be written in English. 
PRACTICAL INFORMATIONS