May 13, 2019 - May 17, 2019
Plasma Cosmetic Consortium
1st meeting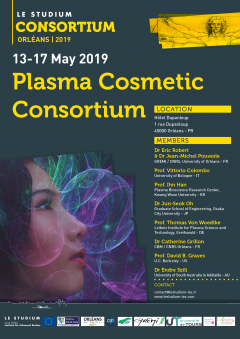 MEMBERS
Description
Physical plasmas, generated by electric discharges, delivered at room temperature in ambient air, are the focus of a tremendous research and development activity around the world from about one decade for their potentialities for biomedical applications. The new domain so called "plasma medicine" covers a broad range of fields including cancer treatment. The need for the emergence of a new workshop derived from this plasma medicine frame, will be considered at the International Workshop on Plasma Cosmetic Science during the plasma cosmetic consortium meeting in Orleans. The unique context of ARD2020 CosmétoScience program supported by Région Centre Val de Loire and of the Cosmetic Valley network will offer a relevant frame to set this workshop with the main objective to merge together the cosmetic industry perspectives with the innovative prospects of plasma-based enabling technologies. Plasma scientists, biologists and cosmetic experts will discuss not only new plasma applications but good practices, toxicity and regulation issues as well.
Programme
Monday May 13th 2019
Lunch at Hôtel Dupanloup (12h30)

Wine & cheese cocktail at Hôtel Dupanloup (19h45)
Tuesday May 14th 2019
Meeting all day at Dupanloup – Starts at 09h
Lunch at Dupanloup
Guided visit of the City Centre, departure from Hôtel Dupanloup at 17h30
Dinner at: Le Tonnellier
Wednesday May 15th 2019
Meeting all day at Dupanloup - – Starts at 09h
Lunch at Dupanloup – (Tray meal)
End : 17h / 17h30
Dinner at: L'Ardoise
Thursday May 16th 2019
Meeting all day at GREMI
Symposium at GREMI (14h) : 

Dr. Jun-Seok OH,Graduate School of Engineering, Osaka City University, Japan
"Production and delivery of atmospheric-pressure plasma jet generated RONS into biological target"
Pr. Ihn Han, Plasma Bioscience Research Center, Kwangwoon University, Korea
​"Bio-medical application for non-thermal atmospheric pressure biocompatible plasma (NBP)"