June 6, 2016 - June 9, 2016
Inscribing Knowledge on the Page:
Sciences, Tradition, Transmission and Subversion in the Medieval Book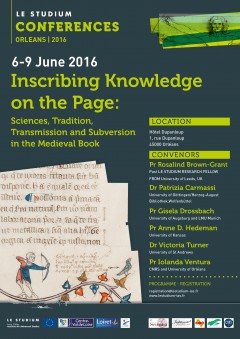 'Power and the Paratext in Medieval Manuscript Culture' is an international research consortium that was set up in 2014 with funding awarded from Le STUDIUM, Institute for Advanced Studies, Orléans, (www.lestudium-ias.fr). It is also supported by the Juslittera and Scientia projects financed by the Région Centre-Val de Loire and conducted under the aegis of the POLEN (Pouvoirs, Lettres, Normes) research laboratory at the University of Orléans. The six members of this interdisciplinary consortium (Rosalind Brown-Grant, Patrizia Carmassi, Gisela Drossbach, Anne D. Hedeman, Victoria Turner, Iolanda Ventura) are medievalists from institutions in France, Germany, the UK and the USA, whose areas of expertise are the history of science and medicine, history of law, history of art, political and historical texts, chivalric literature, liturgical studies and the medieval reception of classical learning. Since June 2014, the consortium has been holding a week-long research workshop in Orléans once a year over a period of four years to discuss how paratext functions in multiple strands of the medieval sciences, taking the notion of a science in its broadest sense as a system of thought that organises, constitutes and disseminates a body of knowledge.
Ever since the concept of the paratext was first formulated by Gérard Genette, who applied it to print culture from the early modern period to the present day, this topic has regularly attracted attention from scholars working on printed texts from different historical periods and on specific paratextual elements. The approach of our research consortium not only pushes the chronological and methodological boundaries of Genette's original study of paratext but also differs from more recent projects on the subject in two significant ways: first, it focuses exclusively on works from the Middle Ages; second, and more importantly, it examines how the paratextual apparatus of the medieval manuscript both inscribes and gives visual form to the power relations between the producers and consumers of knowledge in this important period of intellectual history. Adopting both a synchronic and a diachronic perspective, we have thus sought to define what paratextual features are common to manuscripts belonging to different branches of the medieval sciences and what are unique to any particular discipline, and to analyse how these visual expressions of power in organising and compiling thought on the written page are consciously applied, negotiated or resisted by the authors, scribes, artists, patrons and readers who produced, propagated and responded to these works.
This conference, Inscribing Knowledge on the Page: Sciences, Tradition, Transmission and Subversion in the Medieval Book, aims to open out the work of the consortium into a broader scholarly dialogue on the idea of power and the paratext across the various medieval intellectual disciplines such as law, Latin and vernacular texts both secular and religious, liturgy, music, medicine and philosophy. Our work in general, and this conference in particular, will thus examine paratextual elements such as annotations, glosses, images, prologues and rubrics in order to interrogate the key issues of authority, education, memory, reader response, subversion, tradition and transmission in medieval manuscript culture.
Convenors
Pictures
Programme
Monday 6 June
18.00         Welcome cocktail offered at Hôtel Groslot
19.45         Dinner at Le Brin de Zinc
Tuesday 7 June
09.30      Introductions (President of Le STUDIUM, Scientific Director of Le STUDIUM, Rosalind Brown-Grant)  
10.00    Session 1. Paratext, corpus and collections (Chair: Gisela Drossbach)
12.00     Buffet lunch served in Dupanloup
13.30    Session 2. Constructing knowledge, promoting learning through paratext (Chair: Rosalind Brown-Grant) 
15.30    Coffee
16.00    Session 3. Marking ownership through paratext  (Chair: Anne D. Hedeman) (session open to Le STUDIUM Research Fellows) 
19.45   Dinner at La Petite Folie
Wednesday 8 June
10.00  Session 4. Diagrams and drawings  (Chair: Sinéad O'Sullivan)
12.00    Buffet lunch served in Dupanloup
13.30    Session 5. Glosses and commentaries (Chair: Emma Dillon) 
15.00    Coffee
15.30    Session 6. Clerical uses of paratext (Chair: Patrizia Carmassi) (session open to Le STUDIUM Research Fellows)
17.00    Coffee
18.00     Public lecture
19.30   Dinner at La Chancellerie
Thursday 9 June
10.00    Session 7. Prefaces, prologues, and frontispieces (Chair: Victoria Turner) 
12.00    Buffet lunch served in Dupanloup
13.30    Session 8. Tradition, innovation, contamination (Chair: Iolanda Ventura)
15.00    Coffee
15.30    Round table and close of conference