July 7, 2016 : 16H00
High temperature batteries for grid scale energy storage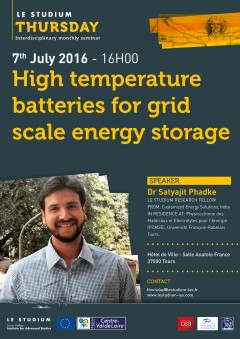 Electric energy storage systems have attracted attention due to the increased deployment of renewable generation, high capital cost of managing grid peak demands, and large capital investments in grid infrastructure for reliability. This talk focuses on a novel battery system named liquid metal battery (LMB) which has suitable performance characteristics for deployment as a grid-scale electrochemical energy storage device with long lifetime and low cost. 
SPEAKER
Dr Satyajit Phadke LE STUDIUM RESEARCH FELLOW
FROM: Customized Energy Solutions, India
IN RESIDENCE AT: Physicochimie des Matériaux et Electrolytes pour l'Energie (PCM2E), Université François-Rabelais Tours.