September 3, 2015 : 16H00
Feeding the World- the New Imperative for Interdisciplinary Systems Science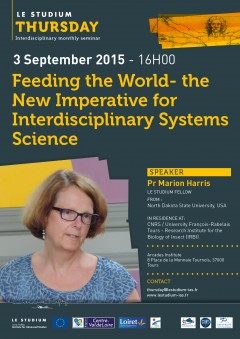 SPEAKER
Pr Marion Harris
LE STUDIUM® FELLOW 
FROM : 
North Dakota State University, USA
IN RESIDENCE AT: 
CNRS / University François-Rabelais Tours - Research Institute for the Biology of Insect (IRBI)
Topics :
The world's growing population have created a goal for researchers: by 2050, a 70% increase in agricultural production will be needed to feed the world.
A shift in research priorities and methodologies is needed to meet this goal.
Knowledge now needs to be built across disciplines using systems methodologies.
The challenges of developing this new approach are discussed for a particular problem in agriculture- protecting plants against the biotic stress caused by pathogens, nematodes, insects, and mites.
If you want to attend this event please contact us