January 27, 2020 - January 29, 2020
Challenges and prospects in chemoselective ligations: from protein synthesis to site-specific conjugation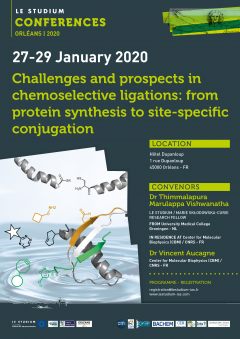 THE REGISTRATION IS CLOSED 
The conference will start on Monday 27th January  at 12:30 and end on Wednesday 29th  at noon.
Recent years have seen an exponentially growing interest in chemical reactions enabling the selective modification of proteins and peptides. These advances are intimately linked to the development of methodologies for protein engineering with an atomic precision, for the generation of well-defined antibody-drug conjugates or on-demand probes to decipher biological processes. Such chemoselective reactions are also widely utilized for the total synthesis and semi-synthesis of proteins through chemical ligation of unprotected peptide fragments, an approach highly complementary to recombinant production. The chemical reactions implemented for both purposes share the same requirements: compatibility with dilute aqueous solution at physiological pH, and tolerance to the myriad functional groups commonly found in biomolecules. These remarkable features inspired the advent of biorthogonal reactions, which can be carried out in living systems.

This international conference is jointly organized by LE STUDIUM Loire Valley Institute for Advanced Studies and the Centre for Molecular Biophysics - CNRS Orléans. This event will be held under the auspices of the French Peptide Society (GFPP) and follows three previous editions (Paris 2001, Lille 2008 and 2016) of short international meetings dedicated to chemical ligation.
KEY-WORDS
Chemical ligation - Chemoselective reactions - Protein synthesis - Site specific protein bioconjugation - Late-stage peptide modification - Bioorthogonal chemistry - Methodology development - Chemical biology
Convenors
Slideshow
Confirmed speakers
Oral presentations & posters
Abstracts for oral presentation should be submitted before Monday 18th November 2019 and before Monday 02nd December 2019 for poster. Please upload your abstract during the registration or send it before the deadline to maurine.villiers@lestudium-ias.fr.
The number of oral presentations is limited, convenors will process a selection and confirm your presentation not later than Friday 22nd November 2019.
Please note that we do not print the posters, but racks & pins will be provided for up to A0 sizes, portrait format.
Please download the template for oral presentation.
Please download the template for poster presentation.
Location

Hôtel Dupanloup : 1, rue Dupanloup - 45000 ORLEANS - FR
The conference venue is unique. Located right next to the Orléans' cathedral, the episcopal palace of Orléans, built between 1635 and 1641, locally known as the Hôtel Dupanloup, is a classical French building which served until 1905 of residence to the bishops of Orléans.  Since 2014, the renewed palace hosts the International University Center for Research and Le Studium Loire Valley Institute for Advanced Studies.
Participants will be welcomed in this exceptional surrounding, blending Middle Age and Renaissance cultures with modern design and will have the opportunity to discover French cuisine and wines.
PRACTICAL INFORMATION
Programme
MONDAY JANUARY 27th 2020
12:30    Welcome lunch and registration
14:00    Official opening
Chairman Dr Vincent Aucagne
14:20    Prof. Matthew Francis - Protein-Protein Coupling Using Enzymatic Oxidative Coupling Reactions
15:00    Dr Sébastien Gouin - From the design of an antibacterial glycoconjugate to the development of a chemoselective bioconjugation method for tyrosine.
15:20    Dr Elisabetta Mileo - Nitroxide-based spin tags coupled to EPR spectroscopy: investigation of protein structural dynamics in vitro and inside cells
15:40    Ruben Tomás - Controlling Synthetic Polymer Ligation to Metabolically Labelled Cellular Interfaces to Introduce Non-native Functionality
15:50    Coffee Break + Poster session 1
Chairman Dr Didier Boturyn
16:30    Dr Vladimir Torbeev - Making order out of protein disorder?
17:00    Dr Olivier Sénèque - How chemoselective ligations make the design of peptide-based responsive luminescent probes easier
17:30    Dr Somnath Mukherjee - Impact of site-specific non-enzymatic posttranslational modification on the structure-activity attributes of human Heat Shock Protein 27 (Hsp27)
17:50    Dr Elisabeth Garanger - Expanding the toolbox of chemoselective modifications of protein-like polymers at methionyl residues
TUESDAY JANUARY 28th 2020
​Chairman Dr Frédéric Taran
09:00    Prof. Lutz Ackermann - C─H Activation as an Transformative Tool for Late-stage Diversification of Biomolecules
09:40    Dr Samir Messaoudi - Synthesis of aryl-thioglycopeptides through chemoselective Pd-mediated conjugation
10:00    Prof. Ping Wang - Histidine-Specific Peptide Modification via Visible-Light-Promoted C-H Alkylation
10:20    Rebecca Schäfer - The Bioorthogonal Isonitrile-Chlorooxime Ligation
10:30    Coffee Break + Poster session 2
​Chairman Dr Fabienne Burlina
11:10    Dr Didier Boturyn - Design of RGD peptide conjugates for imaging and therapeutic applications
11:50    Prof. Beat Fierz - Synthetic and single-molecule exploration of the dynamic chromatin landscape
12:20    Lunch
​​Chairman Dr Oleg Melnyk
13:30    Dr Frédéric Taran - Recent advances in fast, bioorthogonal ligation reactions
14:10    Dr Cyrille Sabot - From organic methodology to the development of chemoselective ligations
14:40    Dr Laia Miret Casals - Furan crosslink technology: from in vitro analysis of peptide-protein interactions to GPCR-ligand interactions on live cells
15:00    Dr Pierre Milbeo - Development of Novel Thiol-ene Mediated Peptide Ligation Strategies
15:20    Dr Gosuke Hayashi - Chemical synthesis of histone proteins through novel ligation strategies
15:40    Coffee Break + Poster session 3
​​Chairman Prof. Annemieke Madder
16:20    Prof. Carlo Unverzagt - Merging Chemistries for the Synthesis and Evaluation of Homogenous Glycoproteins
17:00    Prof. Alesia A. Tietze - Chemical synthesis of membrane-associated peptides: studies on influenza virus B protein BM2
17:30    Dr Kevin Neumann - Cyanosulfurylide as a protecting group for carboxylic acid during peptide synthesis
17:50    Prof. Liu Wenshe - Phage-displayed noncanonical amino acids for drug discovery
18:15    Guided visit of Orléans city center
19:45    Social dinner at Le Lift Restaurant
WEDNESDAY JANUARY 29th 2020
​​​Chairman Dr Vladimir Torbeev
09:00    Dr Oleg Melnyk - A cysteine selenosulfide redox switch for protein chemical synthesis
09:40    Dr Fabienne Burlina - Extending chemical ligation for the synthesis of proteins: Application to NEMO ubiquitylation
10:10    Dr Birgit Wiltschi - Engineering of proteins with non-canonical amino acids in industrial biotechnology
10:40    Dr Marina Rubini - Semisynthetic approaches for studying post-translational modifications
11:00    Coffee Break
​​​Chairman Dr Thimmalapura Marulappa Vishwanatha
11:20    Dr Barbara Bernardim - Antibody–cysteine bioconjugation using carbonylacrylic reagents
11:40    Prof. Alexander Dömling - Multicomponent reaction chemistry: From novel small molecules to automated nano chemistry to stapled peptides
12:20   

Official closing & cocktail
PRICING
(Including two lunches, a Wine & Cheese cocktail and the coffee breaks)
| | |
| --- | --- |
| Private institutions | 250 EUR |
| Public institutions | 180 EUR |
| Students & PhD Scholars | 75 EUR |
| Social dinner | 60 EUR |