October 23, 2017 - October 24, 2017
Acoustic bubbles in therapy: recent advances with medical microbubbles, clouds and harmonic antibubbles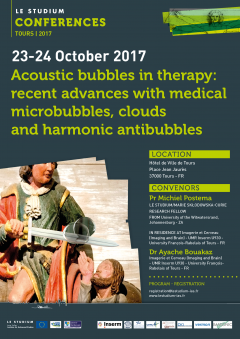 Conference program is now available >
LE STUDIUM Loire Valley Institute for Advanced Studies and Inserm Research unit U930: Imaging and Brain at François Rabelais University of Tours are organising an international conference on acoustic bubbles in therapy.
Although the use of microbubbles has become common in ultrasound diagnostics, they are not that often seen in therapeutic applications. This conference focusses on recent advances in the development and application of microbubbles in therapy.
Plenary sessions include the following topics: bubble physics, bubble physical phenomena, bubble engineering and design, in-vitro evaluation, preclinical validations, and clinical studies.
Convenors
Pr Michiel Postema, LE STUDIUM / Marie Skłodowska-Curie Research Fellow
FROM University of the Witwatersrand, Johannesburg - ZA
IN RESIDENCE AT Imagerie et Cerveau (Imaging and Brain) - UMR Inserm U930 - University François-Rabelais of Tours - FR
Dr Ayache Bouakaz
Imagerie et Cerveau (Imaging and Brain) - UMR Inserm U930 - University François-Rabelais of Tours - FR
Thank you for having visited the conference!
The submission portal for our special issue in Applied Acoustics (impact factor 2.3) "Acoustic in therapy" is now open at EVISE APAC. We would like to invite the presenters to submit your proceeding for peer-review to be published in this special issue. Manuscript formats can be found online.
Please note that we do accept theoretical contributions, if ampel reference is made to (historic) experiments for comparison of outcomes.
It is important that authors select the name of the special issue when they upload their manuscripts: "VSI:Acoustic in therapy", so that your paper is assigned to the correct editor.
The submission deadline is set to 1st December, 2017. Please contact Michiel Postema at michiel.postema@rub.de if you cannot make this deadline, but would like to submit a paper nevertheless.
Slideshow
Key topics
Microbubbles, ultrasound contrast agents, bubbles clouds, antibubbles, sonoporation, ultrasound-guided drug delivery, microfluidics.
Confirmed speakers
Pr Alexandre Carpentier, Paris VI Sorbonne University - FR
Pr Steven Freear, University of Leeds - UK
Pr Pintong Huang, Zhejiang University School of Medicine - CN
Pr Eitan Kimmel, Technion - IL
Dr Spiros Kotopoulis, Haukeland University Hospital - NO
Pr Nobuki Kudo, Hokkaido University - JP
Pr Frédéric Patat, University François-Rabelais of Tours - FR
Pr Albert Poortinga, Eindhoven University of Technology- NL
Dr Paul Prentice, University of Glasgow, UK
Dr Annemieke Van Wamel, Norwegian University of Science and Technology - NO
Conference PROGRAM
Monday October 23th 2017
08h30    Welcome coffee & registration

09h00    Introduction
Session 1 : Sonochemotherapy
Chairmen : Pr Michiel Postema & Dr Annemieke Van Wamel
09h20    Pr Pintong Huang - Antitumor efficacy of ultrasonic cavitation with a drug loaded microbubbles targeting tumor angiogenesis in a fluorescent human colon cancer mouse model

09h40    Dr Jean-Michel Escoffre - Delivery of cetuximab to colorectal cancer using microbubble-assisted ultrasound

10h00    Dr Diane Bressand - In vitro and in vivo evaluation of delivery of Nab-Paclitaxel in pancreatic

tumors with sonoporation

10h20    Dr Spiros Kotopoulis - Low-intensity sonoporation from lab to patient bedside: What do we know and where do we go from here?

10h40    Coffee break & demo Precision Accoustics
Session 2 : Bubble imaging
Chairmen : Dr Paul Prentice & Pr Steven Wrenn
11h20    Pr Steven Freear - Ultrafast Plane-wave Imaging for Nonlinear Detection of Therapeutic Microbubbles
11h40    Pr Katrien Vanderperren - Contrast-enhanced ultrasound of the kidneys in hyperthyroid cats
12h00    Dr Erik Verboven - Ultrasound based dosimetry for radiotherapy: in-vitro and in-vivo proof of principle
12h20    Lunch
Session 3 : Acoustic cluster therapy
Chairmen : Pr Katrien Vanderperren & Pr Steven Freear
14h00    Dr Per Sontum - Acoustic Cluster Therapy – A Novel Approach for Ultrasound Mediated Targeted Drug Delivery: Technology Basics and Proof of Concept
14h20    Dr Annemieke Van Wamel - Acoustic cluster therapy boosts delivery of drugs in brains and tumors
14h40    Dr Paul Prentice - Shocking bubbles: cavitation in focused ultrasound
15h00    Pr Nobuki Kudo - High-speed observation system designed for elucidating mechanisms of sonoporation
15h20    Coffee break
Session 4 : New insights in therapeutic bubbles
Chairmen : Dr Benoit Larrat & Pr Albert Poortinga
16h00    Pr Eitan Kimmel - Acoustics in Medicine in view of the intramembrane cavitation model
16h20    Vincent Hingot - Subwavelength far-field ultrasound targeted drug-delivery
16h40    Dr Bjoern Gerold - Controlling cavitation in focused ultrasound surgery: efficiency and safety
18h30    Public Lecture in French, Pr Frédéric Patat - Détecter, voir et soigner : des ultrasons aux multiples facettes
20h00    Social Dinner at Le Mastroquet
Tuesday October 24th 2017
08h30    Welcome coffee & registration
Session 5 : Bubbles, antibubbles, droplets
Chairmen : Dr Christine Contino-Pépin & Dr Charles Sennoga
09:00    Pr Albert Poortinga - Antibubbles: a new kind of acoustic bubble
09:20    Pr Steven Wrenn - Voltage-Activated Ultrasound Contrast Agent for Myocardial Perfusion Imaging
09:40    Dr Stéphane Desgranges - Stable formulations of perfluorocarbon droplets for tumor detection and treatment
10:00    Dr Sigrid Berg - Nanoparticle-stabilized microbubbles and ultrasound for enhanced drug delivery
10:20    Coffee break & demo Precision Accoustics
Session 6 : BBB
Chairmen : Pr Pintong Huang & Dr Jean-Michel Escoffre
11:00    Pr Alexandre Carpentier - low intensity pulsed ultrasound (LIPU) to disrupt the blood-brain barrier (BBB) followed by intravenous carboplatin chemotherapy in patients with recurrent brain tumors
11:20    Dr Benoit Larrat - MRI guided ultrasound-mediated blood-brain barrier opening in non-human primates using passive cavitation detection feedback control
11:40    Dr Barbara Cerroni - Targeting Tumour Brain Vasculature with RGD decorated Microbubbles
12:00    Lunch
14:00    CMER (Cellule Mutualisée Europe Recherche) Presentation of funding opportunities in the EU Horizon 2020 Framework Programme
14:20    Posters session
Session 7 : Bubble dynamics
Chairmen : Pr Nobuki Kudo & Pr Eitan Kimmel
15:00    Dr Alexander Doinikov - Dynamics of bubbles in a confined space
15:20    Kristoffer Johansen - A comparison of single-bubble and cloud models for non-stable cavitation and the emissions generated
15:40    Dr Mounir Tarek - Generation and outcome of reactive oxygen species produced by ultrasound stimulated micro-bubbles: Unraveling a potential mechanism of sonoporation using Molecular Simulations
16:00    Dr Claude Inserra - Nonspherical oscillations of gas microbubbles: threshold, dynamics and nonlinearity
16:20    Conclusion
PRICING
| | |
| --- | --- |
| Private institution | 250 EUR |
| Public institution | 180 EUR |
| Students & PhD Scholars | 75 EUR |
| Social dinner | 60 EUR |