Category:
ARD 2020-BIOPHARMACEUTICALS
CONTEXT
The region Centre-Val de Loire Ambition for Research and Development 2020 (ARD 2020) Biopharmaceuticals Programme is supported by LE STUDIUM Loire Valley Institute for Advanced Studies for the attraction and recruitment of international experienced researchers and scientific animation.
The Biopharmaceuticals Programme aims to further develop and strengthen the region Centre-Val de Loire biopharmaceutical industries by capitalising on the recognised capabilities of the multidisciplinary research teams from the regional research institutions.
The ARD 2020 Biopharmaceuticals Programme focuses on the design and biosynthesis of molecules for preclinical and clinical development by including the search for synergies with conventional chemically synthesized drugs. The programme involves working with a wide spectrum of molecules (vaccines, therapeutic antibodies, nucleic acids...) with the need for a diverse range of competences and the involvement of teams with complementary expertise. The researchers present in the region Centre-Val de Loire, working in the disciplines of life sciences, are invited to participate and work in synergy, for inter-sectorial development and innovation, in the pharmacy/health sectors to deliver socio-economic outcomes.
The successful candidate will be invited for a one-year fellowship and will benefit from the dynamic scientific environment of the region Centre-Val de Loire (France).and will be part of an outward looking and stimulating pluri-disciplinary scientific and international community.
SCIENTIFIC RESEARCH CONTEXT
An antibody-conjugate conjugate (ADC) is a vectorized chemotherapy, allowing the selective delivery of a cytotoxic agent, which limits the usual systemic toxicity. An ADC results from the grafting of a potent cytotoxic agent onto a therapeutic antibody (mAb) via a judiciously constructed spacer arm (linker). Our IMT team (member of Labex SynOrg and MabImprove) in Tours (France) has already realized the design, analysis and synthesis of more than thirty ADCs. Among them, five internalizing ADCs derivatives of trastuzumab, incorporating optimized linkers (Patent No. WO2015004400A1) were able to target HER2-positive breast cancer in vitro and were as effective as the reference ADC Kadcyla® (T-DM1). In addition, one of them was more potent than Kadcyla® in vivo against HER2-positive breast tumor in a murine model. Nevertheless, the cytotoxic agents in our ADCs are always monofunctional (for example, the active molecule has only one amine, necessary for the covalent grafting of this molecule on the linker which will allow the bioconjugation on the mAb).
MISSION OF THE RESEARCH SCIENTIST
The emergence of multiple resistance mechanisms in patients with conventional internalizing ADCs encourages us to design and develop new generation ADCs within the ARD2020 Biopharmaceuticals MAbCHEM programme. Indeed, by using a non-internalizing antibody (undisclosed target), we propose here to design, synthesize and analyze new ADCs whose originality lies in their mechanism of action, requiring an original approach technique to graft polyfunctional active molecules to the linker. This is chemically a major challenge, and requires a more experienced person to carry out the experiments. The activity of the non-internalizing ADCs will reside in the mechanism of action of the grafted polyfunctional molecule, either by remaining conjugated to the antibody (1), or after extracellular release (2). These original ADCs will be evaluated in close collaboration with a Labex MabImprove team.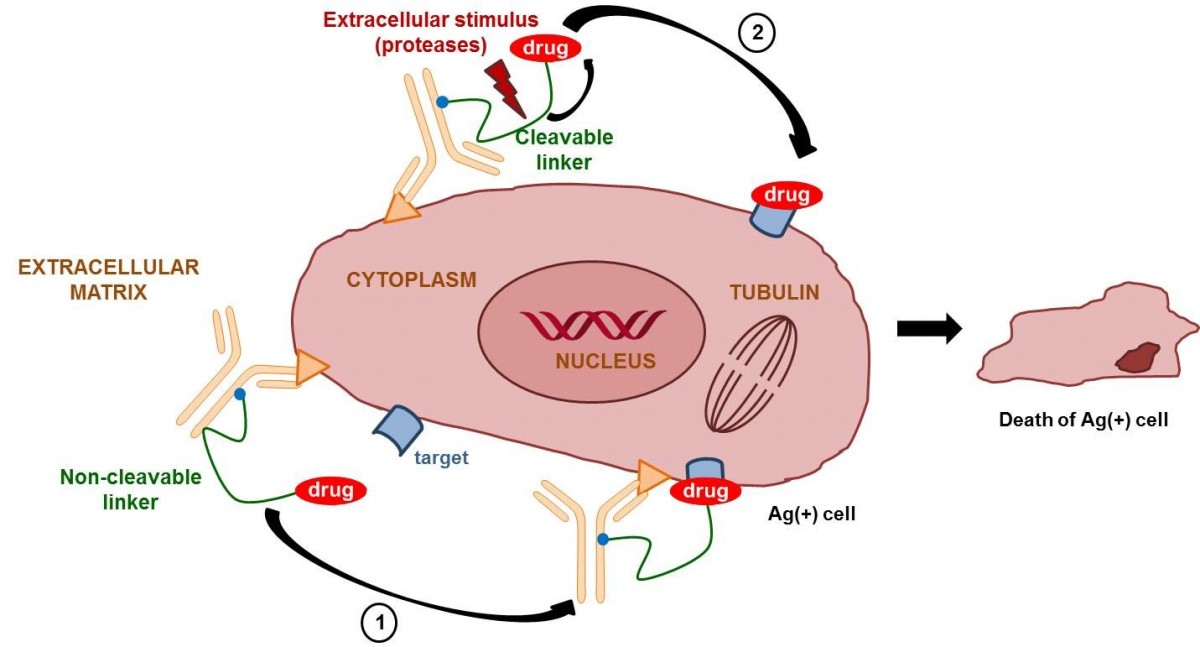 ESSENTIAL SKILLS AND EXPERIENCE
To reach the goal of this challenging scientific program, we are looking for an experienced organic chemist with the necessary skills (i) to accomplish the chemical modifications of complex multifunctional molecules with a significant molecular weight, (ii) to master the complex bioconjugation techniques and (iii) to develop in-situ reactions of copper-free click-chemistry (Huisgen's 1,3-dipolar cycloaddition) or inverse-demand Diels-Alder.
Senior researcher profile with the qualities described above including:


PhD in organic chemistry
Expertise in multi-step organic synthesis (drugs). An experience in bioconjugation will be much appreciated.
Publications and significant international network;

Proven ability to control the whole research chain from the definition of the problem to the communication of results;
Experience and motivation for team work and ability to establish fruitful scientific exchanges with researchers and actors of different technical and scientific cultures;
Ability to initiate new projects in the field of medicinal chemistry;
Strong organisational and time management skills - able to prioritize work, manage time effectively and deliver results on time;

Excellent written and verbal communication skills, including the ability to make clear and concise presentations.
CONDITIONS OF ELIGIBILITY
The fellowship is intended to attract an experienced international researcher in possession of a doctoral degree and a minimum of five years of full-time research experience, preferably ten.
Applicant researchers must be national or long-term resident of a country other than France, i.e. having spent a period of full-time research activity of at least 5 consecutive (without breaks in research) years in a country other than France.
Applicant researchers must also comply with the following mobility rule: not having resided or carried out their main activity (work, etc.) in France for more than 12 months in the 3 years immediately prior to the deadline of application. Compulsory national service and/or short stays such as holidays are not taken into account.
CONDITIONS OF EMPLOYMENT
The position is based in Tours, France and offers a contract of one year.
The successful candidate will be welcomed into the ARD 2020 Biopharmaceuticals Programme network and LE STUDIUM faculty of international research fellows working in the region Centre-Val de Loire. She/he will be provided with the necessary means of work (laboratory facilities, office, phone, internet acess, access to databases, computer tools, etc ...).
The scientific working languages are French and English.
Entitlements detailed in the French labour contract of employment include:
a personal salary.
rental costs of a fully furnished apartment for the applicant and her/his family. Utilities (water, heating, electricity, taxes) have to be covered by the research fellow.
Affiliation to the French social security protection scheme and a contribution to a private medical protection scheme for all health costs complementing the French basic social security protection.
Working hours, vacation and travelling expenses are bound by the same regulation as those effective for the personnel of the hosting laboratory.
Logistics and administrative assistance by a member of LE STUDIUM operational team.
Conditions of application
The deadline for application is 31st May, 2019.
Position is expected to be filled in the 2Q2019.
The application shall consist of three elements:
A completed online LE STUDIUM application form with personal information and details of track records ;
A curriculum vitae of maximum two pages including information not in the online application;
An application letter.
Upload documents as pdf files.