June 2, 2016 : 16H00
The wonderful world of metal ions: Manganese as a possible solution.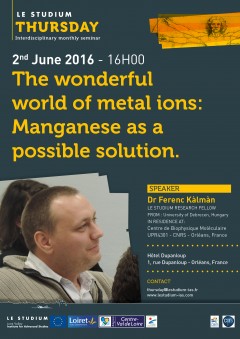 Speaker
Dr Ferenc Kàlmàn, LE STUDIUM RESEARCH FELLOW 
FROM : University of Debrecen, Hungary
IN RESIDENCE AT: Centre de Biophysique Moléculaire  UPR4301 - CNRS - Orléans, France
Abstract
Recently there is a growing interest in the field of manganese coordination chemistry using paramagnetic Mn(II) complexes as alternatives to Gd(III) in MRI. The potentially fatal disease Nephrogenic Systemic Fibrosis, triggered by the Gd(III) released from Gd(III)-based contrast agents used in vivo, has triggered research to replace Gd(III) complexes. The development of a new family of Mn(II) contrast agents tracing the journey from the idea to the patent and the possibilities of molecular imaging by "smart" contrast agents to visualize bioactive molecules and ions or to monitor the physico-chemical parameters (such as pH) of tissues and organs will be discussed.
The fate of MRI contrast agents, when science meets art.