September 5, 2016 - September 6, 2016
7th French-Czech "Vltava" Chemistry Meeting
Advancing Chemistry through Bilateral Collaborations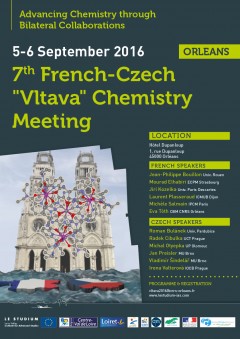 Menu
Objectives of the meeting
English
This annual conference brings together French and Czech researchers with similar interests in the field of chemistry and interface disciplines. This is a unique opportunity that allows presenting, sharing and discussing scientific findings, and encouraging collaborations between the laboratories of both countries. The first and third editions were held in Dijon, second and fourth in the Czech Republic, the fifth in Gif-sur-Yvette. In 2015, the conference was organized in Brno (Czech Republic).
This year the "Vltava" meeting will take place in Orleans and will offer twelve plenary lectures by invited scientists from both countries. A similar number of oral presentations will be selected from submitted abstracts. All participants, especially young researchers, will be encouraged to present a poster. The 7th French-Czech "Vltava" Chemistry Meeting represents a great interest to French and Czech scientists, as well as for researchers from the Grand Campus of Orléans, especially from the CBM and the ICOA.
French
Cette conférence annuelle rassemble les chercheurs français et tchèques ayant les mêmes intérêts dans le domaine de la chimie et les disciplines d'interface. C'est une opportunité unique qui permet de présenter, partager et discuter les résultats scientifiques, et de susciter des collaborations entre les laboratoires des deux pays. Les première et troisième éditions ont eu lieu à Dijon, les deuxièmes et quatrièmes en Tchéquie, la cinquième à Gif-sur-Yvette. En 2015, cette conférence s'est déroulée à Brno (République Tchèque).
La conférence 2016 à Orléans, offrira douze conférences plénières données par les scientifiques invités des deux pays. Un nombre similaire de communications orales sera sélectionné parmi les abstracts soumis. Tous les participants, spécialement les jeunes, seront encouragés à présenter un poster. Le 7th French-Czech "Vltava" Chemistry Meeting représentera un grand intérêt pour les scientifiques orléanais, notamment pour les chercheurs du CBM et de l'ICOA ainsi que du campus CNRS et universitaire.
Czech
Tato každoroční konference sdružuje francouzské a české výzkumníky s podobnými zájmy v oblasti chemie a příbuzných disciplín. Jedná se o jedinečnou příležitost, která umožňuje prezentovat, sdílet a diskutovat vědecké poznatky a podporovat spolupráci mezi laboratořemi obou zemí. První a třetí edice se uskutečnily v Dijonu, druhá a čtvrtá v České republice, pátá v Gif-sur-Yvette. V roce 2015 se konala konference v Brně (Česká republika).
Letošní konference v Orléans ve Francii nabídne dvanáct plenárních přednášek od pozvaných vědců z obou zemí. Podobný počet ústních sdlení bude vybrán mezi zaslanými abstrakty. Všichni účastníci, zejména mladí výzkumníci, budou vyzváni, aby prezentovali poster. Sedmá francouzsko-česká konference "Vltava" představuje zajímavou udalost nejen pro francouzské a české vědce, ale bude také přínosem pro celý Univerzitní kampus Orléans a specificky pro výzkumníky z CBM a ICOA.
Speakers
French Speakers
Jean-Philippe Bouillon (Univ. Rouen)
"Synthesis of fluorinated mixed aminoquinoline gamma-lactams - Biological evaluation as possible anti-malarial agents"
Mourad Elhabiri (ECPM Strasbourg)
"From Basic Redox Active Building Blocks to Molecular Switches and Antiparasitic Drugs: A Physico-Chemical Survey"
Jiri Kozelka (Paris Descartes University)
"Physical origin of lone-pair-p interactions"
Laurent Plasseraud (ICMUB Dijon)
"Dimethyl Carbonate: From Synthesis to Utilization"
Michèle Salmain (IPCM Paris)
"Artificial metalloenzymes design for asymmetric catalysis in aqueous media"
Eva Tóth (CBM - CNRS Orléans)
"Lanthanide complexes in molecular Magnetic Resonance Imaging"
Czech Speakers
Roman Bulánek (Univ. Pardubice)
"Layered 2D vs. 3D Zeolites: Differences in Adsorption Characteristics"
Radek Cibulka (UCT Prague)
"Visible-light Photocatalysis with Flavins"
Michal Otyepka (UP Olomouc)
"Properties of Graphene Derivatives"
Jan Preisler (MU Brno)
"Rapid MALDI TOF Mass Spectrometry Imaging"
Vladimír Šindelář (MU Brno)
"Supramolecular Chemistry of Bambusurils"
Irena Valterová (IOCB Prague)
"Male marking pheromones of bumblebees: Chemodiversity and biosynthesis"
ORAL COMMUNICATIONS
Ahmed Debela (UPMC Univ Paris 6)
"Bioconjugation of polyoxometalates for diagnostic applications"
Bohuslav Drahoš (Palacky Unversity Olomouc)
"Magnetic properties of heptacoordinate transition metal complexes with 15-membered pyridine-based macrocyclic ligands"
Floriane Mangin (University Bourgogne Franche-Comté)
"Development of specific 89Zr chelators: Synthesis of functionalized cyclic hydroxamic acids and their coupling to desferrioxamine B"
Irena Stará (IOCB Prague)
"Beyond [11]helicene: The synthesis of extremely long helicenes"
Luigi Agrofoglio (ICOA, University of Orléans)
"Overview of the Synthesis of (E)-4-phosphono-but-2-en-1-yl Nucleosides and their Biological Activities"
Malcolm Zimbron (Chimie Paris Tech)
"Supramolecular helical polymers as a platform for asymmetric catalysis: inducing and amplifying chirality"
Patrick Trouillas (University of Limoges)
"Physical Chemistry of Drug-Membrane Interaction"
Pavel Štarha (RCPTM, Palacky University Olomouc)
"An overview of anticancer platinum(II) complexes containing various azaindole derivatives as N-donor carrier ligands"
S. Routier (ICOA, University of Orléans)
"Discovery of novel alpha7-nAchR ligands : from an idea to in rodent results for Alzheimer [18F] TEP imaging"
Thibault Terencio (Charles University Prague)
"Comparative study of UO22+ and Fe3+ complexation with hydroxamate siderophore"
Tomáš Slanina (Masaryk University Brno)
"Visible Light Photoactivated Metal-Free Carbon Monoxide-Releasing Molecules (photoCORM): Design, Synthesis and Bioapplications"
Registration
Please register to the conference at this link:
After online registration you will receive confirmation of successful registration to your email and the payment details (bon de commande, credit card). If you do not receive any email, please, contact us.
The conference fee indicated below includes programme booklet, conference lunches, refreshments (coffee/tea breaks). The accommodation is not included.
CONFERENCE FEES

EARLY REGISTRATION
before July 15, 2016

REGISTRATION
after July 15, 2016

Regular participants

90 EUR

150 EUR

Students

54 EUR

54 EUR

Non-academic

240 EUR

240 EUR
Abstracts submission
Abstracts must be written in English according to the template and saved as a general word processing format (.doc / .docx). Download template.
Please send the abstract by e-mail to vltava2016@cnrs-orleans.fr and specify the type of contribution you wish to present (oral or poster) in the subject line. The abstracts for the oral presentation should be submitted till June 30, 2016. The acceptance of the oral presentation will be confirmed by organizers till July 15, 2016. The abstracts for poster presentations will be accepted until August 5, 2016.
Contact 
Venue and transport 
Orléans, the city of Joan of Arc. The ancient district boasts an exceptional heritage. Medieval half-timbered houses, elegant fronts from the renaissance period and town houses can be found. The half-timbered house is one of the oldest proven construction techniques in Orléans. This type of construction was spotted during the 19th century in order to prevent fires. The rehabilitation of the ancient district undertaken by the city council enabled the promotion of the numerous houses where timber frames were painted in a vast range of colors. The historic centre of the city, developed as a pedestrian area with new paving, benefits from a specific "plan lumière" (a recent concept aiming to establish the lighting of a tourist city or a built-up area) highlighting the fronts and the architectural details for a wonderful night's walk. As the last wild river of Europe, the Loire offers an exceptional and well preserved landscape.
The conference will take place in the Hôtel Dupanloup, the International Research Center of the University of Orléans. The building is a splendid 17th Century one in the French city of Orléans, and it's named after former resident Felix Dupanloup, a Bishop of Orléans in the 1800s who was instrumental in having Joan of Arc canonised. The place is situated near the Orléans Cathedral, about 10 minutes on foot from the train station.
Detailed information about travelling from the Paris airports is provided in the document below. For individuals, we recommend to take RER B at the RER‐SNCF Roissy station, get off the train at the "Gare du Nord Station" and take the subway line n°5 heading to "Place d'Italie" and stop at Austerlitz Station. Transport from Gare d'Austerlitz Station to Orléans Station by train takes about one hour (departure every 1-2 hours). For groups, a shuttle from Roissy Airport to Orléans would be a better solution.
Accomodation
Participants are invited to make their own hotel reservation. We could suggest the following hotels and restaurants in the downtown: