January 22, 2020 - January 24, 2020
Towards Futuristic Energy Storage; paving its way through Supercapacitors, Li-ion batteries and beyond
The conference will start on Wednesday 22nd January at 12:30 and end on Friday 24th at noon.
This international conference organized by LE STUDIUM Loire Valley Institute for Advanced will focus on basics aspects as well as most recent advances in Li-ion, Beyond Li-ion batteries (e.g. Li-S, Na batteries) and supercapacitors. The Conference will cover different topics linked to these technologies including materials synthesis and characterization, interfacial phenomena, systems and materials optimization and modeling.  Leading scientists and researchers will share their recent progress and stimulate discussions on interdisciplinary electrochemical storage.
The program of the conference will include plenary lectures, keynote lectures, invited talks, orals and a poster session.
Participants will have the opportunity to register while submitting an abstract for an oral or a poster.
A posters session will be organized during the conference with an award for the best poster.
Topics
Anodes and cathodes in Li-ion batteries and Beyond : Synthesis, characterization, modeling
Electrolytes in Li-ion batteries and beyond : Liquid, solid, and gel
Supercapacitors: materials and devices, hybrid materials and hybrid supercapacitors
Characterization techniques (device and materials) : in situ and operando characterization
etc.
Confirmed speakers
Oral presentations & posters
Abstracts for oral presentation and poster should be submitted before Monday 18th November 2019. Please upload your abstract during the registration or send it before the deadline to maurine.villiers@lestudium-ias.fr.
The number of oral presentations is limited, convenors will process a selection and confirm your presentation not later than Friday 22nd November 2019.
Please note that we do not print the posters, but racks & pins will be provided for up to A0 sizes, portrait format.
Please download the template for oral presentation.
Please download the template for poster presentation.
Location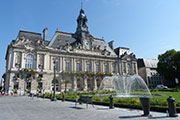 Hôtel de Ville : Boulevard Heurteloup - 37000 TOURS - FR
The event will take place in the city centre at the Hotel de Ville of Tours located Square Jean-Jaures and very near the main train station. This elegant building was designed in the early 20th century by Victor Laloux, the architect of the Gare d'Orsay in Paris (now the Musée d'Orsay).  Its monumental stairs, paintings and sculptures make it a recommended place to visit. Participants will also have the opportunity to discover French cuisine and Loire Valley wines during an evening social.
PRACTICAL INFORMATION
PRICING
(Including two lunches, a Wine & Cheese cocktail and the coffee breaks)
| | |
| --- | --- |
| Private institutions | 250 EUR |
| Public institutions | 180 EUR |
| Students & PhD Scholars | 75 EUR |
| Social dinner | 60 EUR |