July 4, 2016 - July 6, 2016
Olive Bioactives: applications and prospects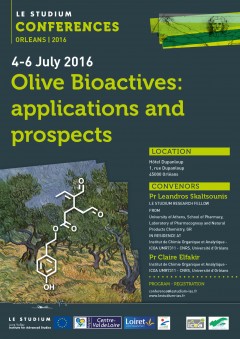 Deadline for registration: 30/06/2016
The olive tree, closely connected to the Mediterranean region, has provided a variety of goods. Research on the olive has started early but was proven inexhaustible revealing a vast array of nutritional, health and cosmetic properties. The aim of this workshop is to present a holistic research strategy towards the multifaceted exploitation of the olive tree, including activities such as extraction, fractionation, isolation, analysis of olive tree products as well as investigation of processes related to olive industry and valorization of by-products. Moreover the biological profile and the therapeutic potential of olive extracts and compounds will be presented as well as their possible applications as pharmaceuticals, nutraceuticals, dietary supplements and cosmetics agents. 
Convenors
Pr Leandros Skaltsounis, LE STUDIUM RESEARCH FELLOW
FROM University of Athens, School of Pharmacy, Laboratory of Pharmacognosy and Natural Products Chemistry, GR
IN RESIDENCE AT Institut de Chimie Organique et Analytique - ICOA UMR7311 - CNRS, Université d'Orléans
Pr Claire Elfakir
Institut de Chimie Organique et Analytique - ICOA UMR7311 - CNRS, Université d'Orléans
CONFIRMED INVITED SPEAKERS
Programme
Day 1 – Monday 04/07/2016
Day 2 - Tuesday 05/07/2016
08H30   Opening 
09H00   Pr Vicente Lahera
Beneficial effects of olive-derived terpenoids and polyphenols on cardiovascular, metabolic and neurodegenerative alterations.
09H40   Dr Ioanna Andreadou 
Investigating the use of Oleuropein as prophylactic and therapeutic treatment in cardiovascular diseases.
10H20   Coffee break
10H50   Dr Amal Kaddoumi 
Neuroprotective effect of extra-virgin olive oil and its bioactive component oleocanthal in Alzheimer's disease
11H30   Dr Ioannis Trougakos
Beneficial effects of virgin olive‐oil extracts and olive‐oil‐derived natural compounds in mammalian cells and in vivo at Drosophila flies
12H10   Thomas Rochette-Castel (CMER)
H2020 funding opportunities 
12H30   Lunch 
14H00   Dr Günter Vollmer  
Estrogen-like properties of polyphenols from olive oil
14H40   Dr Manfred Spraul
NMR, a platform for comprehensive screening of olive oil ingredients and properties
15H20   Coffee break & poster session
16H20   Dr Maria Halabalaki
Olive bioactive compounds: Isolation, characterization and applications
17H00   Dr Despina Tsipi
Health Claims Related to Polyphenols in Olive 
17H40   End of the day
18H30   Guided visit of Orléans
19H30   Gala dinner au Lift
Day 3 - Wednesday 06/07/2016
08H30   Opening
09H00   Dr Sandrine Perino & Pr Farid Chemat
Vegetables oils as alternative solvents for green extraction of natural products
09H40   Dr Zohar Kerem   
Valorization of Olive Mill Wastes
10H20   Coffee break
10H50   Pr Liliane Berti
Using lipoxygenase pathway enzymes for the biotechnological production of compounds with aromatic properties
11H30   Dr David Da Silva 
Analysis of Olive bioactive compounds using HPTLC@MALDI-TOFMS
12H00   Discussion and conclusion
12H30   Lunch bag
14H00   Departure to LVMH
14H30   Visit of LVMH (Helios)
PRACTICAL INFORMATIONS

LE STUDIUM conferences take place in the Loire Valley, in the city center of Orléans, France. The conference venue is unique: the LE STUDIUM Loire Valley Institute for Advanced Studies is located in a recently renovated 17th century building next to the Gothic Cathedral. Participants will be welcomed in an exceptional surrounding, blending Middle Age and Renaissance cultures with modern design. Convenors and organisers offer a quality programme with an outstanding group of experts. The conference offers the opportunity to discover regional research facilities, patrimony and gastronomy.