December 11, 2017 - December 13, 2017
Is Multimodal Imaging an Invention with a Future? The Input of Chemistry
Conference program is now available >
The scientific concept of multimodal imaging has been gaining momentum over the last decades. Given the intrinsic physical properties of each imaging technique available in the current clinical practice (MRI, CT, US, PET/SPECT or optical imaging), it is clear that none of these modalities alone is able to address all the questions in the search for a correct diagnosis or therapeutic follow-up. Today, many leading instrumental companies, supported by the physicists from academia, are investing in the design/improvement of multimodal scanners (e.g. PET-MRI).  In parallel, chemists working in the field of imaging worldwide are gathering their efforts to create agents that combine various imaging reporters in a single probe. 
This conference, jointly organized by LE STUDIUM Loire Valley Institute for Advanced Studies and the Centre for Molecular Biophysics - CNRS Orléans, will address the questions whether multimodal imaging is an invention with future and how chemists can contribute to its success. The conference will have a special focus on metal-based probes and MRI, optical and nuclear imaging modalities.
The conference will start on 11th of December with a welcome lunch (12H00) and finish on 13th of December at 12H30.
Convenors
Dr Kristina Djanashvili, LE STUDIUM / Marie Skłodowska-Curie Research Fellow
FROM Department of Biotechnology, Delft University of Technology - NL
IN RESIDENCE AT Molecular Biophysics Center (CBM) / CNRS - Orléans - FR
Dr Éva Jakab Tóth
Molecular Biophysics Center (CBM) / CNRS - Orléans - FR
Slideshow
Topics
Multimodal imaging probes incl. nanoparticles and small metal complexes
Combination of imaging and therapy
Responsive probes
Validation of output in MRI, nuclear and optical imaging techniques
Special honorary symposium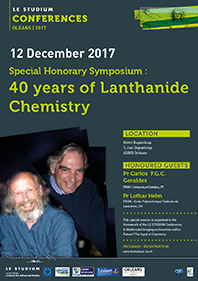 We take the opportunity of this Le Studium conference to honor Pr Carlos F.G.C. Geraldes (University of Coimbra, Portugal) and Pr Lothar Helm (Ecole Polytechnique Fédérale de Lausanne, Switzerland) and celebrate their outstanding scientific carrier during a dedicated session – "40 years in Lanthanide Chemistry".
Carlos Geraldes and Lothar Helm have made an immense contribution to the understanding and development of paramagnetic probes for Magnetic Resonance Imaging. Through a very active participation in successive European COST Actions related to metals in medical imaging, their work hasled to novel, fundamental insights into the physical-chemical behavior of lanthanide-complexes in general and the paramagnetic relaxation theory of contrast agents in particular. 
Today, Pr Lothar Helm is retiring from the position of titular professor and director of the NMR service of the Institute of Chemical Sciences and Engineering at EPFL, Lausanne (CH), while Pr Carlos Geraldes is leaving the post of full professor of Structural Biochemistry at the Department of Life Sciences of the University of Coimbra (PT). In this symposium, the guest speakers will overview the state of the art in the field of MR imaging agents and discuss future perspectives. 
Confirmed Speakers
Pr Carlos F.G.C. Geraldes - University of Coimbra - PT
Pr Lothar Helm - École Polytechnique Fédérale de Lausanne - CH
Pr Silvio Aime - University of Torino - IT
Pr Robert N. Muller - University of Mons - BE
Pr Peter Caravan - Harvard Medical School and Massachusetts General Hospital - US
Pr David Parker - Durham University - UK
Pr Jean-Philippe Pignol - Erasmus MC Cancer Institute - NL
Pr Lorenzo Tei -  University of Piemonte Orientale "Amedeo Avogadro" - IT
Pr Carlos Platas-Iglesias - University of A Coruña - ES
Dr Gyula Tircso - University of Debrecen - HU
Dr Penelope Bouziotis - National Center for Scientific Research "Demokritos" - GR
Pr Nicholas Long - Imperial College London - UK                                                           
Dr Rafael T. M. de Rosales - King's College London - UK                                       
Dr François Lux - University of Claude Bernard Lyon - FR                
Dr Victor Goncalves - University of Bourgogne - FR
Dr Nathalie Mignet - University of Paris Descartes - FR                                    
Dr Rainer Kneuer - Novartis - CH
Dr Joop A. Peters - Delft University of Technology - NL
Posters
Please note that we do not print the posters, but racks & pins will be provided for up to A0 sizes. 
Location
Hôtel Dupanloup : 1, rue Dupanloup - 45000 ORLEANS - FR
The conference venue is unique. Located right next to the Orléans' cathedral, the episcopal palace of Orléans, built between 1635 and 1641, locally known as the Hôtel Dupanloup, is a classical French building which served until 1905 of residence to the bishops of Orléans.  Since 2014, the renewed palace hosts the International University Center for Research and Le Studium Loire Valley Institute for Advanced Studies.
Participants will be welcomed in this exceptional surrounding, blending Middle Age and Renaissance cultures with modern design and will have the opportunity to discover French cuisine and wines.
Practical Informations
Conference PROGRAM
Monday December 11th 2017
12h30    Registration & Welcome Lunch
14h00    Welcome & Opening
14h10    Scientific opening by Éva Jakab Tóth
14h20    Dr Kristina Djanashvili - Towards Multimodal Imaging with Porous Nanodevices
14h50    Pr Lorenzo Tei - Exploring mesoporous silica nanoparticles as multimodal imaging and theranostic probes
15h20    Dr Rainer Kneuer - Multimodality & Multiscale Imaging of Biologics and Nanomaterials
15h50    Dr Ivana Martinic - Near-Infrared Optical Imaging with Lanthanide-Based Molecules, Macromolecules and Nanomaterials
16h10    Coffee Break
16h40    Pr Jean-Philippe Pignol - Nanoparticle image guided ablation therapy for early breast cancers
17h10    Dr François Lux - AGuIX, a gadolinium based ultrasmall nanoparticle: translation to the clinic
17h40    Dr Aline Nonat - Photonic upconversion in solution with self-assembled lanthanide complexes
18h30    Dr Natalie Mignet - Les Nanotechnologies au Service de la Santé (Public Lecture in French)
20h00    Wine & Cheese Cocktail
Tuesday December 12th 2017
08h45    Welcome coffee
09h00    Pr Nicholas J. Long - Functionalised Microbubbles: For Ultrasound and PET Cancer Imaging
09h30    Enikő Molnár - Tuning the physicochemical parameters of Gd(III) complexes by rigidifying the ligand backbone: synthesis and coordination properties of the CHX-DTPA and PhDTPA ligands
09h50    Dr Ka-Leung Wong - Lanthanide complexes for cancer imaging and treatment      
10h10    Coffee break
10h30    Posters session 
11h10    Dr Penelope Bouziotis - Molecular Platforms as Probes for Dual-Modality Imaging
11h40    Dr Sara Pinto - New Biocompatible Redox Probe Based on a Mn(II)Mn(III) Porphyrin: Synthesis and Physical - Chemical Characterization
12h00    Lunch
Special Honorary Symposium - Pr Carlos GERALDES and Pr Lothar HELM - 40 years of Lanthanide Chemistry
13h30    Pr Robert N. Muller - Once upon a time, a NMR picture appeared …
14h00    Pr Peter Caravan - Applications of multimodal molecular imaging in fibrotic diseases
14h30    Dr Gyula Tircso - Mn2+ complexes as Contrast Agents for Magnetic Resonance Imaging: are we there yet?
15h00    Dr Carlos Platas-Iglesias - Rational control of key physicochemical parameters of T1 and CEST Ln(III)-based MRI agents
15h30    Coffee break
16h15    Pr Silvio Aime - ​The issue of Gadolinium retained in tissues upon administration of MRI contrast agents
16h45    Pr David Parker - Triple Proton Imaging: the theory and the practice
17h15    Pr Joop A. Peters - Lanthanide research networks with Carlos Geraldes and Lothar Helm 
17h30    Pr Carlos Geraldes - A personal experience on Lanthanides as NMR structural and imaging probes
18h00    Pr Lothar Helm - MRI contrast agents and fundamental research – 30 years of fruitful alliance
19h15    Departure to Olivet by bus
20h00    Gala dinner at the restaurant Le Pavillon Bleu 
Wednesday December 13th 2017
08h45    Welcome coffee
09h00    Dr Victor Goncalves - Dual Labeling of proteins for multimodal imaging
09h30    Dr Pascale Delangle - Lanthanide-coordinating peptides as tools to study interactions with DNA
09h50    Dr Celine Henoumont - Use of the STD NMR technique to evaluate the affinity of a potential MRI contrast agent towards cancer cells
10h10    Dr Elena Ishow - Raspberry-Like Magneto-Fluorescent Nanoassemblies as Versatile Platforms for In Vitro and In Vivo Diagnostics 
10h30    Coffee break
11h00    Dr Rafael T.M. de Rosales - Exploiting Multimodal Imaging for Preclinical and Clinical Nanomedicine
11h30    Dr Maryline Beyler - New pyclen based chelators for diagnostics or therapy
11h50    Dr Nathalie Mignet - Bimodal imaging to ease the development of nanomedicines
12h20    Scientific conclusions by Éva Jakab Tóth and Kristina Djanashvili
12h30    Lunch  
PRICING
| | |
| --- | --- |
| Private institutions | 250 EUR |
| Academic participants | 150 EUR |
| Students & PhD Scholars | 75 EUR |
| Social dinner | 60 EUR |