September 26, 2016 - September 28, 2016
Being Smart In Coordination Chemistry: Medical Applications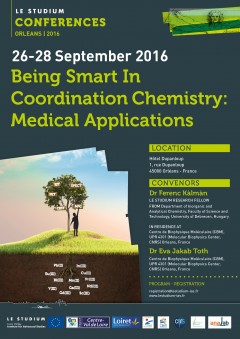 Deadline for registration: 22/09/2016
Metal complexes have increasing importance in modern medicine. Early recognition of diseases, which is the cornerstone of successful therapies, is one of the most important goals in medical imaging. To meet this challenge, one needs to explore and to visualize the alterations in the molecular events of biological processes, from the homeostasis of a simple metal ion to the complex functioning of biomolecular assemblies. For this, even the most sophisticated instrumentational tools like MRI, PET, SPECT or optical imaging need to be complemented with the appropriate chemistry. Many of the diagnostic agents, indispensable in molecular imaging approaches, are based on metal complexes.
Among the numerous therapeutic applications that rely on metal ions, one emerging field is radioimmunotherapy. It uses radionuclide-labelled antibodies to deliver radiation exclusively to cancerous cells minimalizing side effects.
In order to circumvent toxicity and to ensure specific delivery, metal ions are trapped into various scaffolds, ranging from small chelators to specifically-designed multifunctional nanoparticles. They all have to fulfill strict requirements of tight binding in order to carry the metal ion safely to the target.
The "LE STUDIUM CONFERENCE" entitled "Being smart in coordination chemistry: medical applications" intends to bring together different actors of the research and medical application of metal complexes, including chemists, biochemists and physicians in the objective of confronting different views, exploring medical needs and potential responses.
TOPICS
New approaches in Magnetic Resonance Imaging.
Metal ions in nanostructures for improved medical diagnosis.
Complexes of metal ions in medical therapy.
Responsive probes for real-time monitoring of physicochemical parameters and for determining the concentration of biologically relevant ions and molecules.
Convenors
Dr Ferenc Kàlmàn, LE STUDIUM RESEARCH FELLOW
FROM Department of Inorganic and Analytical Chemistry, Faculty of Science and Technology, University of Debrecen, Hungary
IN RESIDENCE AT Centre de Biophysique Moléculaire (CBM), UPR 4301 (Molecular Biophysics Center, CNRS) Orleans, France
Dr Éva Jakab Tóth
Centre de Biophysique Moléculaire (CBM), UPR 4301 (Molecular Biophysics Center, CNRS) Orleans, France
Invited Speakers
PROGRAMME / SCHEDULE
1st DAY 26/09/2016 
12H00 Registration/Welcome lunch
13H30 Official opening
13H40 Acknowledgement (Dr Ferenc Kàlmàn)
13H50 Scientific opening (Dr

Éva Jakab Tóth

)
First session
14H00    Pr Silvio Aime
Design and testing of paramagnetic agents for functional and molecular MRI studies
14H40    Pr Franck Denat
Macrocyclic polyamines as multifunctional chelating agents for medical imaging
15H10    Dr Gábor Papp
Application of para-H2 in hydrogenation reactions catalyzed by Ru-, Rh- and Ir-complexes in aqueous media
15H30    Coffee break and poster section
Second session
16H30    Pr Olivier Tillement 
Use of gadolinium-based hybrid nanoparticles for enhanced radiation therapy guided by MRI
17H00    Dr Kristina Djanashvili
Advantages of Porous Nanomaterials for Theranostic Applications 
17H30     Zoltán Garda
Toward Safe Magnetic Resonance Imaging Contrast Agent: Mn(II) Complexes Of Open-Chain Bis(Amide) Derivatives
18H30    Pr Franck Denat
Chimie & Métaux: du diagnostic médical aux thérapies
French grand public conference, LE STUDIUM LECTURE
2nd DAY 27/09/2016
08H45  Registration/Welcome coffee
Third session
09H00    Pr Ervin Berényi 
Multimodal Imaging. New approaches in Magnetic Resonance Imaging
09H40    Dr Alain Le Pape 
PET and SPECT in the arena of preclinical imaging strategies to boost therapy innovation in cancer research
10H10    Morgane Enel 
PCTA scaffold-based LnIII complexes : synthesis and evaluation
10H30    Coffee break
Fourth session
11H00    Dr Ildiko Garai
From Biomarkers to Teranostics: The future perspectives in medical therapy using radiolabelled molecules
11H40    Dr László Sasi Szabó 
Intraoperative tissue identification – the surgeon's point of view
12H10    Pr Géraldine Gouhier 
β-Cyclodextrins as scaffolds of new smart MRI contrast agents
12H30    Lunch
Fifth session
14H00    Dr Alessandro Maiocchi
About the role of metal complexes in the future of medical imaging applications
14H40    Dr Sara Lacerda
Peptide-based Contrast Agents: Novel probes for high-risk atherosclerotic plaques and metastasis imaging
15H10    Dr Pascale Delangle
Metal-coordinating peptides as tools to understand copper homeostasis and treat Wilson Disease
15H40    Coffee break and Poster session
Sixth session
16H30    Dr Zoltan Kovacs 
A Eu(II) / (III) based redox responsive T1 / PARACEST agent
17H10    Dounia El Hamrani 
Perinatal exposure to dichloro-bisphenol A alters hepatic lipid composition in mouse: a study by MRI and 1H MRS
17H30    Dr Éva Jakab Tóth
Enzyme-responsive imaging probes based on a self-immolative approach
20H00    Conference gala dinner at Le Lift
3rd DAY 28/09/2016
Seventh session
09H00    Dr Simonetta Geninatti Crich 
Proteins as carriers for metal based theranostics
09H30    Dr Graeme J. Stasiuk 
Molecular imaging agents for the detection of Formyl Peptide Receptor 1 in inflammation
10H00    Dr Gyula Tircsó 
Improving the Safety of Magnetic Resonance Imaging Contrast Agents: Preparation and Characterization of New Gd3+ and Mn2+ Complexes Formed with Rigidified Ligands.
10H20    Coffee break
Eighth session
10H50    Dr Ferenc K. Kálmán
Results of a detailed investigation on a Mn(II)-based "smart" MRI contrast agent candidate for angiographic investigation
11H10    Dr Matthieu Starck
Europium complexes for cell imaging
11H30    Raphaël Gillet 
New bispidine based ligand as stable copper chelate for nuclear imaging application
11H50    Conclusions & closing ceremony
Scientific conclusions: Dr Éva Jakab Tóth
Closing speech: Dr Éva Jakab Tóth & 
Dr Ferenc Kàlmàn
12H00    Lunch
Pricing
| | |
| --- | --- |
| Private institutions | 200 EUR |
| Researchers | 150 EUR |
| Students | 75 EUR |
ABSTRACTS & POSTER SUBMISSION
Abstracts, Bio & Posters must be written in English and be sent before the 12/09/2016
Please send your poster before the 15/09/2016 so that it can be included on the USB flash drive. Please note that we do not print the posters, but racks & pins will be provided for up to A0 sizes