November 24, 2016 - November 25, 2016
Antibodies Targeting GPCRs, Recent Advances and Therapeutic Challenges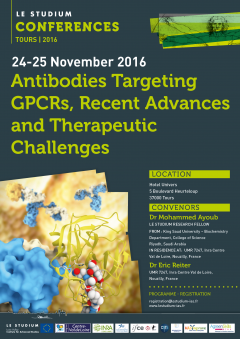 Registration closed
The conference will be organized as a satellite workshop of the 5th meeting of GDR 3545 on "G Protein-Coupled Receptors (GPCRs) - From Physiology to Drugs" to be held in Tours, Val de Loire (France). The topic of the workshop will focus on new advances and challenges in the development of antibodies targeting GPCRs and their potential applications in clinic. GPCRs represent the largest family of cell surface receptors regulating many human and animal physiological functions. Their implication in human pathophysiology is obvious with about 15% of GPCRs being targeted by 30-40% of the medical drugs commercialized today. Developing therapeutic antibodies directed against GPCRs appears as a promising alternative to selectively and safely modulate their activity. Several speakers from academia and industry considered as leaders in antibody development against GPCRs have accepted to take part in the event. The recent technological strategies used for immunization as well as for development of various antibodies formats (i.e. IgGs, scFv and nanobodies) will be presented. Moreover, the prospective of application of GPCR-selective antibodies in the most important physiological systems such as the central nervous, the immune, and the endocrine systems will be essentially covered.
Convenors
Dr Mohammed Ayoub, LE STUDIUM RESEARCH FELLOW
FROM : King Saud University – Biochemistry Department, College of Science Riyadh, Saudi Arabia
IN RESIDENCE AT:  UMR 7247, Inra Centre Val de Loire, Nouzilly, France
Dr Eric Reiter
UMR 7247, Inra Centre Val de Loire, Nouzilly, France
Invited speakers
Preliminary Programme
Thursday 24 November
12h00     Welcome lunch
14h00     Conference Introduction
              Dr Mohammed Akli AYOUB, LE STUDIUM Fellow, PRC, INRA Val de Loire, Nouzilly, France.
14h15     LE STUDIUM Presentation
              Sophie GABILLET, General Secretary of LE STUDIUM, Orléans, France.
14h30     Ambitions of the ARD2020 Biopharmaceuticals Project
              Pr Hervé WATIER, Coordinator of the Biopharmaceuticals and LabEx MAbImprove projects, GICC, Tours, France. 
15h00     Using Stabilised GPCRs as Antigens to Generate Functional Antibodies
              Dr Markus KOGLIN, Associate Director of Protein Engineering Department,
              HEPTARES Therapeutics, Hertfordshire, UK. 
15h45     Coffee break
16h00     Development of Therapeutic Monoclonal Antibodies to G Protein-Coupled Receptors:
              Opportunities and Challenges
              Dr Trevor WILKINSON, Associate Director, Antibody Discovery and Protein Engineering,
              MedImmune, Cambridge, UK. 
16h45     In silico Approaches to Develop and Identify New GPCR Antibodies 
              Dr Anne POUPON, INRA Val de Loire, Nouzilly, France. 
18h30     LE STUDIUM Public Lecture - Peut-on breveter le vivant ? - Angélique Dacheux, IPforS
20h00     Shuttle departure for La Cave (Montlouis), a troglodyte restaurant for the gala dinner
Friday 25 November
09h00     Nanobody-enabled investigation of GPCR transmembrane signalling: from structure to function to drugs
              Dr Jan STEYAERT, Structural Biology Brussels, Vrije Universiteit Brissel, Belgium. 
09h45    Nanobodies Modulating Human and Viral Chemokine Receptor Function
              Pr Martine SMIT, VU University of Amsterdam, Amsterdam, Netherlands. 
10h30     Coffee break
11h00     Nanobodies uncovered a role of hippocampal mGlu2 receptors in context fear consolidation
              Dr Jean-Philippe PIN, Director of IGF, Montpellier, France. 
11h45     Generation of Antagonist Nanobodies for GPCRs by Genetic Immunization
              Pr Marc PARMENTIER, Welbio and IRIBHM, Université Libre de Bruxelles, Brussels, Belgium. 
12h30    End of Conference - Lunch
ABSTRACTS & POSTER SUBMISSION
Abstracts, Bio & Posters must be written in English. 
Please send your poster before the 15/11 so that it can be included on the USB flash drive. Please note that we do not print the posters, but racks & pins will be provided for up to A0 sizes.
Hotel suggestions
PRICING
| | |
| --- | --- |
| Private institutions | 130 EUR |
| Researchers | 100 EUR |
| Students | 60 EUR |
| Gala dinner | 60 EUR |