May 16, 2018 - May 18, 2018
Advances in Space Mass Spectrometry for the Search of Extraterrestrial Signs of Life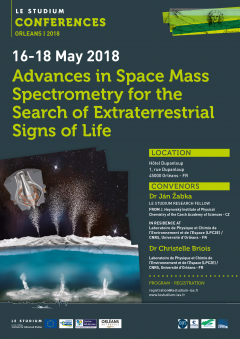 In recent decades, the search for signs of extraterrestrial life has been a prime topic in scientific space exploration. This international conference, organized by LE STUDIUM Loire Valley Institute for Advanced Studies, aims at presenting the current state of knowledge acquired so far in the field of mass spectrometry by the activities of the world's scientific organizations and the most active space agencies pursuing this fundamental research field.
International experts will present the results on mass spectrometry of on-going and recently-completed in situ space missions (review talks on Cassini-Huygens, Rosetta, MSL-Curiosity, etc….) as well as the results of the return sample missions (Stardust, Hayabusa, etc..) and experimental laboratory and relevant modelling results.
Several space missions under development that address the research field will be presented by representatives of Space Agencies (NASA, ESA, JAXA, CNES,..)
A part of the workshop will be devoted to the presentations of new High Resolution Mass Spectrometry (HRMS) space instruments under development that are required to advance in our capability to address the ambitious science objectives laid down for the future missions under study.
Main topics
Mass Spectrometry, Space Missions, Spatial Instrumentation, Planetology, Exobiology, Habitability.
Convenors
Dr Ján Žabka, LE STUDIUM Research Fellow.
FROM: Academy of Sciences of the Czech Republic - CZ
IN RESIDENCE AT: Laboratoire de Physique et Chimie de l'Environnement et de l'Espace (LPC2E) / CNRS, University of Orléans - FR
Dr Christelle Briois,
Laboratoire de Physique et Chimie de l'Environnement et de l'Espace (LPC2E) / CNRS, University of Orléans - FR
Slideshow
Scientific committee
Dr Christelle Briois - FR
Dr Jean-Pierre Lebreton - FR
Dr Laurent Thirkell - FR
Dr Ján Žabka - FR
Confirmed Speakers
ORAL PRESENTATIONS & POSTERS
Abstracts for oral presentation should be submitted before Monday 16th of April 2018.
The number of oral presentations is limited, convenors will process a selection and confirm your presentation not later than Friday 20th of April 2018.
Abstracts for posters should be submitted during the registration. Please note that we do not print the posters, but racks & pins will be provided for up to A0 sizes.
Location
Hôtel Dupanloup : 1, rue Dupanloup - 45000 ORLEANS - FR
The conference venue is unique. Located right next to the Orléans' cathedral, the episcopal palace of Orléans, built between 1635 and 1641, locally known as the Hôtel Dupanloup, is a classical French building which served until 1905 of residence to the bishops of Orléans.  Since 2014, the renewed palace hosts the International University Center for Research and Le Studium Loire Valley Institute for Advanced Studies.
Participants will be welcomed in this exceptional surrounding, blending Middle Age and Renaissance cultures with modern design and will have the opportunity to discover French cuisine and wines.
PRACTICAL INFORMATIONS
IMPORTANT ! Please note there are works on the train line between Paris and Orléans during the day: no train between 09h30 and 16h30. Furthermore, there is a scheduled strike on Friday 18th May with a limited number of trains (all lines in France are concerned).
Conference PROGRAM
Wednesday May 16th 2018
12:30    Welcome lunch & registration
Session 1 : Recent results of the airless small bodies study (Rosetta,...)
14:00    Official Opening by Pr Valéry Catoire (LPC2E)
14:15    Dr Martin Rubin - ROSINA at comet 67P/Churyumov-Gerasimenko
14:45    Dr Martin Hilchenbach - The tale of  cometary dust particle analysis next to comet 67P/Churyumov-Gerasimenko
15:15    Dr Paola Modica - Search for halogen species in the dust particles of comet 67P/ Churyumov-Gerasimenko 
15:35    Robin Isnard - Characterization of the refractory organic matter in cometary particles of 67P/Churyumov-Gerasimenko
15:55    Coffee break
Session 2 : Laboratory analyzes of space samples (Hayabusa2, …)
16:30    Dr Yoko Kebukawa -  Future mission to Jupiter Trojan Asteroid – OKEANOS: The next generation small body exploration inheriting Hayabusa and Hayabusa2
17:00    Dr François-Régis Orthous-Daunay - Molecular growth in the solar system
17:20    Dr Alexander Ruf - Novel metalorganic compounds revealed in meteorites
18:30    Public Lecture in French : Dr Cécile Engrand - Poussières cométaires : collectes en Antarctique et missions spatiales 
20:00    Wine & cheese cocktail
Thursday May 17th 2018
Session 3 : Recent results of the last space missions (CASSINI-HUYGENS, Mars)
09:00    Dr Nozair Khawaja - Cassini's mass spectrometers find complex organic material in ice grains from the subsurface ocean of Enceladus from the subsurface ocean of Enceladus
09:30    Dr Véronique Vuitton - Prebiotic molecules in Titan's atmosphere?
10:00    Dr Thomas Gautier - Low Resolution Mass Spectra Decomposition – Reinterpretation of Huygens-GCMS data acquired in Titan's atmosphere 
10:40    Dr Cyril Szopa - Mass Spectrometry for exploring Mars from the top of the atmosphere to the surface : a 42 years story !
11:10    Jinjin Zhao - Isotope fractionation in the photochemical escape from Early Mars 
11:30    Dr Illia Zymak - Study of the O- transpher gas-phase ion molecular reactions relevant to the atmosphere of Mars
Session 4 : Laboratory studies of atmospheric ion chemistry  
13:30    Pr Wolf Geppert - Experimental and theoretical investigations into interstellar and atmospheric ion reactions
14:00    Dr Miroslav Polášek - High-energy collisions of ions with molecules in planetary atmospheres and interstellar media
14:20    Dr Daniela Ascenzi - Building complex N-containing species on Titan's atmosphere: an experimental mass spectrometric approach
14:40    Coffee break
15:10    Dr Claire Romanzin - Gas phase ion-molecule chemistry: controlled reactions of methyl cations with O-bearing compounds and hydrocarbons
15:30    Julien Maillard - Comparison of the soluble and insoluble organic matter in titan's aerosols 
15:50    Pr Alexander Makarov - A High Resolution Orbitrap Mass Analyzer for Understanding of Organic Chemistry in the Solar System
16:30    Laura Selliez - Laboratory studies of tholins, analogs of Titan aerosols, with the CosmOrbitrap
16:50    Dr Sascha Kempf - The Surface Dust Analyzer (SUDA) on Europa Clipper
17:30    Guided visit of Orléans old city
19:30    Social dinner  - Le Bateau Lavoir - Concert Romana_Z
Friday May 18th 2018
Session 5 : New space instrumentation developments
09:00    Dr Ricardo Arevalo - An Orbitrap-based laser desorption/ablation mass spectrometer for spaceflight
09:20    Dr Peter Wurz - In situ detection of extinct or extant microbial life on planetary surfaces
09:40    Dr Ján Žabka - OLYMPIA – a versatile CosmOrbitrap-based laboratory instrument
10:00    Fabian Klenner - The Heidelberg Analog Experiment for Spaceborne Mass Spectrometers
10:20    Coffee break
Session 6 : Vision for the exploration of habitable worlds
10:40    Pr Christophe Sotin - Detecting extra-terrestrial life in our solar system
11:10    Dr Jean-Pierre Lebreton - Planetary Exploration 2061: A European Initiative
11:30    Round table discussion
13:00    Conclusion
PRICING
| | |
| --- | --- |
| Private institutions | 250 EUR |
| Public institutions | 180 EUR |
| Students & PhD Scholars | 60 EUR |
| Social dinner | 60 EUR |